Macau's casinos were once a popular way to secretly move illicit money out of mainland China. But a long-running corruption crackdown that includes tracking VIPs and government officials is scaring these big spenders away from the gambling center—and slashing profits at the Las Vegas Sands and Wynn Resorts, two of the biggest casino operators.
Revenues from gaming in Macau have fallen ever month since last June, and that drop appears to be steepening: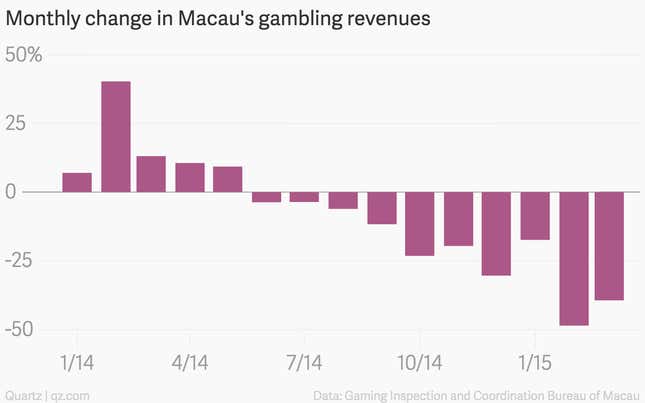 This full year, thing may get even worse in Macau—analysts predict that gaming revenues could fall 8%, after a 2.6% drop in 2014.
That's bad news for two of the Republican party's biggest individual backers, Las Vegas Sands CEO Sheldon Adelson and Wynn Resorts CEO Stephen Wynn. As the Guardian points out in an ongoing investigation with UC Berkeley's Investigative Reporting Program, "the US casino groups made their billions against Macau's seamy backdrop of triads, vice and corruption." Macau's overall gambling revenues have far outstripped those from Las Vegas since 2007, and both companies rely heavily on the former Portuguese colony for their profits.
Adelson and his family own 52% of the Las Vegas Sands. He and his wife Miriam donated at least $98 million to Republican candidates and political committees during the 2012 election, according to ProPublica—more money than anyone has ever donated during a US election cycle. That figure could be as high as $155 million when "dark money" groups are accounted for, ProPublica estimates.
First quarter earnings at Adelsons's Las Vegas Sands fell 34% in the first quarter of 2015, the casino reported this week, to $512 million, thanks to Macau's slowdown. "I know you're all waiting for me to predict if we've reached the bottom in Macau," Adelson told analysts on the quarterly conference call, the Las Vegas Review Journal reported. "It's very difficult to make predictions, particularly about the future." The company's stock price has fallen 30% in the past year.
Wynn and his family own a much smaller percentage of Wynn Resorts, less than 20%, but his fortune still hinges on the company's performance. After publicly supporting Democratic candidate Barack Obama in the 2008 US presidential campaign, Wynn changed sides in 2012, and quietly donated millions to Karl Rove's "Crossroads GPS" political action committee, Politico reported. Wynn and his family have also publicly donated more than half a million dollars to Republican groups in recent years.
Wynn Resorts has not yet announced first quarter results, but in the fourth quarter of 2014 net income fell 49%, to $103.9 million, as Macau revenues plummeted. Wynn's salary was slashed from $4 million to $2.5 million this January, though that was not linked specifically to Macau's results. "There is nothing to do but be patient," Wynn told analysts when asked about the situation in China. The company's stock price has fallen 40% in the past year.
Wynn is still betting Macau will rebound, and the company is building a the $4.1 billion "Wynn Palace" in Macau.
Will China's corruption crackdown will have any short-term effect on the casino magnates' spending in the upcoming presidential election? Probably not. Adelson is estimated to be worth over $20 billion, and Wynn $3.5 billion, so they presumably have plenty in the bank to draw on, even as gambling in Macau suffers.