China's top anti-corruption watchdog has released a list of 100 fugitives (link in Chinese) wanted for crimes including embezzling public funds, money laundering, taking bribes, and drug trafficking. The release is part of Beijing's ongoing attempts to capture economic fugitives hiding overseas, a campaign officials have dubbed "Operation Skynet."
The gallery includes mug shots, passport details, names and possible aliases of these wanted men and women. It also includes the twenty two countries or territories where they may be hiding. The United States appears to be the top destination, home to as many as 40 of these economic fugitives, followed by Canada with 26, New Zealand with 11, and Australia with 10.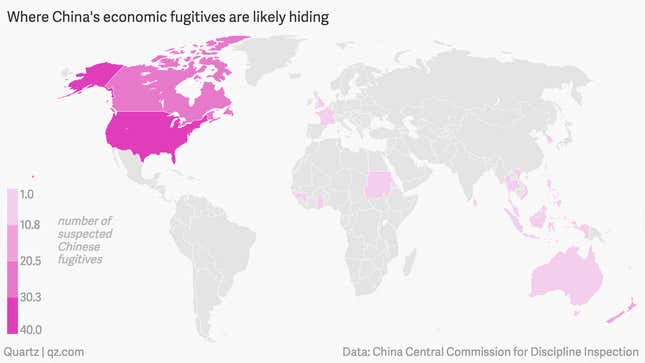 The list includes a colorful lineup of former executives and officials from state-owned companies as well as the finance, property, and media industries. There's a former history professor, the ex head of Bank of China's branch in Hainan, and a former executive of China Mobile's digital music department better known as "Lord Ringtone." The youngest is a 31-year-old woman that worked at a pension fund—almost a quarter of the group are women—and the oldest is an 81-year-old man accused of money laundering and drug trafficking.
Missing from the list, according to Minxin Pei, a professor of Chinese politics at Claremont McKenna in California, are the real "tigers" or high ranking officials who have fled abroad. Beijing would rather not lead Western intelligence to these officials who have a lot of dirt on China, Pei told Foreign Policy.
The goal of the release may be to apply some psychological pressure on these fugitives, wherever they may be. Even more importantly, China may be hoping to pressure Western countries to finally start extraditing these people—the list may also help pressure US authorities ahead of the visit of China's top anti-corruption czar, Wang Qishan, to the US later this year.