This article is part of an ongoing BULLETIN series exploring GE's innovation, technology, and manufacturing initiatives in India.
Last year, Prime Minister Narendra Modi unveiled a new chapter in India's manufacturing sector with a catchy slogan.
Modi's Make In India campaign ushers in an era of openness and optimism in the economy. Its logo, a striding lion made of cog wheels, symbolizes the country's manufacturing might and national pride.
"Come make in India. Sell anywhere, [but] make in India," Modi said while introducing his vision, "electrical to electronics … paper to plastics … satellites to submarines." The vision has been shared with India, and is now being shared with the rest of the world. In April, Modi appeared with German Chancellor Angela Merkel at the Hannover Messe—the world's largest industrial fair—to inaugurate the Make in India pavilion and promote the country as a technological and manufacturing center.
To kickstart the revolution, the government relaxed caps and controls in high-value sectors, announced smart cities and industrial clusters and launched workforce development programs. India is encouraging entrepreneurs and new ideas to build the workplace of the future. The country, which transitioned from agriculture to a thriving service economy, realizes that it needs a strong manufacturing base to sustain its growth even in its reliably strong service sector.
It's encouraging software solutions to streamline manufacturing processes to attain economies of scale.
Smart factories—where infrastructure is shared and machines and computers network to get things done—are part of the vision. The government wants product quality, efficiency, and productivity to become the narrative for its manufacturing story. Modi's goal is to increase the share of manufacturing in the GDP from 16 percent to 25 percent by 2022 and create 100 million jobs.
India is poised for growth in the high-end manufacturing sector especially in precision areas such as machine-tool manufacturing, says a study by Ducker Worldwide. According to a new survey by Markit, manufacturing activity in March grew at the fastest pace in four months. A jump in output and new orders bumped the numbers, the report said.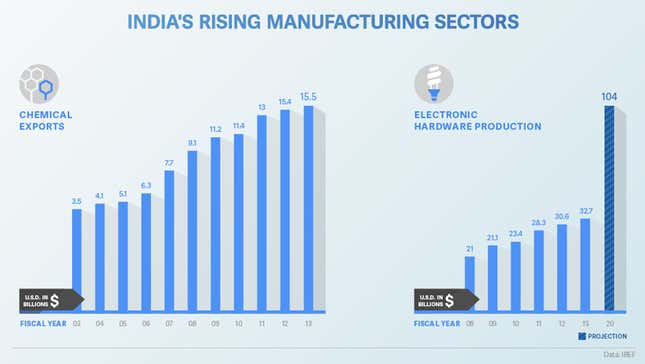 "Momentum is building in manufacturing as the sector begins to build up a head of steam," said Pollyanna De Lima, an economist at Markit.
To emerge as a global manufacturing powerhouse, India knows it has to be a leader in innovation. The proposed industrial clusters could make that happen, said Aniruddha Bagchi, associate professor at Coles College of Business, Kennesaw State University.
"My understanding is they want to replicate clusters such as Silicon Valley," he said.
Companies and entrepreneurs are taking the government's cue and jumping on the wagon of new ideas, resource optimization, and creative software solutions.
Gujarat-based Ecolibrium Energy is slashing costs for clients by developing an energy management platform that allows companies to track and analyze their energy consumption thereby optimizing productivity. The platform, SmartSense, provides plant operations managers with the ability to centrally monitor and control energy consumption across multiple locations. In Pune, Entrib developed an industrial internet solution that uses sensors and a unified software platform to help manufacturers make their floors more intelligent. The platform allows factory supervisors access to real-time data in the palm of their hands.
GE has developed a global concept for consideration of the powerful and far-reaching transformation that is underway in industry. In a recent study titled The Future of Work, GE chief economist Marco Annunziata and chief scientist for manufacturing Stephan Biller predict that trend will include meshing of physical and the digital world, developing new production processes & materials, and innovating supply chains & distribution channels.
GE has implemented its ideas at its recently unveiled $200 million multi-modal factory at the outskirts of Pune. The plant, which fits into the government's vision of a new India, is a flexible factory where a variety of products will be built for multiple businesses using shared infrastructure and employees. The facility is classified as a brilliant factory, where equipment and computers talk to each other over internet on a real-time basis, helping boost product quality and avoid plant breakdowns. It's a factory that has the ability to make itself better, expanding the possibilities for the future of manufacturing in India and the world beyond.
to answer a few questions about innovation in India.
This article was produced on behalf of GE by the Quartz marketing team and not by the Quartz editorial staff.