Law school used to be a ticket to a somewhat lucrative lifestyle in the United States. At the very least, graduates could expect to be employed as lawyers. But that hasn't been true for the class of 2010.
It was bad when they graduated, in the midst of a recession, with more than 10% of the class still jobless nine months later. Five years on, the outlook for these young lawyers remains pretty grim, according to Ohio State Moritz College of Law professor Deborah Jones Merritt. She pored through data from Ohio graduates admitted to the bar in a recent paper, and compared their progress with that of the class of 2000—which did much better, despite also graduating during a recession.
For the 2010 graduates, the job situation has barely improved, despite years of work experience and economic growth. And that year, the average law school graduate left school with $100,401 in debt.
Even for the class of 2000, some of those who had jobs nine months after graduation were not practicing law, but the number was much higher in 2010: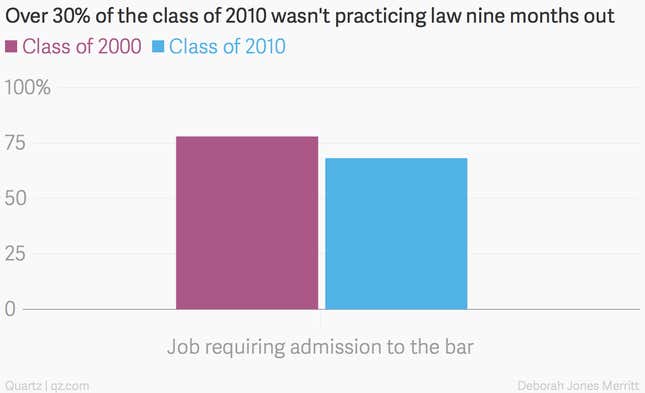 Five years later, the 2010 graduates have made little progress. Only 75.1% of the class of 2010 admitted to the bar in Ohio are practicing law. That's below what the class of 2000 managed in less than a year. And it's far lower than what the class of 2000 managed after three years: At that point, 85.3% of them were practicing law.
When you dive deeper into the data, it only looks worse.
The class of 2010 have had a harder time getting jobs at private firms. Law firm jobs offer the opportunity to advance, higher pay, strong mentorship, and stability:
Nearly 10% of the class of 2010 in Ohio ended up in solo practice, where it's tough for a new lawyer to get by. To make matters worse, more than half of the lawyers indicating they had a solo practice had zero internet presence advertising it. That suggests that many who claim they have a solo practice actually use the term as a proxy for unemployment, occasional client work, or a series of temporary jobs.
Some lawyers who passed the bar, Merritt found, are working full- or part-time as substitute teachers, firefighters, party planners—or even in lingerie sales, pest control, and tennis instruction.
Granted, this data is just from Ohio, but it's unlikely that things are dramatically better elsewhere. It's not just the recession. If that were the case, the employment picture for the class of 2010 would be much better by now. Deregulation, technology, disaggregation of legal work, use of non-lawyers, global competition, and oversupply have fundamentally weakened the labor market, Merritt says.
Enrollment in law school is down dramatically, in large part due to these outcomes, and tuition is dropping. But that's little comfort for the students that gave up three years and took on substantial debt expecting to work as lawyers.