Audi has begun production of a synthetic diesel fuel made from water, carbon dioxide, and hydrogen. Unlike fossil fuels, which release additional carbon into the atmosphere, Audi's "e-diesel," which is being produced at a plant in Dresden in conjunction with the German alternative energy company Sunfire, has a net-zero carbon footprint because it is made with carbon dioxide taken from the air.
It's not the first carbon-neutral fuel, but it's being hailed by the German government, which provided support for the plant, as an important milestone in the movement for cleaner energy.
"If we can make widespread use of CO2 as a raw material, we will make a crucial contribution to climate protection and the efficient use of resources, and put the fundamentals of the 'green economy' in place," Johanna Wanka, Germany's minister of education and research, said in an Audi news release announcing the production of the initial batch of e-diesel. (The first five liters went into Wanka's official car, an Audi A8 3.0 TDI clean diesel quattro.)
Here's a diagram released by Audi showing the steps of the fuel production process: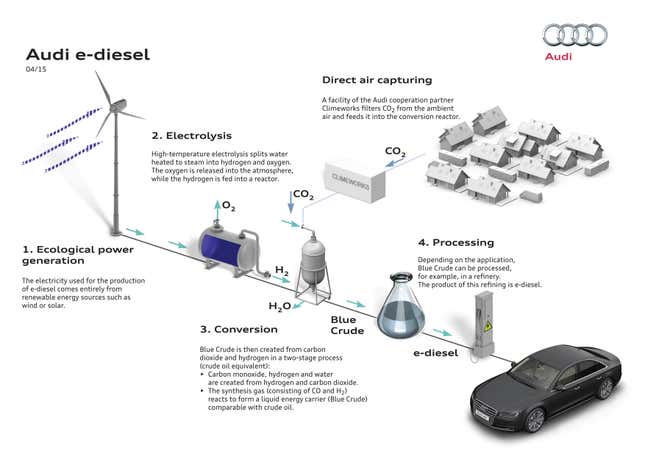 Though the prospect of cars being powered by air and water is exciting, it remains little more than a prospect for now. The Dresden plant will produce a mere 3,000 liters (794 gallons) of the carbon-neutral fuel over the next few months—a tiny drop in a huge ocean.
The challenge for Audi will be ramping up its fuel from a science project to a commercial success. It seems to have ambitions to do so: it has been pursuing carbon-neutral fuels since 2009, and its partnership with Sunfire is just one of several collaborations with energy companies.