Apple's investments in China are paying off. The iPhone maker reported today that the Greater China region set a new sales record, surpassing Europe in revenue last quarter and making it the company's second biggest market behind the Americas.
CEO Tim Cook attributed much of the region's growth to the Chinese New Year holiday, which took place in February, and a rising middle class. At $16.82 billion, revenue for Greater China, which includes China, Hong Kong, and Taiwan, grew 71% in the second quarter compared with the same quarter last  year.
The iPhone "led the way," Cook said, but he also highlighted rising Mac and iPad sales, even as PC and tablet sales contracted in Greater China. Mac sales were up 31% in the region, and Cook said the iPad had its "best quarter" in China.
Of its Chinese clientele, Cook said almost 70% are customers buying smartphones for the first time, compared with 40% in the US.
"So really and truly, sort of everything you look at in China was extremely good," Cook told investors. "I've never seen as many people coming into the middle class as they are in China."
App Store revenue in Greater China also doubled last quarter. Apple has paid out close to $5 billion to developers in the region, more than half of that in the last year, said Cook.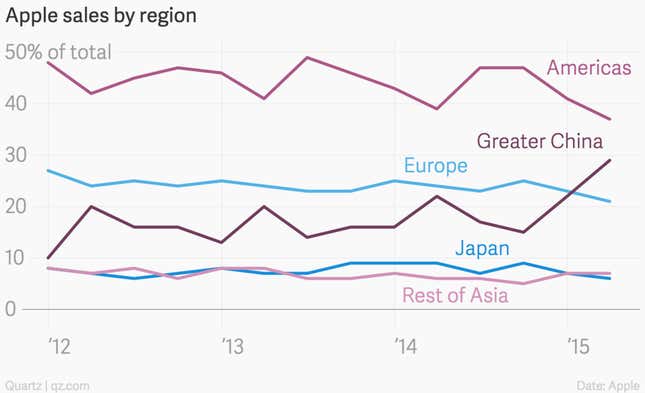 Apple has been aggressively expanding into China in recent years. It currently has 21 retail locations—six of them opened in the last quarter—and the company plans to have 40 stores total in the Greater China region by mid-2016. The expansion is happening online as well. Apple expects to ship to 365 Chinese cities by the end of this quarter, up from 319 currently.
China is still trailing the Americas, but that might not be for long. Cook has said in the past that it's only a matter of time until China overtakes the US in Apple sales.