Tesla CEO Elon Musk—the showy electric-car, solar, and space billionaire—plans yet another shot at building a non-fossil fuel colossus with the launch later this week of a line of home and business-scale lithium-ion batteries.
No one knows precisely what Musk will say April 30 at Tesla's Design Studio in Hawthorne, California. But he will reportedly concentrate on an expansion of his battery business to cut electricity bills for residences, factories, shops and schools, and could describe affordable rates for houses such as $1,500 down and $15 a month rent. Starting in a couple of years, the batteries would be built at his "gigafactory," a gigantic, $5 billion lithium-ion factory he is building in Nevada.
Such talk has Wall Street banks frothing over what many of them forecast will be an enormous, decade-long global boom in big batteries for the electric power supply. Many predict that Tesla's already-bloated share price will inflate still further. Musk's new batteries, they say, could add between $70 and $100 to Tesla's stock price, which surged yesterday by 6% to $231.55.
The fervor in the lead-up to Musk's latest announcement reflects both his strategy of incessant marketing, and an apparent larger trend that goes beyond Musk's hyper-activity, and was perhaps sparked by it: a quest by the world's leading technology and industrial companies to solve a defining commercial problem of our age—the need to safely store power at an affordable price.
In feel, this mission seems more like a new zeitgeist than one of Silicon Valley's come-and-gone fashions: If to be a serious tech player in the late 2000s meant marketing a smart phone or something linked to one, the same can increasingly be said today of building better batteries, electric cars or autonomous automobile functionality.
Apple, Google (paywall) and Samsung have hired—and sometimes allegedly poached—scores of the best lithium-ion battery minds on the planet for as-yet undisclosed commercial objectives. One of the hottest startups in Silicon Valley is Quantumscape, a secretive battery play out of Stanford University that numerous industry hands believe stands the best chance of anyone of creating a super-battery. As for the carmakers, GM, Ford, BMW, VW, Daimler, and others all have labs or venture capital operations to build and monitor batteries and electronic technology development in Silicon Valley.
Interestingly, one of the main losers in the smart phone race—Microsoft—seems at risk of again being left behind. Asked whether the company is working on a new battery, a spokesman led Quartz to a program at Microsoft Research, its laboratory, that attempts only to make the use of existing energy storage technology more efficient.
Amazon, which markets Kindle, the most popular e-reader on the market, did not respond to an email asking whether it had any stake in the battery race.
Why batteries are the thing: technology leaders are getting impatient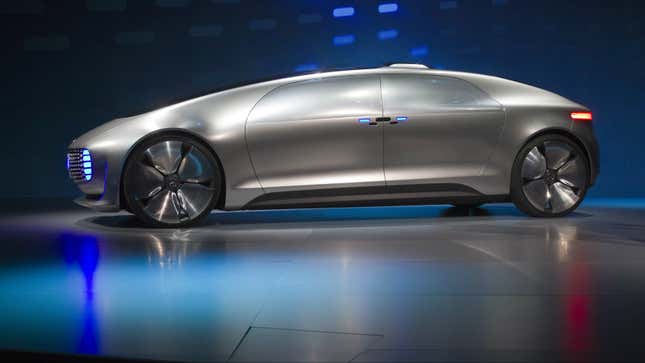 Apple yesterday reported record profits for last quarter. But the company's continued success—its ability to put out an even more robust iPhone 7, an iPhone 8 and so on—relies to a large degree on big improvements in the lithium-ion battery. The same goes for the future of its new Apple Watch.
Google relies far less than Apple on income from electronic devices such as its Nexus smart phone and Android platform. Yet, more so than Apple's Tim Cook, Google founders Larry Page and Sergei Brin pride themselves as visionaries capable of changing the world for the better, especially in energy. And they feel a powerful personal stake in the commercial success of their autonomous vehicle, which will require cheaper batteries that perform much, much better.
The imperative is similar for incumbent automakers, whose electric cars for the mass market, with increasing autonomous functions, must cost less and go further on a single charge, which means batteries priced lower with denser energy.
But creating these improvements has thus far proven to be an elusive goal—no known battery chemistry currently in or near production seems likely to make the jump, experts say. So Google, Apple and other leading technology companies have either started or built up existing battery-development efforts, working alone and with government and private battery labs around the world.
They are the forerunners of the new electric culture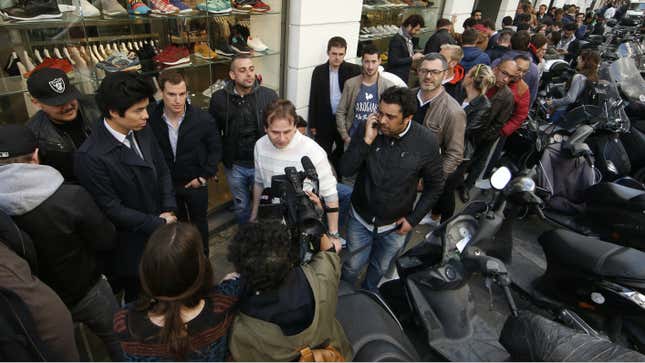 Roughly five years into the latest electric-car age, great skepticism has arisen as to whether fundamental physics will allow for the creation of a battery competitive with the cost and energy density of fossil fuels. Similar doubts have been cast about the cost and performance of larger batteries that could be installed in electricity distribution stations, or individually—as Musk plans—in homes and businesses. Alex Laskey, founder of an electric software company called Opower, told Quartz that Musk might have trouble creating his usual sizzle for home batteries that will be stored in garages.
Nevertheless, there's some optimism to draw from Apple's apparent commitment (paywall) to the task, with its design, manufacturing and commercial success, and reports that it has assembled a team numbering in the hundreds to create a vehicle called Titan. And of course, from Google's similar enthusiasm. Musk has his own record of success, and both of these companies can match him for pizazz.
Musk's announcement this week is further evidence of his push for electric technology in the mass market. He already has announced that in 2017 he will launch the Model 3, a $35,000 electric car that will travel 200 miles on a single charge, a price that matches the average that Americans paid for their cars last year.
Like his prior cars, this one is likely to be late, probably by at least a couple of years. But that would still be in time to benefit from the zeitgeist.