Part-time work allows for greater flexibility, which some people value. But it also sets unwelcome limits on millions who would like to work more, according to new data from Eurostat. These "underemployed" people number almost 10 million across Europe—and the majority in almost every European country are women.
Across Europe as a whole, 6.6 million women who work part-time are not getting as many hours as they would like—67% of the total—with the highest proportion in Luxembourg. Only in Romania and Slovakia were men more underemployed in part-time work than women.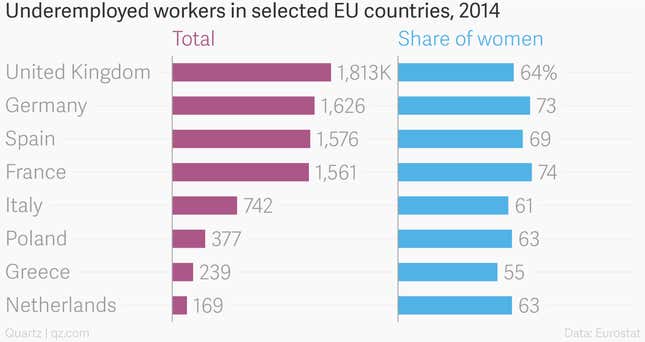 The data points to a huge untapped resource: people who would like to be more productive and earn more money, but are stuck in jobs that don't allow them to progress. The worst-affected country overall—irrespective of gender—was Greece, where 72% of people working part-time aren't getting enough hours.
In the UK, a debate has raged in recent years about "zero-hours contracts," which keep people available for work but with no guarantee that they will be asked to work even a single hour in any given week. The UK has one of the highest numbers of underemployed people in Europe at more than 1.8 million, though with a larger population, that works out as 22% of part-time workers.
The data also pointed to a large untapped workforce across Europe: people who could work but are not looking to, either because they are discouraged or for other reasons (like looking after children). In Italy, for example, 3.4 million people fall into the category of "potential additional workforce," accounting for more than a third of the 9.5 million Europeans who are available for work, but not seeking it.