Of the 40 sub-Saharan African countries that have benefitted from the African Growth and Opportunity Act (AGOA), South Africa tops the list. AGOA is a trade preferential programme that grants duty-free exports for 6400 products into the U.S market from eligible sub-Saharan countries.
Through AGOA, South Africa has created 62 000 jobs, half of those in its automobile industry, and increased exports to the United States by 2.7 times – thanks to exports like wine, citrus fruit, tree nuts and cars.
Last year alone, South Africa's exports to the US amounted to $679 million: $557 million more than the continental economic giant, Nigeria.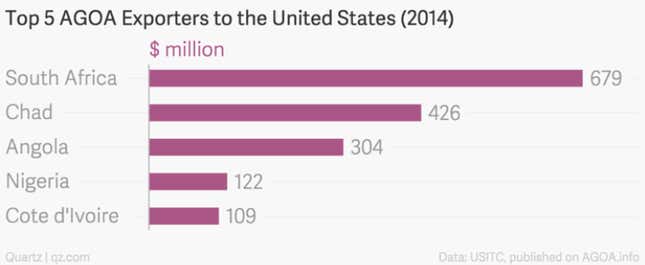 The 15-year trade programme, set for renewal, expires on 30 September 2015, and South Africa faces–forgive the obvious pun–a chicken and egg dilemma.
Should South Africa cut its anti-dumping duties on US chicken–or continue to protect its domestic market–while standing to lose thousands of jobs and access to the US market? It's a tough question for a country like South Africa where nearly one in four people are unemployed.
The Stalemate: Anti-dumping duties on US chicken
In 1999–a year before the US Senate had signed AGOA into law–South Africa began imposing anti-dumping duties on US chicken after it argued the US was selling their chicken (particularly leg quarters), "below the normal cost" of the U.S market.
Most US chicken imports are considered to be cheap "leftovers" – and since developed countries prefer breast meat – these are often dumped in developing countries.
On the American front, two senators have been leading the charge to get South Africa to open up its poultry market: Senator Chris Coons of Delaware, and Johnny Isakson of Georgia, both co-chair the Senate Chicken caucus.
Speaking after the Senate Finance Committee passed the 10-year reauthorization of AGOA last week, Isakson said: "I believe it unfair and inappropriate that the country that benefits from the law the most–South Africa–continues to maintain unreasonable tariffs on American poultry."
Speaking to Quartz, David Wolpert, CEO of the South African-based Association of Meat Importers and Exporters Association (AMIEA), said increased imports of US-bred chicken have greater benefits that outweigh protecting the South Africa's domestic poultry market.
"You want importers and consumers [of chicken] to have greater choice. Re-opening the United States' access to South Africa's market means access to better quality of chicken, and more importantly, the availability of alternatives will help keep retailers 'honest' and keep prices in check" said Wolpert.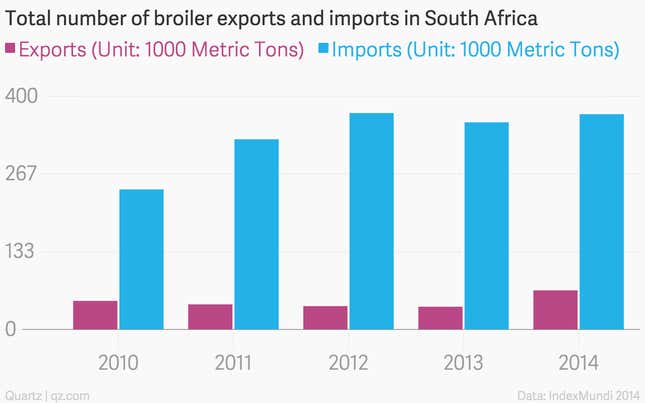 Between the chicken and the egg
But the South African Poultry Association (SAPA) disagrees.
Kevin Lovell, CEO of SAPA, argues that the dispute is principally about the uncompetitive low prices of US imported chicken.
"The dispute here is that the US is not selling chicken at the right price. They're trading unfairly by dumping their chicken in our market. And that makes competition impossible for us to compete fairly" said Lovell.
But if South Africa does not negotiate a workable deal it could be harmful to its economy–particularly jobs.
Added to this, the United States remains the top export destination for South African manufactured cars, with an average of 63,000 units –mainly the BMW 3-series, Mercedes-Benz-C-Class, VW and Ford models – exported to the US annually.
The South African Poultry Association (SAPA) says that is prepared to make concessions.
In its latest offer presented to the US Senate Chicken Caucus and the American National Chicken Council, South Africa has proposed a framework that gurantrees an agreed volume of dumped US chicken imports into the country.
Lovell added that he hoped to receive a response to South Africa's proposal in the next few weeks.
"We can only lose. With the current offer that we've tabled to the US, South Africa would lose 4,000 jobs, in order to maintain the rest of the jobs that have been created through AGOA," said Lovell.
"It's bad for South Africa. But that's what power is all about. The Americans have the power, and we don't," said Lovell.