A Facebook user commenting on a post on the Smuggling Syrians from Turkey to Europe page caustically asks, "if we drown, do we get our money back?"
It's a stark question in reference to the multiple deaths of asylum seekers in the Mediterranean Sea this past month. The page's administrator confidently replies, "hahaha don't worry, you won't drown".

The comments, ranging from satirical to logistical, signal the desperate lengths migrants from Syria mostly are willing to go to make the perilous journey across the Mediterranean which has become the deadliest border crossing in the world.
On April 19, an estimated 900 migrants died and 28 only survived. The ship carried 350 Eritreans and other migrants from Gambia, Mali and Sierra Leone among others. Eritreans are the second largest group of asylum seekers after Syrians aiming to reach European shores. Most of them settle in Sudan and Ethiopia before embarking to Libya and then onto Europe–if they get that far.
Those escaping the political oppression of Eritrea are faced with death at every turn before jumping on boats headed for Europe according to Meron Estefanos, director of the Eritrean Initiative of Refugee Rights and a radio presenter in Sweden.
Estefanons told Quartz that Eritreans seeking asylum have to endure the country's "shoot to kill policy, or they are arrested, or if they manage to escape their families are fined".
She explained that most Eritrean migrants escape from Eritrea's mandatory military service camp and flee to Ethiopia. From there they connect with smugglers in neighboring Sudan who transport them to Libya, often with no downpayment.
"The smugglers are known to the migrants on the streets of Omdurman and Khartoum in Sudan" Estefanos added.
Other people smugglers marketing themselves as travel agencies to Europe are more than willing to provide a risky service using social media, especially Facebook.
On the page Travel to fulfil your dreams, smugglers blatantly advertise a trip from Mersin in Turkey to Italy costing $6500 and that the prices are non-negotiable. They even provide a Turkish mobile number advising would-be clients to contact them via Whatsapp or Viber to confirm the transaction.
The page Mersin to Italy Trips includes an illustration of the mode of transportation–an 88-meter (289 feet) ship. The cost is $6000 per migrant and the advertisement enthusiastically points out that children under eight years of age can travel for free. The advertisement emblazoned with the Italian and Turkish flags and a stock image of the supposed ship also provides a Turkish number for bookings through Whatsapp.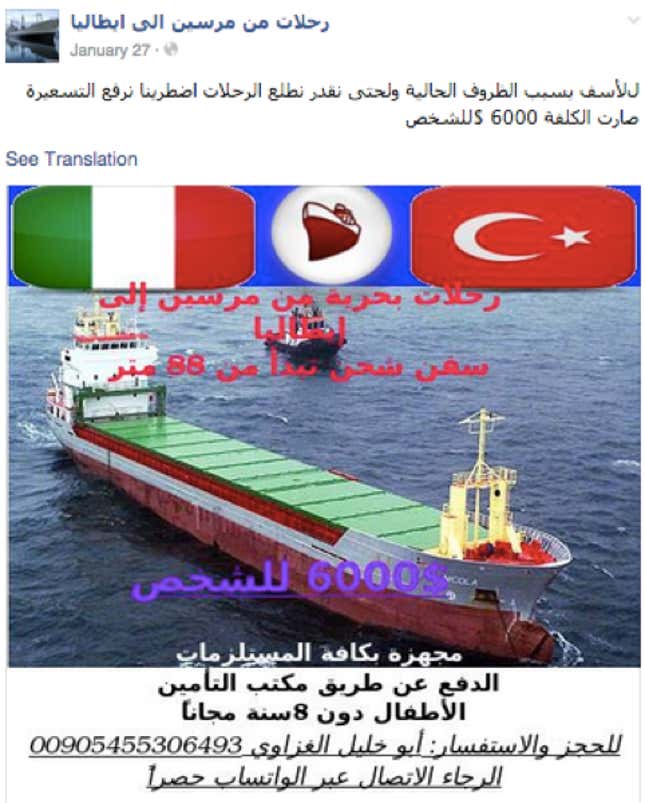 Frontex, the border patrol agency for the European Union, recently released a risk analysis report noting, "social media platforms such as Facebook and Twitter are used to share information on how to enter the EU illegally and the destinations available". The report elucidates that social media "allows a sort of 'shopping' by migrants to find the most suitable deal for them, which is likely one of the reasons behind a concerted move by certain nationalities towards particular destinations."
Boasting 17,000 likes, Asylum seekers, irregular and regular migration to any country – Exclusively for Syrians, is a stark example of a professional online shop.
The page is updated almost daily with announcements about visa conditions for various countries such as Sweden and Germany. Both countries accept large numbers of asylum seekers in comparison to other European states. The page even links to an article with information on how to obtain fake European passports.
Alongside unabashed sales of smuggling services on public pages, other smugglers promote their business privately on their Facebook profiles. For example, a smuggler based in Izmir in Turkey is explicitly named Smuggling to Greece, according to the profile. The smuggler claims to travel to Greece on an inflatable 8-meter boat (26 feet) taking up to 35 people at a cost of $900 each.
The United Nations Office on Drugs & Crime estimates that smugglers rake in $550 million annually from the lucrative business of brazenly transporting migrants from North, East and West Africa to Europe making it almost impossible to stamp out.
In an indication that this deathly business will continue and more deaths will undoubtedly ensue, when asked by a prospective client about the cost traveling by land, the smuggler boldly proclaims, "I only go by sea".