Manmohan Singh, India's prime minister, called them his "big bang reforms": the opening-up of India's $450 billion retail market to foreign investment. Giants like Tesco, Carrefour or Walmart will be able to start selling directly to Indian shoppers. Walmart has confirmed that the company would open retails stores in the next year and a half. But there are various reasons why the bang might not be so big—and will be the last major policy change for a couple of years.
The kirana versus the supermarket
It will take years for Singh's reforms to have the kind of impact he promises, if they have it at all. First, India's middle-class families (and their servants) need to warm to shopping in fluorescent-lit Western style supermarkets over the roadside stalls and small shops most of them grew up with. Indian supermarkets have already tried this ground over the past 10 years. Most of the country's major grocery chains are losing money and at least one notable chain has been forced to close.
Global retailers hungry to reach India's population of 1.2 billion will have to compete with cheaper, small independent outfits, known as kirana, that require little labor or real estate costs and can often avoid taxes (pdf). The informal sector made 96% of all retail value generated in 2011, according to a Euromonitor International report.
The success of big groceries depends on consumers taking fewer and bigger shopping trips. Only about 4% of Indian households own a car, the report noted. Most well-off families also have servants who do their shopping, and don't care much about bright, tidy supermarket aisles or foreign brands.
However, analysts of India's retail sector say consumer tastes will gradually shift as the country urbanizes and its middle class grows(pdf). One economist compared the supermarket's slow path to that of the washing machine, sales of which did not take off for years (pdf) because families were so used to having their laundry picked up and washed by a local service.
"The wheel of retailing moves slowly but surely," says Jagmohan Raju, a professor at the University of Pennsylvania's Wharton School. "The entire process has to work for organized retail and all of that is happening. Will it happen tomorrow? No, but as you look forward in a few years, the trends are obvious."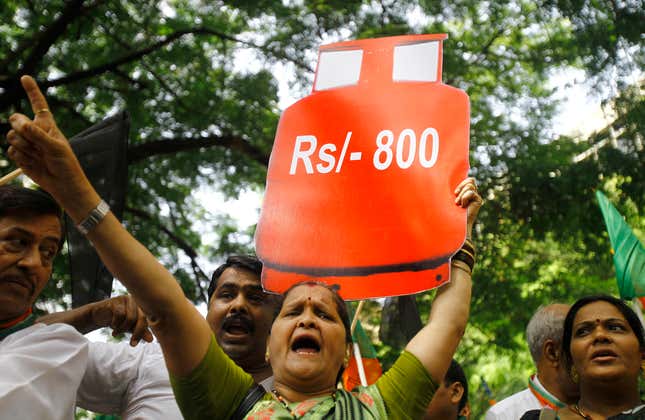 Politics versus economics
Foreign investors must feel they can trust that government commitments to economic reform won't be thwarted by domestic politics. For that, India's government needs to prove it is serious. The retail reform helped the country avoid being the only BRIC economy to see its credit rating downgraded to junk, but the political storm that followed is no comfort to potential investors.
Shop owners and regional politicians protested with a national strike on September 20 after a regional party for West Bengal state pulled out of Singh's coalition. This could mean a government collapse if Singh's Congress Party does not cobble together and maintain a new parliamentary majority. Singh has defended his reforms but if a collapse seems eminent he may have to lure back coalition partners by recanting the policy, which would be the second time Indian politics has torpedoed the measure.
Investors have been bullish on India, says Krishna Gupta, the head of Romulus Capital, an advisory group on emerging markets like India. The economy's growth slowed to 5.5% year-on-year in August, the slowest in three years. Initiatives from opening the country's shale energy sector(paywall) to tax and banking reforms have been repeatedly delayed. Reforms over foreign direct investment in insurance and pension sectors are other measures also appear bleak.
"Will there be a flood of FDI [foreign direct investment]? Maybe… Will investors suddenly feel like this has become a reform friendly environment, probably not," Gupta said.
Walmart roads?
Finally, these foreign retailers will have to help fund and build parts of India's infamously bad infrastructure themselves.
Singh says foreign investment will help fix India's poor roads and the lack of adequate cold storage in its supply chain, and radically transform its food and grocery sector. A third of fresh produce in the country rots before it reaches shoppers.
'The debate in India has been is this going to be a load of investments or is it going to be the loss of millions of jobs?" said Gareth Price, an economist at Chatham House, a think tank in London. "It will be somewhere in the middle," he said, adding that the scale of infrastructure needed in India is in the billions of dollars. "Tesco isn't going to rebuild roads, build farms… or bring in millions of refrigerated trucks."
Tesco and Carrefour did not return requests for interviews. Raj Jain, president of Walmart India, said in an email, "We are willing and able to invest in back-end infrastructure that will help reduce wastage of farm produce, improve the livelihood of farmers, lower prices of products and ease supply-side inflation."
But retailers will likely join tie-ups with local Indian supermarket chains and build on their existing supply chains rather than build new ones, Price said. And the policy allows foreign retailers to own a 51% stake in supermarkets only in cities with a population of more than 1 million, so it bypasses rural areas which need the most infrastructure help.
The last reform
The political cost of keeping the retail reform means other reforms won't be passed until after the country's next general election.
"They'll be lucky… if this retail thing gets through it will only get through with Congress making every promise that they won't do anything else," Gupta said. The Eurasia Group, a political risk consultancy, said in a note that it believed prospects for reform would be even more unlikely after national elections in 2014, which it said would result "in a coalition government and policymaking even more dysfunctional than is currently the case."
If the Indian government maintains this policy in face of the political firestorm it may signal that it is serious this time, given the slowdown, about economic reform.