One of Africa's wealthiest ruling dynasties is tearing itself apart over the fortune left by the late dictator Omar Bongo of Gabon.
But as the first family takes its inheritance battle public, and instability reigns at the summit of power, the epic scale of the Bongo clan's institutionalized pillaging of public resources in the former French colony is being revealed in grotesque detail.
At the same time, the shady system of informal political and commercial networks of patronage, graft and corruption privileging French multi-national companies and politicians, a system known as Françafrique has been exposed.
The revelations are an indictment of a corrupt regime that reflects shamefully on both the former colonial master France, and the unabashedly high-living governing family that has treated the national treasury like its own private bank account.
Omar Bongo ruled the central African nation, now the continent's fourth-largest oil producer, for 41 years until his death in 2009.
He fathered 53 children, but designated two leading heirs – his 'treasured daughter' and former top aide, notorious private jet frequent flier Pascaline Bongo, and son and current President, the luxury-car loving Ali Bongo.
The quarrel among the heirs is in a country riven by extreme wealth disparities, with one third of the population of 1.6 million living below the poverty line.
The battle for control of the Bongos' conservatively estimated hundreds of millions of dollars in assets in the form of secret bank accounts in Monaco and elsewhere has driven the family into rival faction, They're also believed to own scores of luxury villas and mansions in Paris, London and around the world, planes, boats, art and huge stakes in Gabon's key industries.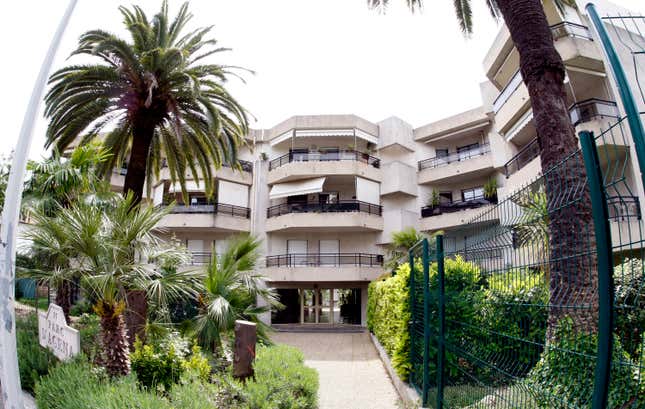 The split is pitting president Ali Bongo against his estranged sister Pascaline. The brawl is being played out in French courts and the Paris press. French investigative website Mediapart this week published the latest in its series of 'Bongoleaks'.
A confidential document from the president's office showed how tensions surrounding Bongo Père's inheritance were unraveling both the government and first family. The incumbent head of state takes aim in the letter at his sister accusing her of 'willful obstruction', 'deliberate destabilization', ommissions, errors and other faults in her role, since rescinded, as the mandated family representative in the inheritance process.
In earlier reports, Mediapart also obtained documentary evidence detailing for the first time the internal operations of the secretive family holding company Delta Synergie – a scoop that  'revealed a scale of pillage probably unequalled in Françafrique'.
'A handful of family members have appropriated entire parts of the economy,' investigative journalist Fabrice Arfi wrote.
Not one sector of the Gabonese economy was safe from the 'Pandora's Box' of Delta Synergie – insurance, banks, agriculture, security, transport, medicines, commodities, construction, aviation, textiles, media, gas and petrol sales, wood. And at least four French multinationals present in Gabon – Bolloré, Bouygues, Eramet and BNP Paribas are cited in the documents as having links to Delta Synergie. Other reports noted the key role in Gabon played by French oil giant Total.
The luxury lifestyles of the Bongos were again highlighted after Pascaline Bongo wracked up $86 million in luxury air travel in under two years – then 'forgot' to pay the bill.
Or at least her estranged President brother refused to cough up.
Dubbed the ultimate 'African Princess', Pascaline Bongo famously became infatuated with her idol Bob Marley in the 1970s (the reggae legend visited Gabon at her invitation in 1980) and this month was a guest of honour at the Reggae Festival in Abidjan, Ivory Coast.
Between 2008 and 2010 she whizzed herself, family and friends like Jermaine Jackson around the globe in Gulfstream jets, privately chartered Airbus A319 and Boeing 757 aircraft. The flights were all taken between 2008 and 2010.
Since the Swiss company Travcon AG decided to sue the presidency of Gabon, obtaining a judicial order to impound a Gabonese Boeing 777 on the tarmac at Paris's Orly airport in lieu of payment, the siblings' private squabble over bills became a matter of political and diplomatic importance.
An adviser in President Bongo's cabinet, dispatched to Paris (where the first family owns an estimated 39 upscale apartments and buildings) declared the aircraft seizure a 'flagrant breach of international law' and 'characteristic of the contempt France shows us'.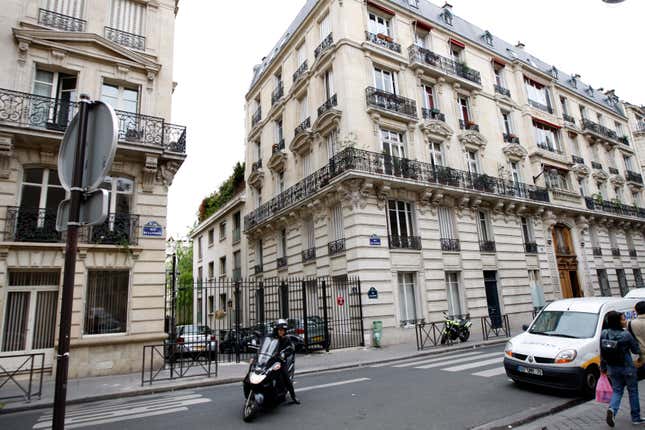 A figure close to the President suggested the invoice should be resent to the personal address of Pascaline Bongo.
Earlier this month the impounded jet was released to Gabonese authorities, although the bills remain unpaid.
Hitting back at her public disavowal by her brother and his attorneys, Pascaline Bongo gave a rare interview conducted in her mansion in Paris's 16th arrondissement, protesting that she 'was the cherished daughter of Omar Bongo, but I did not manage all his assets'.
She deplored 'a tense family atmosphere and the impatience of certain heirs wanting to get a hold of their part of the inheritance or reclaiming what is their due'.
Regarding relations with her brother she said 'Ali is my brother. Just like in all families there can sometimes be some disagreements'.
But a figure close to the family suggested 'Ali has the power and she has the money. She wants to keep her bit without sharing it either with Ali or the other heirs'.
Not that the head of state is without reproach. President Ali Bongo's vast fleet of hundreds of luxury cars including Mercedes, Maybachs and Rolls Royce's is now on the public record.
For several years French judges have been investigating reputedly ill-gotten gains of African dictators who love to 'hide' their pillaging of public assets through investments in luxury cars, mansions on the Avenue Foch in Paris, high-end watches and art. The presidents of Gabon, Equatorial Guinea and Congo-Brazzaville are all in their official sights.
Still, French judicial severity is tempered when it comes to the political and business elite, many of whom have profited for decades from the seedy post-colonial links with dictators and oligarchs in the ex-French territories.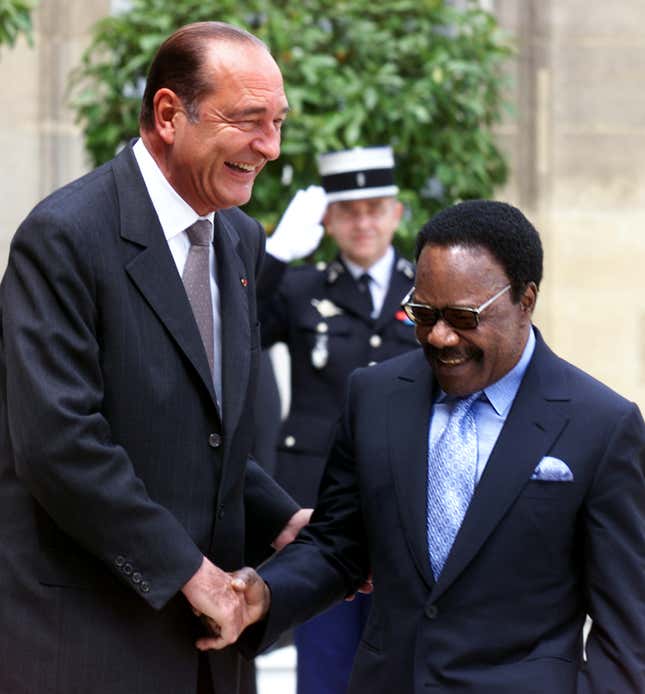 Past Presidents including Jacques Chirac and Nicolas Sarkozy denied it but they are alleged to have benefited from millions of dollars in illegal campaign funds from figures like Omar and Ali Bongo, while France's top multi-nationals are overrepresented in the former colonial nations.
Home to one of four French military bases in Africa, Gabon remains the 'epicenter of Françafrique' and the sphere of influence 'par excellence' where French businesses control more than 30 per cent of some market sectors.
'Gabon has been like a drinking trough for the biggest French companies, who under Omar Bongo, have been behind unprecedented crimes, illicit agreements, abuse of public goods, and abuse of their dominant position,' declared the head of Ali Bongo's cabinet office Maixent Accrombessi.
'It would be good if the French justice system became interested in this!''.