One of the more impressive things about Facebook is that it keeps steadily growing, despite its already-massive size.
In March, the 11-year-old company boasted 1.44 billion monthly active users. That's up almost 50 million from last December, and 165 million from March 2014. For context, Twitter grew by 47 million monthly active users over the past year, to 302 million. And LinkedIn added 68 million registered members, to 364 million. (LinkedIn does not report active users.)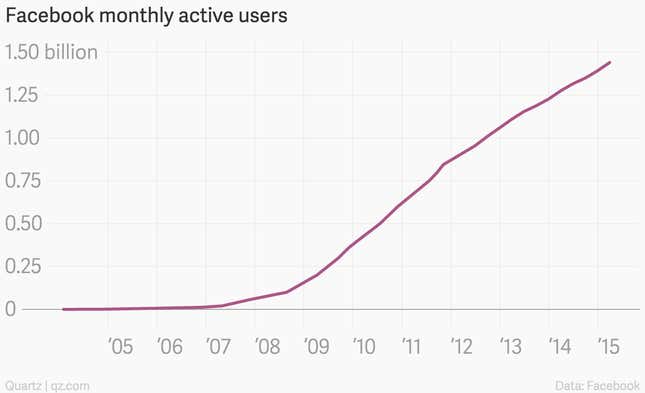 Facebook will almost certainly pass 1.5 billion monthly active users sometime this summer—probably in August.
What about two billion? That timing is less clear, because of factors ranging from Facebook's popularity to the size of the broader internet population (including Facebook's own efforts to increase it). But a series of statistical analyses done by Quartz is projecting dates ranging from late 2018 to 2020 and beyond.
While Facebook's growth rate has been rather steady over the past couple of years, it's always possible the service will lose attention for one reason or another. Facebook could also change the way it reports monthly active users to include, for example, users it acquired from other services. Today, for example, Facebook's stats "do not include users of Instagram or WhatsApp unless they would otherwise qualify as such users, respectively, based on their other activities on Facebook." Instagram passed 300 million monthly active users in late 2014, and WhatsApp recently passed 800 million.
For the record, Facebook describes a monthly active user as "a registered Facebook user who logged in and visited Facebook through our website or a mobile device, used our Messenger app, or took an action to share content or activity with his or her Facebook friends or connections via a third-party website or application that is integrated with Facebook, in the last 30 days as of the date of measurement."