In-flight internet access is the ultimate first world problem: the magical ability to get online from 38,000 feet still often feels infuriatingly slow. Yet despite poor performance, it has also gotten more expensive.
The main problem: A bandwidth shortage. Chicago-based Gogo, which says it powers about 70% of internet-enabled commercial aircraft in North America, has admitted a "capacity crunch" in its pioneering air-to-ground network, which launched in 2008. It has taken to increasing its prices to discourage people from unnecessarily clogging its airwaves.
Over the past year, the percentage of passengers who buy Gogo's wifi service has remained roughly flat at just below 7%. Yet its average revenue per session increased almost $1.50 over the past year, to $11.73, in the fourth quarter of 2014. "We are very heavily using price to manage the capacity issue right now and will continue to do that," Gogo CEO Michael Small said on the company's last earnings call in late February.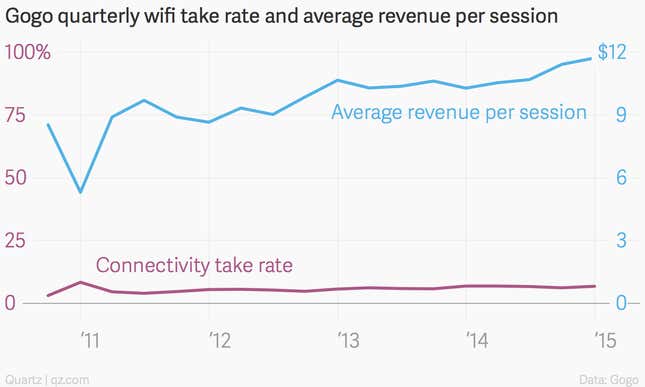 There is good news on the horizon, however. Gogo, which is investing in global expansion, will soon start to roll out a new, satellite-based system that will provide faster internet access in flight.
The satellite tech, called 2Ku, played a starring role in Gogo's prior earnings call (pdf), garnering a few dozen mentions. And when Gogo reports first-quarter results on May 7, expect to hear more about 2Ku—the company's future depends on it.
Gogo executives have boasted that 2Ku speeds will reach 70 megabits per second (Mbps) when it launches later this year, and eventually 100 Mbps—up from the 10 Mbps that its latest air-to-ground antenna provides. That's enough bandwidth to do things like reliably stream movies, something JetBlue already encourages for its rival satellite-based wifi service. (Yesterday, JetBlue and Amazon announced a deal to let passengers stream Prime video for free while flying.)
But Gogo's 2Ku bandwidth will supposedly cost less than competing satellite networks and it will provide service in some areas of the world that other satellite systems can't reach. And with a smaller antenna bump on the plane's fuselage, it should generate less drag, saving fuel. Gogo has already received 2Ku orders for several hundred aircraft, including a big deal with its biggest customer, Delta Air Lines, and Virgin Atlantic.
Beyond streaming movies and simply faster, more reliable passenger internet access, Gogo—which is still unprofitable—has big plans for this expansion.
The company has outlined a range of potential new connected logistics services—"the internet of things in the sky." By February, Gogo had already connected 18,000 of Delta's flight attendant tablets, "and will work with them on other products and services to connect the cockpit and components on the aircraft." In an era where planes can still disappear, the idea that more airplane systems can be connected to the internet—and constantly streaming stats home—is compelling.
As for growth: "This vision for connected aircraft drives my belief that this will be a $30 billion revenue industry," CEO Small said on the last earnings call. (Gogo's revenue is still under $500 million per year.) And a JPMorgan research report from April highlights similar expectations, citing a Gogo-projected "20-year path" to $1 million in annual revenue per plane, up from about $121,000 today.