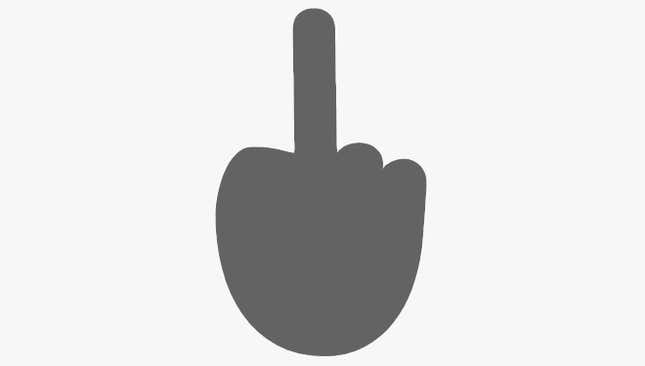 Microsoft is giving you the middle finger.
The latest update to Windows 10, the forthcoming operating system for its phones and personal computers, includes support for the middle finger emoji, according to Emojipedia. That makes Microsoft the first big tech company to allow the profane emoji onto its platform.
The Unicode Consortium, which dictates the official language of emoji, added "reversed hand with middle finger extended" in the middle of last year. But it's up to companies like Apple, Google, Twitter, and others to actually allow their users to type and view each emoji.
While Apple added a slew of new emoji in the latest update of iOS, it has thus far kept the middle finger away from iPhones. Ditto for Google's Android platform. If you can't see the middle finger between the dashes in this sentence—🖕—then your operating system or web browser has chosen to keep things polite.
Microsoft's implementation of the middle finger actually includes a variety of skin tones, from its new default grey (the equivalent of Apple's new race-neutral yellow) to many shades of brown:

The update to Windows 10 includes several other changes to the little icons, which Emojipedia detailed in a post on its blog today.