On a hill overlooking one of Spain's farthest-flung cities—Ceuta, so far south it's literally in Africa—a hulking gray and Crayola-green housing complex stands empty.
Loma Colmenar, as it is called, is bordered on one side by a dusty pink and yellow Rio-style favela, and on the other by Ceuta's state-of-the-art hospital. The empty fortress is more than half the size of New York's Madison Square Garden, and it constitutes local government's most recent attempt to meet the growing affordable-housing demand in this little exclave—a remnant of Spain's colonial empire.
The development is the last of a series in Ceuta, one of Spain's two autonomous cities on the African continent. The other is Melilla. (Together, they make Spain the only European nation to share a land border with Africa.)
It follows the rehabilitation of one public housing complex and the construction of another. The building is a new front in Spain's battle to end a persistent housing crisis and integrate its minority Muslim community. It also represents a significant move to correct Spain's pre-Eurozone policies that prevented Moroccans in Ceuta and Melilla from gaining Spanish nationality or becoming homeowners.
In 2007, before Spain's vibrant economic growth suddenly crashed, the national government in Madrid, along with Ceuta's ministry of housing, struck a deal to co-invest 112 million euros in subsidized housing in the area. By constructing new affordable units, Ceuta hopes to turn the neglected and segregated city into a place of coexistence. Ceutan residents without Spanish citizenship cannot buy homes, but will be allowed to rent these units.
About 3,000 people have applied for affordable housing, Alberto Weil Ruis, the city's municipal architect told Quartz. But there are likely many more who have yet to request support. "We're really working to confront this problem," he says. "There [are] so many people in need."
Ceuta's housing authorities anticipate about 300 families will move into the complex this summer, meeting just 10% of the exclave's current demand. "It's a really bad proportion," Ruis said. "But the rhythm of construction—it's really slow. We just don't have the capacity to build 3,000 units at once."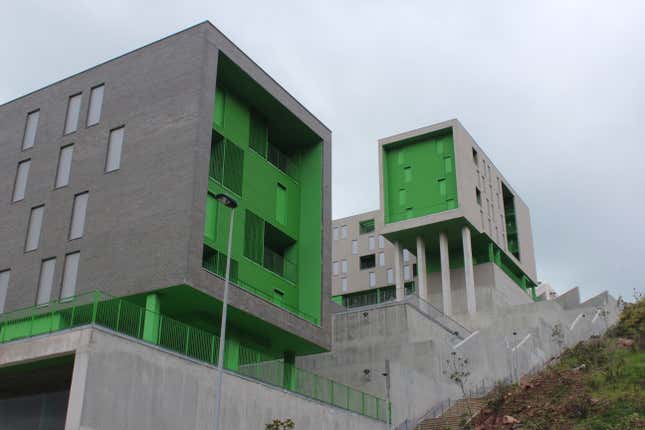 The glacial pace mostly stems from the 2008 global economic crisis that sent Spain into a severe downward spiral. The crash stalled the nation's construction boom, Loma Colmenar's final phase included.
The new complex is located in the Principe district, an area some national media, and many locals, call "Spain's most dangerous neighborhood." Striking views of the Mediterranean aside, Ceuta is a notorious thruway for illegal immigration to Europe, and a hotbed of jihadist recruitment and drug trafficking. The city is strategically located near the Straits of Gibraltar, where the Mediterranean meets the Atlantic, just across from mainland Spain. But many Moroccans in the surrounding area refer to it as occupied territory, and the Moroccan government isn't shy about its desire to reclaim the territory. Principe is at the epicenter of competing Spanish and Moroccan claims.
The neighborhood is infamous among Ceutans and in Spanish pop culture thanks to a television show of the same name. Ceuta's reality is far less sensational than the telenovela-esque show, but the tale of two cities is more or less accurate.
The city of just under 50,000 is approximately half-Christian, half-Muslim, and locals often refer to each other as such. Most of the new building's future residents will likely be of Moroccan origin, a largely Muslim population, because they comprise the majority of the city's poorest residents.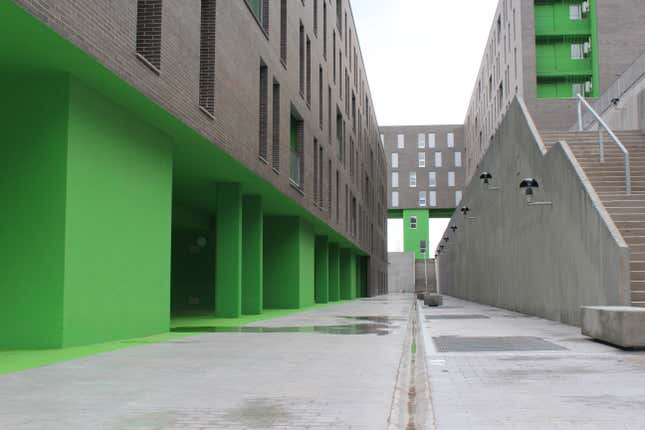 To walk from one side of the exclave to the other takes a little more than an hour, about the time needed to watch an episode of Principe. The Christians mostly live near the coast, whereas Muslims have settled the interior, closer to the Moroccan border.
"If you go for a walk in Ceuta, you can see how we are not actually together," lifetime resident Carmen González Bermudéz, a Spaniard, told Quartz. "It is not an actual separation or even segregation; it is just they are comfortable among them, and we are comfortable among us."
Loma Colmenar is Spain's latest attempt to bridge the city's divided populations. Designed by a notable Spanish architect from Seville, it's the last in a series of housing complexes that came out of a 2006 international competition to bring "an innovative architectural and urban solution" to the labyrinth of informal housing that now occupies the area.
The first phase of construction wrapped in 2011, and mostly Arab families moved in to the new white complex that sits adjacent to the green giant. The area "is an intense and beautiful merging ground of cultures and environments," wrote the first building's architect in a blog post for ArchDaily. "Or, perhaps to an untrained eye, a rather brutal battleground between two ways of making a city."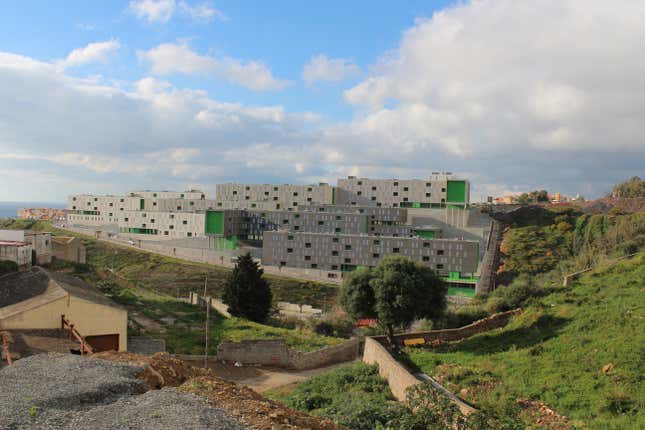 Today, the barren dirt hills nearby and the massive Jenga-block construction of the new housing complex make for a vivid contrast. Despite the imagery, Ceuta's urban planners hope the landscape, along with its residents, will eventually integrate.
Spain guarantees residents housing—it's written in the 1978 constitution. In practice, that has meant the over-construction of apartments intended only for purchase. The Spanish have long favored ownership over rentals, and tax incentives had heavily promoted affordable mortgages since Spain emerged from dictatorship in the 1970s.
But this meant few other housing options existed: Several international bodies, including the UN, criticized Spain in 2004 for its lack of affordable housing and public rental units—just 2% of its stock—at the height of the nation's housing glut. The country built more units over the course of a decade than France, Germany and the United Kingdom combined. At its peak, the construction and real estate made up more than 40% of the country's GDP. But much of that expensive housing has gone unfilled, an ironic twist for a nation known not long ago as an "architect's playground."
When 2008's crash led to a foreclosure crisis, Spaniards couldn't afford mortgages, and more than a quarter of the population found themselves out of work. Unemployment, combined with the dearth of affordable homes and rentals, hurled once prosperous residents into pre-Eurozone poverty. Squatters found their way into units they could never afford to own. Immigrants and minorities were among those most affected. Meanwhile, almost 3.5 million residences built during the boom sat vacant.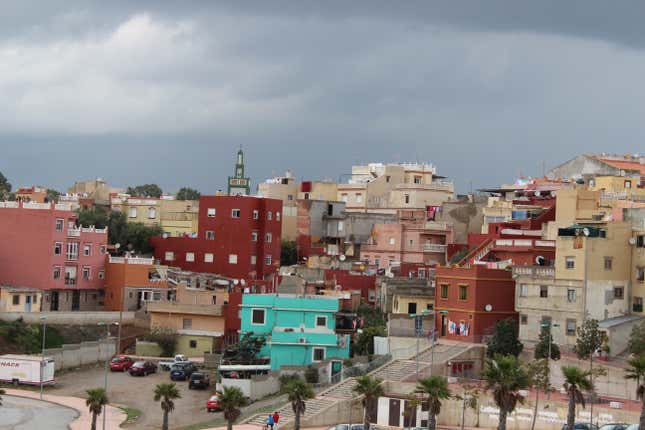 Ceuta is isolated from the Spanish mainland, but was also hit hard by the economic crisis. The green monolith took years longer to finish than anticipated, and since construction ended in November, it remains uninhabited. But that the Spanish government has invested in this housing at the far reaches of its territory demonstrates its new commitment to providing public housing. There are also plans to eventually build schools and green spaces. City planners zoned the building as mixed-use, with 16 ground-level units intended for new business. But so far, no one's interested.
For a group of Arabic-speaking women chatting nearby, the green building was something of a conspicuous enigma. Calling down from her second-floor window, another woman said she didn't know anything about it; it was just the empty, albeit enormous, building next door.
Loma Colmenar is scheduled to welcome its new residents—all of them renters—this summer, potentially signaling a new, positive direction for the Spanish economy and housing market. At the very least, it's an upgrade for the 300 new families that will move in. It's got community patios to promote a neighborhood feel, and its huge windows offer striking sea-views, a digression from the conventional public housing template for which beauty is more often than not a discarded priority.
Ruis said the city wants to take its public housing developments a step beyond the basics. It's an aesthetic commitment with a social mission, an aspiration that, despite its economic turmoil, Spain isn't giving up on just yet.
Reporting for this article was supported in part by a grant from the global and joint studies program at the Arthur L. Carter Journalism Institute of New York University.