This post has been updated.
In a cryptic video shared over Twitter, McDonald's has announced its new Sirloin Third Pound Burger, as well as, apparently, the return of the Hamburglar.
But this isn't just any Hamburglar. He's hip. He's handsome. He wears a hat, tie, and skinny jeans.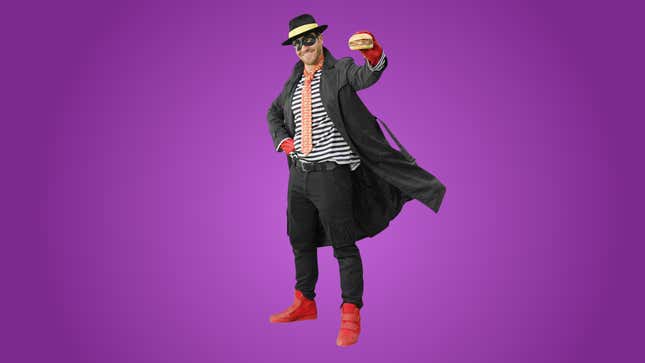 Check out all the pics over at Mashable.
"We felt it was time to debut a new look for the Hamburglar after he's been out of the public eye all these years," Joel Yashinsky, McDonald's' vice president of US marketing said in a statement to Mashable. "He's had some time to grow up a bit and has been busy raising a family in the suburbs and his look has evolved over time."
Indeed it has. The original Hamburglar was part of the crew of McDonaldland characters—including Grimace, Mayor McCheese, Fry Guy and Captain Crook—that dominated the burger chain's marketing for decades starting in the early 1970s.
For the record, it's still unclear as to why the Hamburglar was forced into a life of crime.
In a statement to Quartz, Lisa McComb, director of McDonald's media relations, explained why Hamburglar was back in business: "[T]he Hamburglar had been living a quiet life until the release of Sirloin Third Pound Burgers, which lured him back into the public eye."