In the nave of a 16th-century basilica in Venice, Italy, visitors saw a beautiful apparition this weekend. Conjured up by renowned Catalan artist Jaume Plensa for this year's Venice Biennale, the installation, with a duo of colossal heads made of stainless steel mesh at the centerpiece, is now at the Basilica di San Giorgio Maggiore.
The award-winning sculptor and teacher is a humanist and a master of scale. For the Crown Fountain in Chicago, Illinois, he toyed with the city's towering skyscrapers by installing larger-than-life totems that project a video loop of 1,000 faces of its residents. In Bordeaux, France, he installed a large seated figure that vied for attention with the palaces that surrounded it.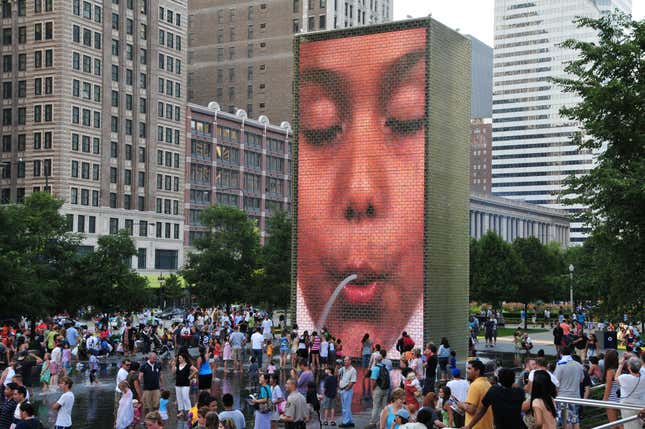 The concept for Plensa's dreamy installations in San Giorgio is not exactly new. Versions of his "perforated" sculptures, which look like colossal computerized 3D renderings, have appeared in a field in Yorkshire, England; in an outdoor plaza in Calgary, Canada; and even at hotel lobbies in New York City, not to mention at numerous museums and galleries around the world.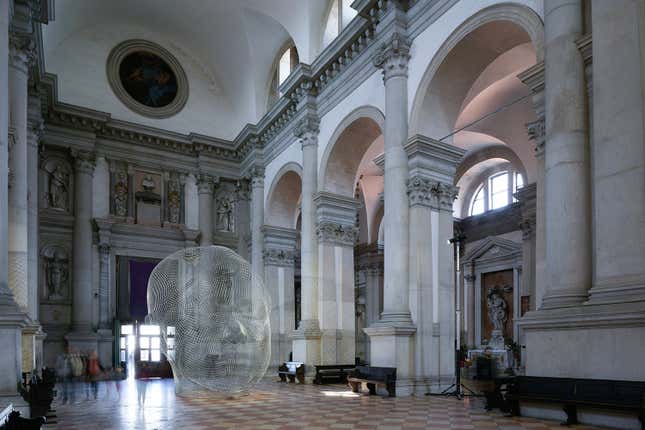 And though these "portraits" (more like truncated busts) are different for each site-specific installation, the sculptures tend to look similar, with idealized facial features, closed eyes, and serene expressions. Plensa actually models the heads from real people—mostly girls aged 8 to 14, a period that he describes as "that moment when beauty is in motion, changing every second."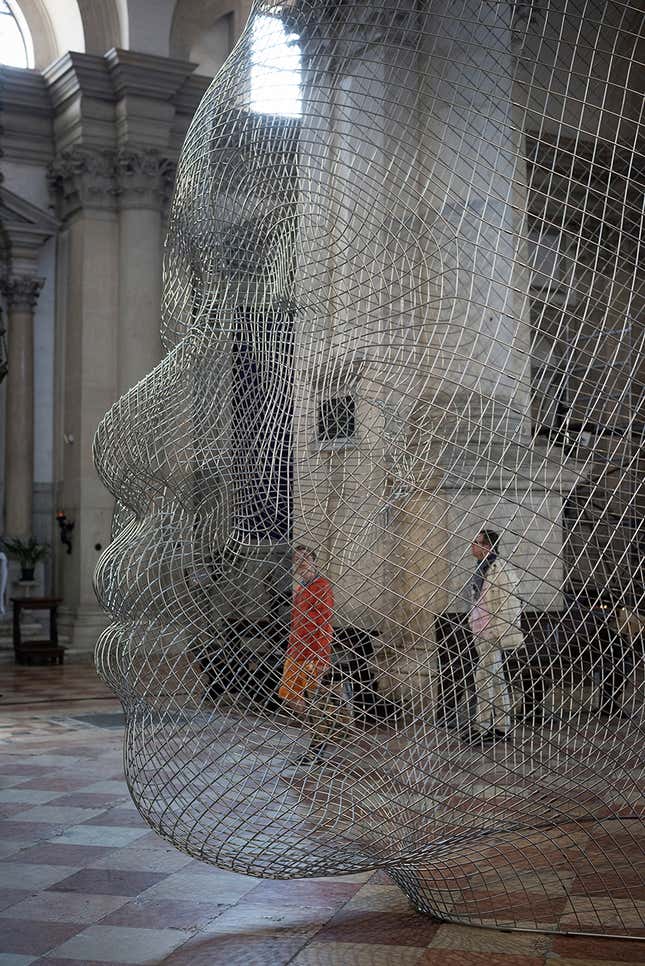 But to encounter Plensa's sculptures in one of Venice's venerated landmarks makes his work seem somehow new again. The Benedictine monastery, established in the year 952, and later overhauled by the influential Italian architect Andrea Palladio, has never been such a prominent venue for secular art. A sanctuary for reflection (or from the Biennale's crowds), the church, which stands on its own island, offers a more tranquil context for Plensa's giant heads than some of the outdoor spaces where they've been displayed. In it, the heads seem to have found a strange communion with the Palladian architecture and the Renaissance paintings by Tintoretto, Vittore Carpaccio, and Jacopo Bassano.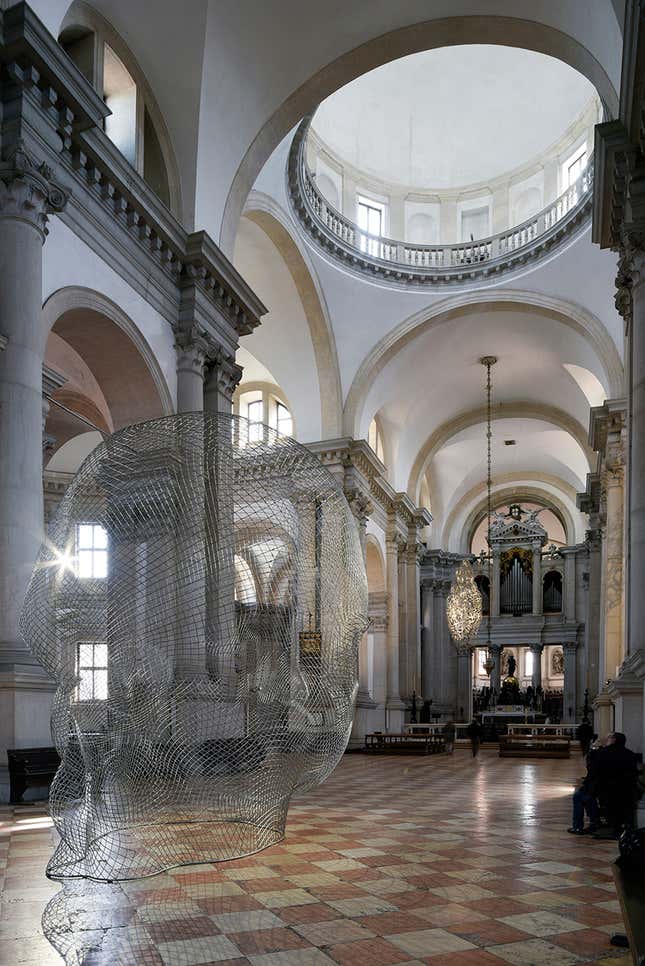 From his love of graphic arts and typography, Plensa's installation also includes a hand floating beneath the cupola. A filigree made up of letterforms from eight alphabets, it's an ecumenical symbol meant to anoint its visitors from all religions, explains Plensa, who speaks five languages.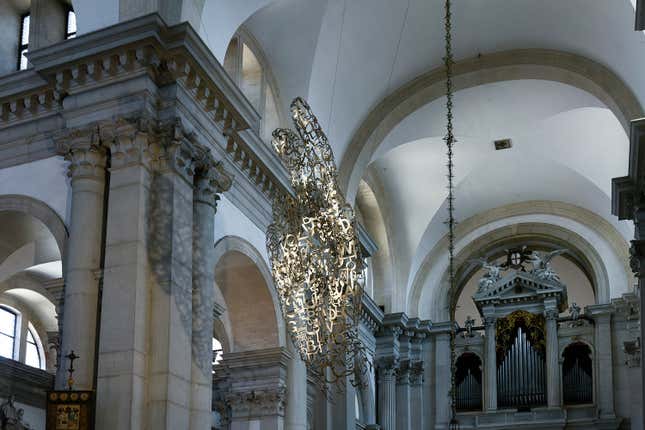 "It's an extraordinary possibility for me as an artist to dialogue with history and to suggest something contemporary," Plensa told Quartz by phone. In awe of the space designed by Palladio, one of the most influential figures in Western architecture, he says, "It's like a collaboration between me here, and Palladio, in heaven."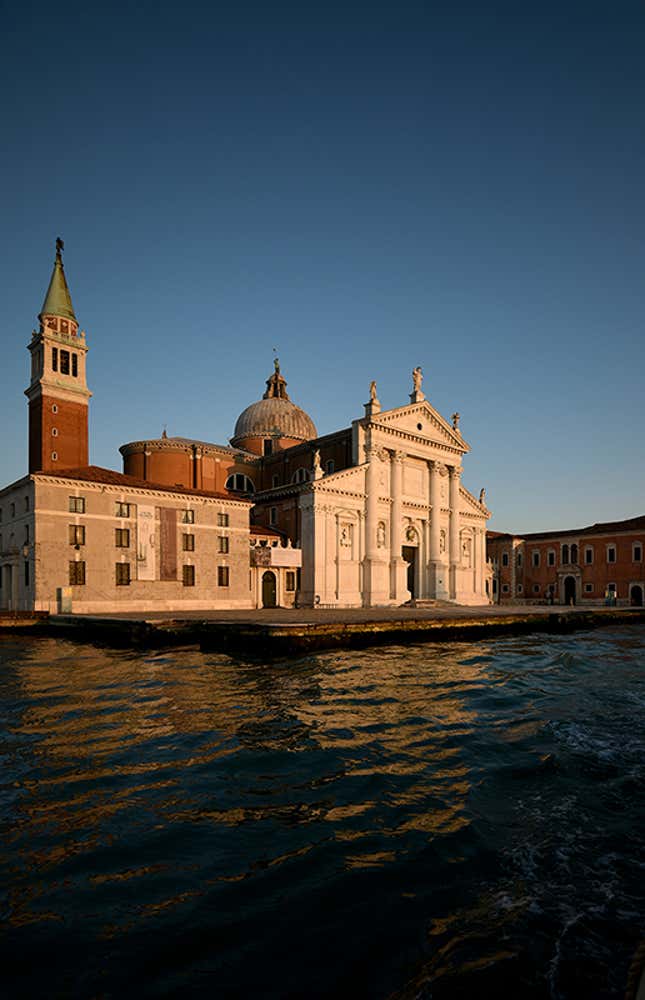 "Together," as the show is called, will be on display at the Basilica di San Giorgio Maggiore through 22 November 2015.