The cuts keep coming at Siemens, the giant German engineering group. Its latest quarterly earnings (pdf) disappointed investors, with a key measure of group profit dropping by 5% versus the same period last year. Most of the conglomerate's business units reported lower profits for the quarter, and the company's share price dropped by more than 2% in early trading.
Siemens has been undergoing a painful restructuring over the past few years, which really kicked into gear in 2013 after a series of profit warnings led to the ouster of CEO Peter Löscher and the promotion of CFO Joe Kaeser (pictured above) in his place. One of the former finance chief's first orders of business was to announce some 15,000 job cuts as part of a radical simplification of the group's sprawling operations.
Kaeser's cuts have continued since then—another 4,500 jobs are going, according to a separate announcement today (pdf). Siemens says that its "reorganization" is now complete, with €1 billion ($1.1 billion) in cost savings expected from next year. Including the cuts revealed today, around 13,000 layoffs have been announced since December.
Over the past two and a half years, Siemens' total workforce has shrank by nearly 70,000, accounting for more than half of the whopping 130,000 jobs that have been cut over the past decade: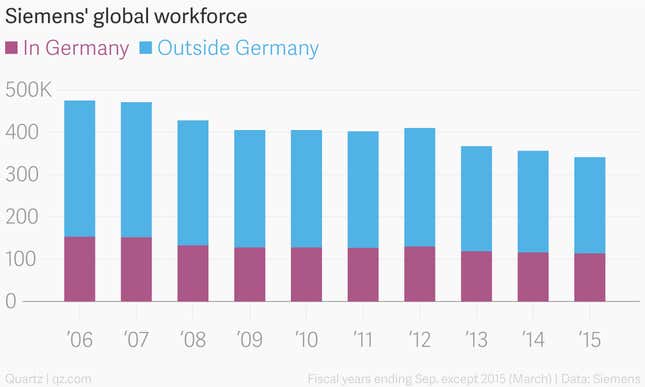 Is this really the end of the pain? Maybe not. Last year, Siemens acquired energy assets from the UK's Rolls-Royce and launched a takeover bid for the US energy equipment maker Dresser-Rand, just as oil prices and the euro started to tank. (For its part, Dresser-Rand announced its own job cuts earlier this year.) The economics of those deals don't look so smart in retrospect.
The company's energy equipment division, which accounts for 17% of sales, reported that its profit margin almost halved in the latest quarter. The bulk of Siemens' hefty €140 million severance bill in the three months to March came from its energy operations.
Many of the new job cuts announced today are related to the "persistently difficult environment in the global power generation market," the company said. That environment is unlikely to improve any time soon, which makes Kaeser's caveat that the company's deep and protracted restructuring drive is over "for the most part" sound somewhat ominous.