Revolutionizing the global automobile industry is an expensive pursuit.
Ask Tesla. Elon Musk's electronic automaker (and battery company) burned through more than half a billion dollars in the quarter that just ended.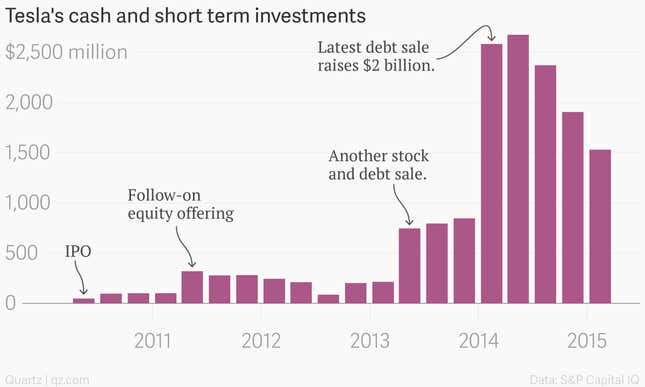 It shouldn't be shocking, since Musk himself boldly declared earlier this year that he plans to spend a "staggering" amount on capital expenditures this year. The company just announced a new product line (batteries for the home), has at least two new vehicle models in the pipeline, and is building the world's biggest battery production facility in the Nevada desert.
Still, the pace of the cash burn seems to have stoked some jitters on Wall Street. "At the current rate of cash burn and assuming no external sources of capital infusion or warehouse facility draw, Tesla would exhaust its $1.5 billion of gross cash in around 3 quarters," Morgan Stanley analyst Adam Jonas, one of the more consistently bullish Tesla analysts, wrote this morning.
Jonas says Tesla is leaving itself very little margin for error with the release of its Model X SUV. The company could have less than $1 billion in cash on its balance sheet by mid-year, he says, on the eve of what is shaping up to be an incredibly important new vehicle launch.
The solution of course, if it came to that, would be for Tesla to raise fresh capital, something it has done every year since its IPO in 2010. The company could issue new shares, borrow money, or do some combination of both. (For example, less than a year ago Tesla raised $2 billion in debt that could eventually convert into equity).
None of those options is particularly helpful for the share price, though. Issuing new stock makes existing shares less scarce and in theory less valuable. Issuing debt could be expensive, given Tesla's somewhat shaky finances.
All of which is to say, revolutionizing the global automotive industry, heralding a new era of electric vehicles, and potentially changing the way humans consume and store energy, was never going to be straightforward. Elon Musk's pursuit of these goals is laudable and it is precisely for this reason that he is hailed as the greatest entrepreneur since Steve Jobs.
There's something missing in the logic of criticizing most companies for hoarding their cash, and then turning around to criticize Tesla for investing its cash. Especially when, in the long run, Tesla's investments are geared toward bettering society.