Earlier this week, Nigeria's Finance Minister, Ngozi Okonjo-Iweala, revealed the Nigerian government had already used over half of the amount set aside for borrowing in its 2015 budget, to pay salaries and overheads of its workers.
Nigeria is dependent on crude oil for most of its revenues meaning the country's finances have been hit by a slump in crude oil prices since last June.  Although prices have inched up slightly since then to around $65 for now, they are nowhere near the $100-plus mark it averaged for the 3 years previously.
This all means paying workers, rather than dealing with security problems or fighting corruption, will move swiftly near the top of incoming president Muhammadu Buhari's agenda when he takes office on May 29.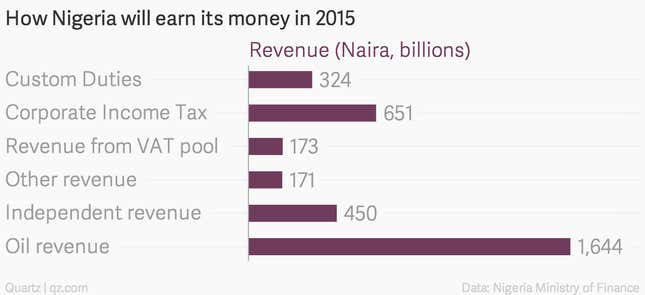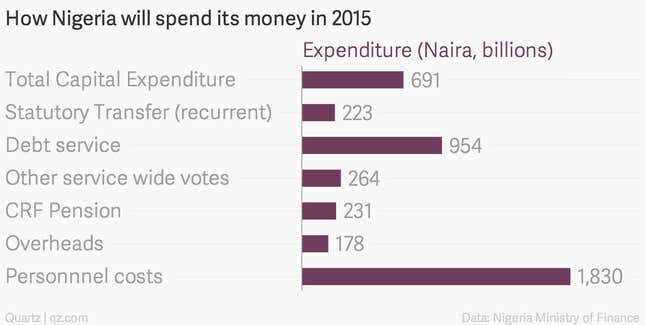 An increase in the minimum wage in 2010, coupled with an already bloated federal civil service, mean that personnel costs already outstrip projected oil revenues, and nearly a trillion naira has also been set aside to service existing debts.

The vast majority of Nigeria's 36 states survive on allocations from the federal government, and since these allocations are dependent on oil revenues, they fluctuate with crude prices. The chart below shows the sharp decline in the amounts given to states to meet their obligations, and many of them are owing their workers months in unpaid salaries.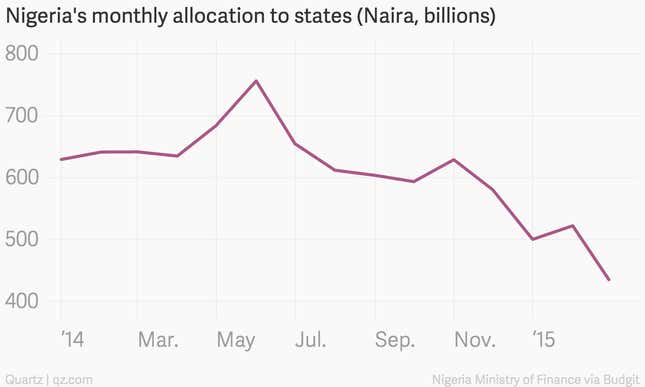 The phenomenon of unpaid salaries in Nigeria's public and private sector is nothing new. In fact, the practice could be said to be endemic. It's never a surprise in local media to learn about workers or pensioners in one government ministry or agency staging protests or embarking on strikes over unpaid salaries and pensions. The private sector is not much better.
The issue right now is that the problem is now in overdrive, with as many as 22 of 36 states owing their workers. Buhari, along with the new and returning governors will have to devise means of freeing up revenues that will keep government going. On a visit to Buhari, state governors from his own All People's Congress (APC) political party even asked the president-Elect to consider a bailout.
Removal of fuel subsidies and right sizing of the civil service are two of the more obvious –but politically charged – steps that the federal government can take.  In fact president Goodluck Jonathan's government has said it will slash fuel subsidies by 90%  by gradually phasing out the subsidies.
And last month the governor of Nigeria's Central Bank, Godwin Emefiele, recently suggested selling off  government stakes in joint ventures with multinational oil companies in order to raise money for infrastructure projects. This solution is also controversial, but if the case can be made that the national oil company, NNPC, is beyond reform, a fact highlighted by the recent release of a forensic audit of the national oil company, then it could be easier to swallow.
For as long as lower oil prices persist, the states will also have to get creative with increasing their Internally Generated Revenues (IGR) and cost cuts, by focusing on encouraging enterprise which will generate jobs, reducing the number of civil servants at state level, and properly exploiting the solid minerals present in a number of states.
Whatever course of action is embarked on by Nigeria's government at federal and state levels, the adjustments will be tough. They must have the political will necessary to make the hard decisions.