This item has been updated.
Strong winds and sometimes 50-foot waves are preventing emergency workers from boarding a grounded oil drilling vessel off the Alaskan coast, according to the US Coast Guard. The accident appears unlikely to cause major environmental damage, but further complicates an already grueling experience by Shell getting drilling going in the Arctic.
As a whole, the Arctic is estimated to hold 25% of the world's remaining oil and natural gas, and is becoming more accessible to oil exploration because of global warming. Yet even as the ice melts, the seas have not calmed, and are not forecast to.
At 9 p.m. on New Year's Eve, the Shell drilling vessel was let go from its towing ropes by other ships during a harsh storm. It ended up grounded at the shoreline of an island called Sitkalidak. For those who know the area, it is near Kodiak, between the north edge of Ocean Bay and Partition Cove.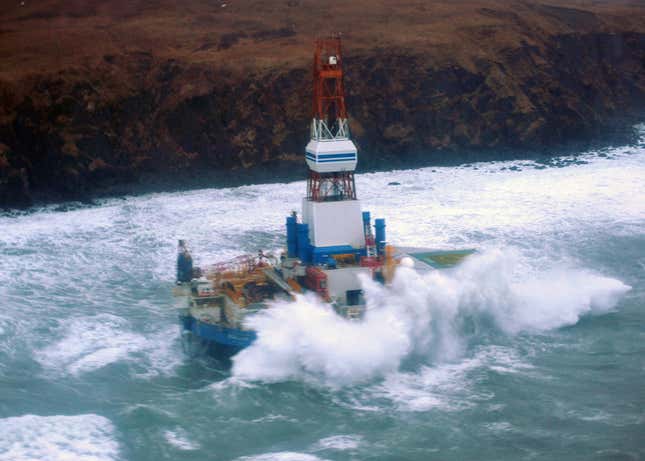 The ship, called the Kulluk, was carrying a relatively small volume of fuel—143,000 gallons of diesel and 12,000 gallons of other lube oil and hydraulic fluid.
The Coast Guard, which has flown a C-130 and a Jayhawk helicopter over the distressed vessel, says there are no indications of a spill such as an oil sheen on the water.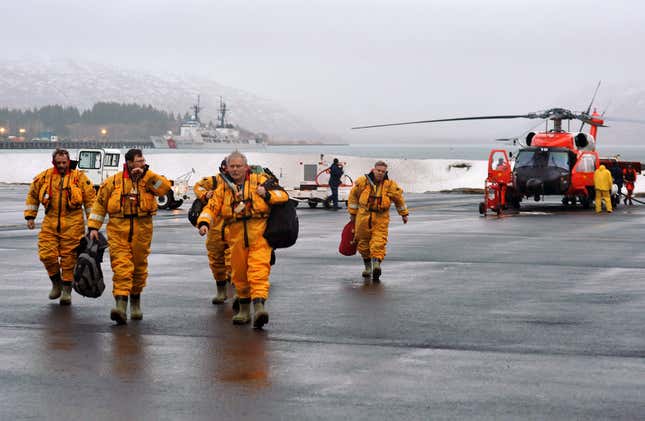 During accidents and spills, which can bring serious financial and reputational damage to oil companies, executives tend at least initially to circle the wagons and talk as little as possible. This is when company lawyers are at their peak influence, more focused on later lawsuits than public opinion. It is the stage at which BP ravaged itself with legalistic statements after its 2010 oil spill in the Gulf of Mexico, and where we are in the Shell accident now. Shell is releasing almost no information, dispatching reporters to a link on its website and relegating speaking duties to the US Coast Guard. Unfortunately for the companies, this is also the stage when public perceptions can be deeply shaped. [Update: as of this afternoon, Shell has shifted and begun posting statements on the company web site. Go here for its statements.]
The incident is likely to be another blow to Shell in advancing its drilling near Alaska. US Congressman Ed Markey issued a statement on Jan. 1: "Oil companies keep saying they can conquer the Arctic, but the Arctic keeps disagreeing with the oil companies. Drilling expansion could prove disastrous for this sensitive environment."
Here are some details of the vessel: The Kulluk (named by a schoolgirl from Inuvik, it means "thunder" in Inuvialukhtun) is 266 feet across and 41 feet high, and 108 people can work and sleep on it. It was originally built in 1983 to withstand ice, with a conical shape that causes ice to break downward and away from the vessel, thus reducing pressure on it. It was bought by Shell in 2005. Shell spent $292 million from 2006 to 2012 upgrading the Kulluk for Arctic conditions. It is rated for weather conditions in open water July to October. The upgrade included new engines, a new heli-deck, new mountains against vibration, blowout preventers.