Yes, it's true.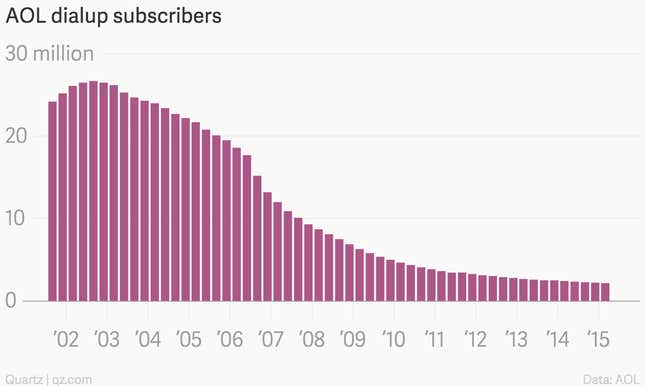 More than two million Americans still pay for dialup internet from AOL.
This fact was revealed in AOL's results released on Friday (May 8) . They showed that 2.16 million households are still paying, on average, $20.83 a month for internet packages from the company, which include things like file storage, antivirus protection, call center tech support and yes, dialup internet access.  (AOL officially describes this as "backup dialup" so whether these subscribers actually use the access as their primary internet connection is not fully clear).
As you can see from the chart above, those numbers are obviously well down from AOL's peak back at the turn of the millennium, but internet subscriptions are still a lucrative business for the company, accounting for roughly one third of its total revenue.
In case this makes you nostalgic for the sound of an old-style dial-up connection, we've embedded an audio clip below.
These days AOL is probably best described as an internet publisher: it owns the Huffington Post, TechCrunch and other digital publications which together attracted 190 million unique visitors in the first quarter of 2015.  For the record, AOL's latest earnings were well received. Its shares closed more than 10% higher on May 8.