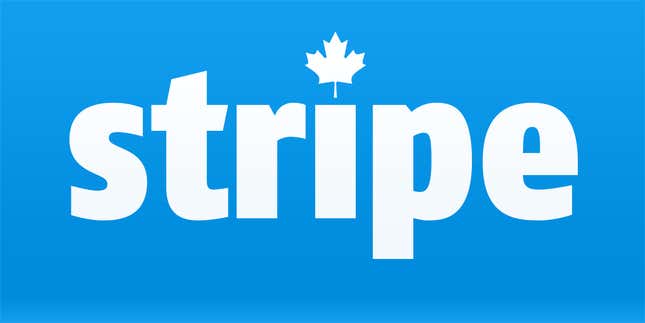 Stripe, the online payments system that has built a reputation as the simplest way for online retailers to start accepting credit cards instantly, has just launched in Canada, its first non-US country. This is the first step in what Stripe co-founder Patrick Collison describes as the company's effort to bring Stripe to every country on earth.
"We want to enable anyone anywhere in the world to easily accept payments," Patrick said in an interview Tuesday. "And going from one country to two is a bigger deal than going from two to N."
Stripe allows online merchants to accept credit cards, much as PayPal did before it. The privately held company charges 2.9% per transaction, plus 30 cents. For sellers, it takes on the role that would normally be occupied by merchant banks, which tend to be about as savvy at creating transparent, easy to use, quick to set up online payment systems as you'd expect banks to be. From the consumer's perspective, Stripe is just a seamless system for making everyday credit card payments.
Canada was a particularly difficult case, because the rules and requirements for accepting credit cards in Canada are byzantine. During Stripe's pre-launch beta phase in Canada, hundreds of companies tried the system, including Shopify, one of the fastest growing companies in Canada.
"The single thing [the beta testers] reiterated," says Collison, "was that we should emphasize just how problematic it was to accept payments online before this."
Tobias Lütke, founder of Shopify, told Collison that the difficulty of accepting payments in Canada is one of the reasons the country's technology sector is as small as it is. A recent report from Canada's government says that despite Canadians being avid users of the internet, the country lags the US in ecommerce, in part because fees on existing credit card transaction systems are too high.
In a blurb solicited by Stripe, Lütke notes:
"The first time I dealt with online payments was when I opened my online snowboard store here in Canada. My only option was to go through my bank which seemed reasonable enough. Boy was I wrong. It took months of pleading and convincing. By the time we could accept payments we had spent thousands of dollars on unnecessary security audits and were sitting on unsold inventory. Later, with Shopify, we integrated almost 100 different payment systems on behalf of our customers and none have been as easy to use as Stripe. With Stripe, you can set up a new store in minutes. Americans have been enjoying Stripe for a while and I'm thrilled that it's finally available for Canadian businesses and startups."
In talking to founder Collison, it's clear that his ambitions are much larger than simply making it easy for mom and pop storefronts to have the same access to payment tools as giants like Amazon, but he's not prepared to elaborate on those ambitions just yet. Currently, Stripe is limited to enabling credit card payments online, although it did partner with payments startup Dwolla, which specializes in direct transfers between bank accounts, to enable users of social news site Reddit to donate to charitable causes.
In the meantime, developers are praising Stripe's features: It allows merchants to accept credit card payments instantly, without waiting for approval from a bank. (Stripe does its own risk analysis on potential users.) Its code is easy to install on a site, and the resulting shopping experience is Apple-like in its simplicity, due to the company's focus on streamlining the payment process as much as possible. (After comparing Stripe to competitor Braintree, one developer said "Their API is so simple — fuck EVERYBODY else, I want to marry Stripe and have a billion of their babies.")
That doesn't mean Stripe doesn't have competition. Startups including Braintree, WePay and a revamped PayPal are all pursuing the same market, and giants like Google and Amazon offer similar, if less-popular, payment solutions. If the market will decide, in this case Stripe's $500 million valuation and explosive growth over the past year suggest the company will be a strong player.