The following is excerpted from Alibaba's World: How a Remarkable Chinese Company is Changing the Face of Global Business, available for purchase May 12, 2015:
November 7, 2006, was the day I realized that Alibaba had finally arrived. As I stood at the back of a packed auditorium at the Web 2.0 conference in San Francisco, my boss, Jack Ma, took the stage. With a typically entertaining speech he captivated the high-level audience, a who's who of the internet world.
"I'm 100% 'made in China.' I learned English myself, and I know nothing about technology," Jack explained. "One of the reasons why Alibaba survived is because I know nothing about computers. I'm like a blind man riding on the back of a blind tiger."
As the audience laughed, I noticed someone crouched down in the back of the auditorium, scribbling down every word  Jack said. Curious, I leaned over to see who was so intent on transcribing Jack's speech. I was shocked to find it was Jeff Bezos, the founder and CEO of Amazon.
Bezos—the father of e-commerce—eager to learn from Alibaba? This was the man who had pioneered e-commerce and grown Amazon.com into an internet behemoth. This was the entrepreneur named Time magazine's Person of the Year back in 1999 when Alibaba was still an obscure start-up in Jack Ma's apartment. Bezos was a business leader we had always looked up to and admired—not to mention borrowed ideas from. And now he was borrowing ours!
Jeff continued taking notes as Jack spoke to the rapt group.
"Believe in your dreams, find good people, and make sure the customer is happy. I see a lot of US companies sending professional managers to China. They are making their boss in the US happy but not the Chinese customer."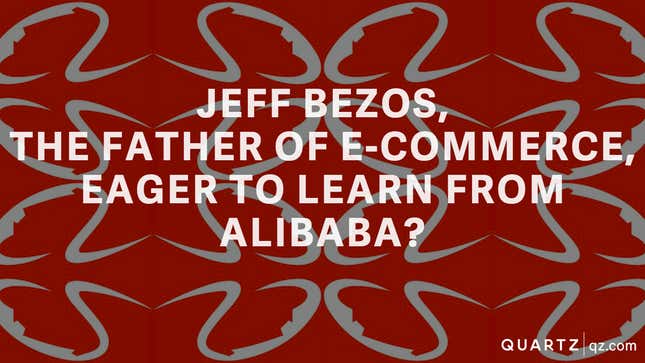 Jack had always wanted to meet Jeff Bezos, so I leaned over, introduced myself, and have Jeff my card. Jeff said he'd love to meet Jack as well. After Jack's speech the two of us met with Jeff in the convention center lobby. With his trademark laugh and infectious enthusiasm, Jeff commended Jack on his speech: "You made some great points up there, Jack! I'd love for you to visit us in Seattle someday." As Jeff walked away, Jack and I beamed like two starstruck groups in a garage band who'd just been validated by their favorite rock star.
Seven months later I picked up The Wall Street Journal to find an interview with Jeff, who was announcing an expansion into China. He described how he was determined to avoid the problems other foreign internet companies had encountered in China, explaining that the reason they struggled was "because the Chinese management team is busy trying to keep their American bosses happy, instead of trying to keep their Chinese customers happy. And that's a mistake we will not make." Yes—it seemed Jeff had learned something from Jack.
Little did Jack and I know that in just a few years, Alibaba's sales volume would surpass those of both our idols—Amazon and eBay. Combined. Not just in China. Everywhere.
When Alibaba got started in Jack Ma's apartment, it seemed far-fetched to think that Western internet companies would someday be learning from China's e-commerce founders. With only two million internet users in China, less than 1% of the country's population was online. And of that 1%, even fewer would consider purchasing something online. The barriers were simply too great. Consumer purchasing power was too low. Credit card penetration was negligible. Logistics infrastructure was primitive. It was unclear whether the government would embrace or reject the internet. And e-commerce seemed impossible in the context of China's wild-west capitalism, where scammers were all too common and where buyers and sellers who had never met in person simply didn't trust each other enough to do transactions online.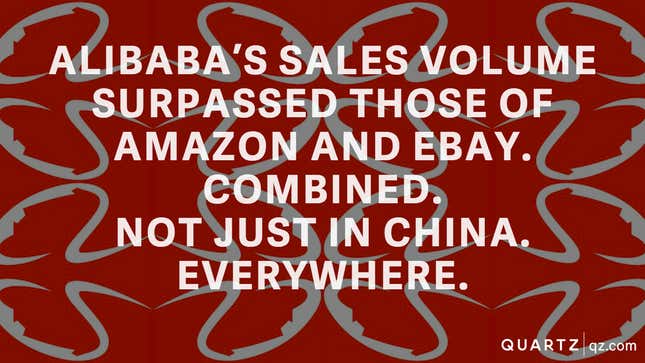 Fast-forward 15 years, and the difference in the numbers is astounding. Alibaba now has approximately 300 million customers and executes about 80% of China's e-commerce transactions. More than half of all packages shipped in China are from deals that originated on Alibaba's websites. And during its 2014 Singles' Day promotion—a shopping holiday that Alibaba invented—Alibaba's consumer shopping websites handled $9.3 billion in transactions on just one day; more than the total US online sales on Black Friday and Cyber Monday combined. All this in a country where the per capita income is just $6,800 per year and only about 25% of the population has ever shopped online. Compared to the United States, China's e-commerce boom is just beginning.
Alibaba's experience has shown that, although e-commerce was slower to take off in China than in the West, when it did take root, it was far more important to the overall economy. In just 15 years China's e-commerce infrastructure has leapfrogged its Western counterparts' and is introducing entirely new ways of doing business. China has become a dynamic laboratory for e-commerce innovations, with important lessons for businesses everywhere.
Alibaba is also branching out into a number of entirely new frontiers, well beyond traditional e-commerce. Within a year of launching its first money market fund, Alibaba's finance unit was operating on of China's top funds, with over $90 billion under management. It has started a movie studio to produce original content. Will Alibaba someday realize its goal of becoming China's largest bank? Will it give Fox and Disney a run for their money in film production?
The scale of Alibaba's growth grabbed the business world's attention when it went public on September 19, 2014. Alibaba's was the largest IPO (initial public offering) in history, dominated global business headline, and made Alibaba the most valuable e-commerce company in the world. And Jack, who began his career making less than $20 per month, was suddenly work $19.5 billion soon after the IPO.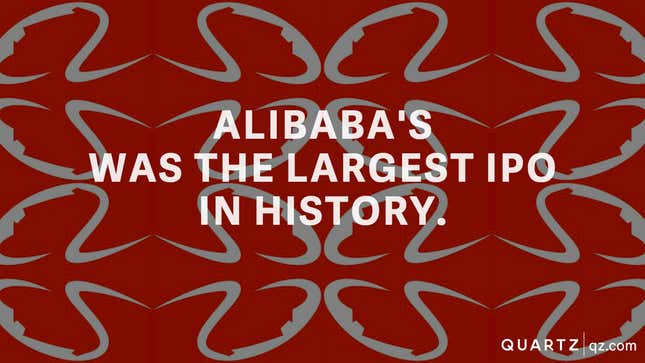 My book, Alibaba's World: How a Remarkable Chinese Business is Changing the Face of Global Business (Palgrave Macmillan, 2015), is the inside story of how all this happened. How a schoolteacher and 17 of his friends rose from obscurity and overcame immense obstacles to build and e-commerce powerhouse that is transforming global business.
The founding of Alibaba was really the birth of e-commerce in China. From 2000 to 2008, I worked at Alibaba as a vice president in a variety of roles as the company grew from a small apartment into the behemoth it is today. I'll chronicle both the successes and missteps the company made on the road to riches. In the process I hope to explain how Chinese e-commerce got to where it is today, where things are headed, and what it means for the global marketplace.
After leaving Alibaba in 2008, I produced and directed Crocodile in the Yangtze, an independent documentary film about my experience. The film premiered at the Sonoma International Film Festival in April 2012, and I subsequently spent two years traveling the world to show the film to festival audiences, students, and entrepreneurs. The journey took me to more than 50 cities on six continents—from Silicon Valley to Bangalore to Nigeria and just about everywhere in between. It taught me that the Alibaba story, so multifaceted, has universal appeal, and from each Q&A session I got a greater sense of which aspects people in different places were interested in.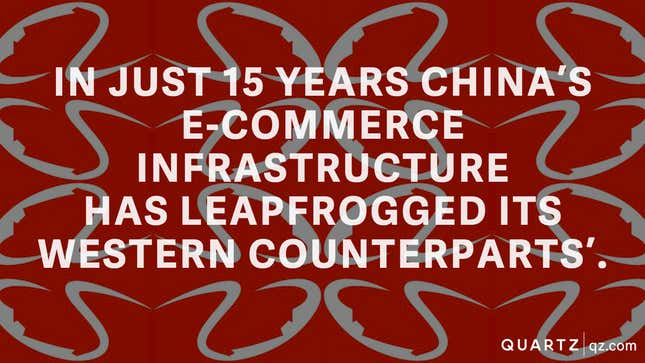 The plucky start-up spirit that challenged eBay and Amazon when they ruled the e-commerce roost? The rise of a schoolteacher from the far-flung provinces to economic royalty in what is still a Communist country? Or the seismic shifting of the world's attention from West to East?
My time at Alibaba challenged a number of my assumptions about business and life. My experience was a positive one overall, and this memoir reflects that. I saw a company grow from a small apartment into China's first global Internet company, battling—and beating—eBay in China along the way. And I saw a team of ordinary people come together to build a company that has fundamentally reshaped the way people do business in China and beyond. But the goal of this book is not simply to say that Alibaba is great or that Jack Ma is a hero. It is simply to answer this question: What made Alibaba so successful where so many of its competitors failed?
After 15 years the Alibaba story is, in many ways, still just beginning. And how it ends is up to Jack and a new team of colleagues—and how well they adhere to the values that have carried them this far. Alibaba is no longer a David. It is a Goliath. And as a Goliath it will face an entirely new set of challenges. But whether Alibaba ultimately succeeds or fails, its rise remains one of the most fascinating and instructive business stories of our time. By sharing my experience at the company as candidly as possible, I hope that entrepreneurs or others setting out on a similar journey may gain some inspiration and avoid some mistakes. It is my sincere belief that the spread of e-commerce, and the grassroots economic opportunities it provides, can transform the lives of millions, if not billions, of people around the world.