If there's one theme that unifies fashion's big resort shows these days it's this: location, location, location. Bystanders can confidently rely on brands showing in unexpected and exotic locations, and this year hasn't disappointed.
While Chanel headed to the Dongdaemun Design Plaza in Seoul, South Korea, and Louis Vuitton basked in the desert sun at Bob Hope's "spaceship house" in Palm Springs, California, Dior selected maybe our favorite spot of all: fashion legend Pierre Cardin's futuristic house just outside of Cannes, France, known—adorably—as the Bubble Palace (Palais Bulles).
The place looks vaguely like a playground constellation of plastic crawl tubes turned into luxury housing. And if its whimsy happens to strike your fancy, you should know that it's available to rent—even if you're not a giant fashion label.
The location for Dior's May 11 show was a relatively last-minute choice for Dior. Originally the show was to take place in Los Angeles. But when Cardin's house, designed by Hungarian architect Antti Lovag, who vehemently abhorred edges and called them "an aggression against nature," suddenly became available, Dior couldn't resist. It's not hard to see why.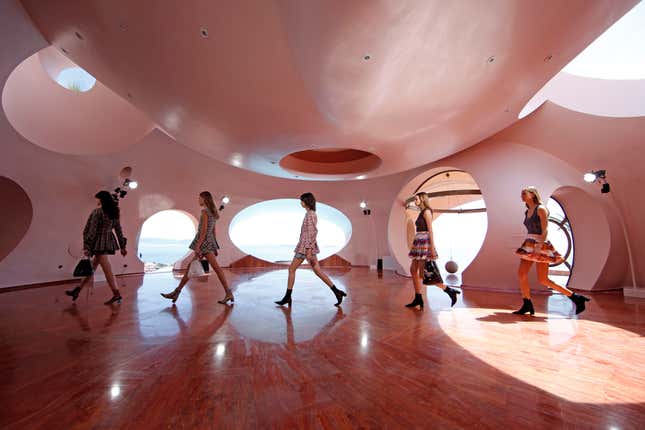 The house is currently listed on the rental site Service Azur, which specializes in real estate and yacht sales and rentals in the French Riviera. The price is not listed on the website, but a representative tells Quartz that Cardin's villa is available for seasonal rental, and the last family to inquire about it in April was quoted a rate of €1,000 ($1,125) per person per day. You can also rent the space for parties, or perhaps a fashion show, for €12,000 ($13,494) per day, plus service fees. As of now, it's available this summer, she said.
(Service Azur emphasized that interested renters can and probably should also contact the management of the Palais Bulles directly.)
Located in the charming town of Théoule-sur-Mer (pdf), its amenities include a swimming pool, a spectacular sea view, and a terrace. It's unclear how many bedrooms the house has, but the site lists "more than six" bathrooms, at least one of which has a tub to soak in while gazing out at the Mediterranean through a giant bubble-shaped porthole. There's also an amphitheater, if you and your family would like to put on a Greek tragedy, and parking is available on site. Ready to pack your bags yet?
The service at Service Azur is available in French, English, and Russian—convenient for oligarchs looking for a vacation spot somewhere sunny.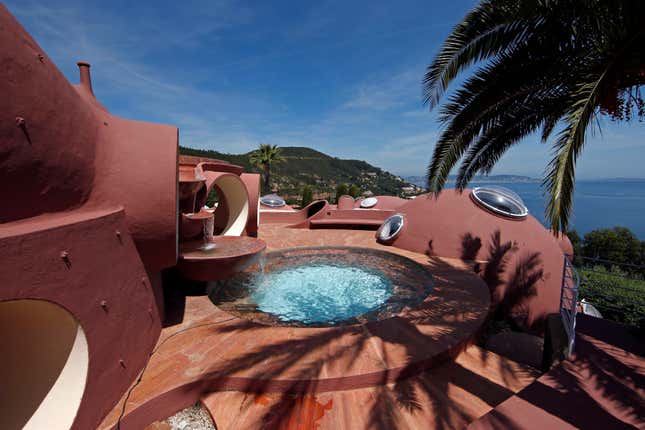 Even before the Dior show, the location often served as the backdrop for swanky events. Its stunning views, fanciful form, and proximity to Cannes, where the film festival occurs each year, have made it a choice venue.
Not all the events hosted at the Bubble Palace, however, have been quite so refined as the Dior presentation.
The clothes Raf Simons showed stood up to their stunning surroundings, and the owner of the home, Mr. Pierre Cardin himself, was on hand to enjoy it all.
The event was the closing of a circle, in some ways. Cardin worked for Christian Dior himself back in the late 1940s, during the era of Dior's "New Look," which revolutionized the way women in Europe dressed.
Cardin struck out on his own a few years later, and in 1954 had a huge international hit (pdf) with his "bubble dress." (It had no design correlation with the Bubble Palace, which Cardin purchased in 1989, but we suspect he may have had a soft spot for bubbles.) Cardin continued innovating, creating geometric and at times futuristic shapes, as well as new practices. He scandalized the French fashion world when he launched the first luxury ready-to-wear collection in 1959.
It was a nice touch by Raf Simons to show Dior ready-to-wear at Cardin's house all these years later.