The plight of thousands of migrants stranded at sea is growing worse by the day, and none of the southeast Asian countries caught up in the crisis seem willing to help. An estimated 6,000 people—mostly from Myanmar's persecuted Rohingya minority, along with some economic migrants from Bangladesh—are trapped on boats adrift in the Andaman Sea and Straits of Malacca, abandoned by the crew with very little fuel, food, or water.
The International Organization for Migration (IOM) told Quartz that there were initially some 8,000 migrants at sea when the crisis began earlier this month, and roughly 2,000 people have made landfall, mostly in Indonesia. The governments of Thailand, Malaysia, and Indonesia have said that they will not allow people to enter the country illegally, and in some cases have forced boats to turn back from port.
"There's a lot of confusion. We know that boats are being turned around," said IOM spokesman Joe Lowry. "It's like a giant game of maritime ping-pong with human beings."
Thailand is considering setting up temporary shelters for the migrants on two abandoned islands, but says it will not make a decision until after a May 29 conference in Bangkok that will bring together representatives from 15 countries in the region, including Indonesia, Malaysia, Myanmar, and Bangladesh. Thailand "cannot go it alone," one Thai official told the Bangkok Post.
Regional powers China and India, who have extensive strategic and business ties in the region, have been noticeably silent on the issue. It went unmentioned at a meeting this week between Indian prime minister Narendra Modi and Chinese premier Li Keqiang.
The IOM and other human rights groups are warning that a delay of two weeks or more could result in catastrophic losses for the people stranded at sea.
"We want to get these people off boats and into treatment—they are at severe risk of losing their lives," said Lowry. "We know that about 40% of the people will be malnourished."
Here's a tweet from Kenneth Roth, executive director of Human Rights Watch: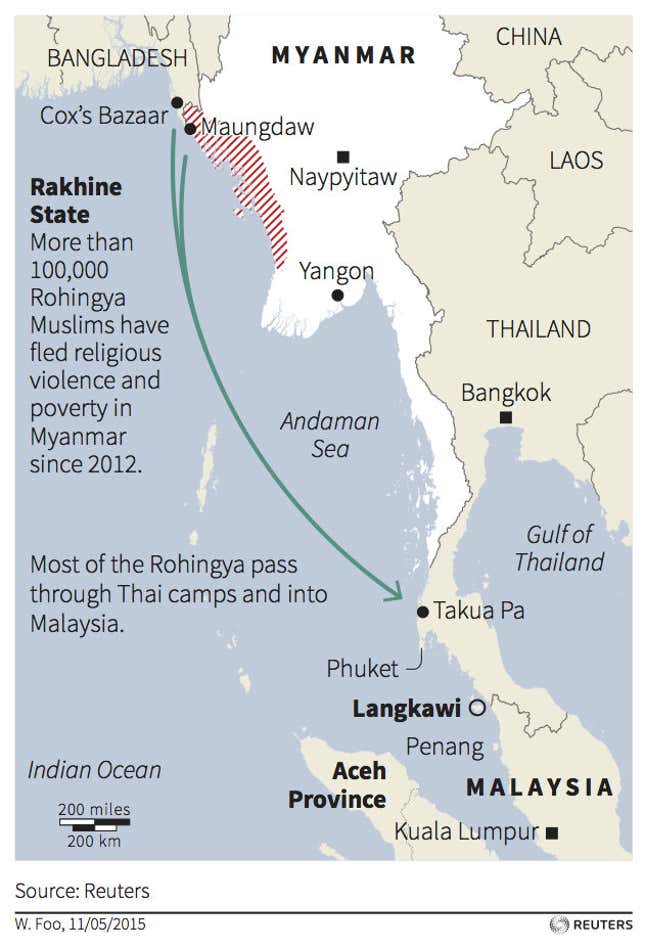 The current crisis was triggered when Thailand discovered a grisly mass grave near its border with Malaysia, where smugglers had buried dozens of migrants. Many more camps and mass graves were subsequently uncovered, and the complicity of local government officials was revealed. This triggered a Thai crackdown that disrupted an established smuggler's route, and ultimately left thousands of migrants stranded at sea.
More than 100,000 of the Muslim Rohingya have fled Myanmar since 2012, when they became the targets of violence from the Buddhist majority, and have been forced to live in squalid internment camps. Their typical route took them through Thailand, where they were often exploited, held for ransom, and worse, before being smuggled into Malaysia, which offers the prospect of better economic prospects and a chance to live among fellow Muslims.
The United States is calling on Myanmar to take responsibility for its role in the crisis, but the government refuses to even acknowledge that Rohingya are legitimate citizens.
"Some of the Rohingya people may have come from Bangladesh. We can't be responsible for them. But we do not accept the name Rohingya. They are Bengali," said Zaw Htay, the director of Myanmar's president's office, in an interview with Al Jazeera. Htay also told Agence France Press that Myanmar is unlikely to attend the Thai-organized summit.