A group of more than 60 Asian-American associations submitted a joint federal complaint against Harvard University yesterday, accusing it of discriminating against prospective students of Asian origin.
The complaint, filed to both the US Department of Education and the Department of Justice, calls for their civil-rights divisions to launch investigations of Harvard's admission process and urges the agencies to force Harvard to stop using "stereotypes, racial biases, and other discriminatory means in evaluating Asian-American applicants during its admissions process." Academic achievements and income-based considerations, not race, are better ways to judge the merits of applicants, the group says. It also wants Harvard to reveal more data about the qualifications of the students who apply for enrollment.
The complaint covers much of the same ground as a lawsuit launched in November against Harvard by a group called Students for Fair Admissions. Indeed, the bulk of the evidence presented by the group is a verbatim recounting of what was included in that earlier lawsuit. Namely, these groups say that, compared with other races, the university accepts a lower share of the Asian-American applicant pool, despite the students' generally higher test scores and other academic achievements.
The groups both cite race-based admissions data from the highly selective California Institute of Technology, which judges applicants solely on academic merit. The trend of Asian-American admissions at Harvard should follow a similar path to Caltech, if race was not a factor in admission decisions, the groups allege.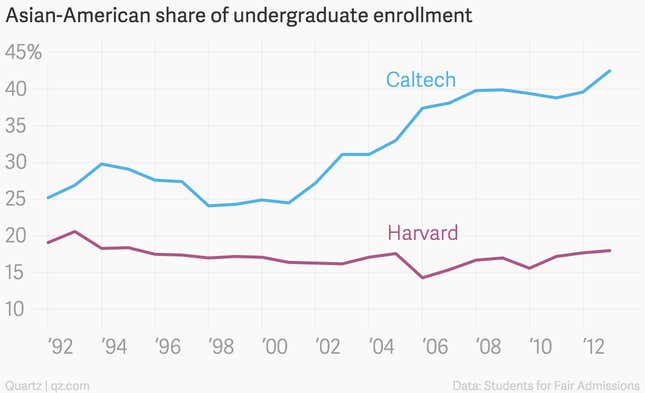 Harvard has faced similar complaints and lawsuits in the past. The Department of Education investigated a civil-rights complaint in the late 1980s and concluded that preferences for athletic ability and the children of alumni explained the gap in Asian-American enrollment, not race.
For its part, Harvard issued a statement yesterday stressing that "our approach to admissions is fully lawful." The share of Asian-American students in its latest class of freshmen has risen to 21% of the student body, up from 17.6% over the past decade, the university says.
"As the Supreme Court has repeatedly recognized, a class that is diverse on multiple dimensions, including on race, transforms the educational experience of students from every background and prepares our graduates for an increasingly pluralistic world," the university notes. "We will vigorously defend the right of Harvard, and other universities, to continue to seek the educational benefits that come from a class that is diverse on multiple dimensions."