Traffic in Jakarta is, by some measures, the worst in the world. Rather than waste time, many residents turn to motorcycle taxis, or ojeks, to run errands.
Traditionally the drivers are freelancers chosen off the street but a startup called Go-Jek, founded in 2011, offers uniformed drivers and the ability to place orders by phone, WhatsApp, SMS, or—as of January—a smartphone app. Uber launched in Jakarta last August, but this service has wider applications, and can be used for transport, shopping, courier, and food delivery.
Reza Sofyan, a 27-year-old Jakarta resident, recently used the app for the pickup and delivery of a hair dryer she'd forgotten to bring from her apartment to a friend's place. It was rush hour and raining at the time. In her car, she estimates, the trip would have taken her 90 minutes each way. Motorcycles can weave through traffic and take shortcuts that cars can't. The Go-Jek driver brought the hairdryer to her in about 20 minutes. She paid 35,000 rupiah ($2.65) for the service.
"It just makes you exhausted if you just want to pick up a small thing and you have to spend two hours in the traffic, pick it up in less than five minutes, and go back," Sofyan told Quartz. "It's really wasting my time. So I'm using the service."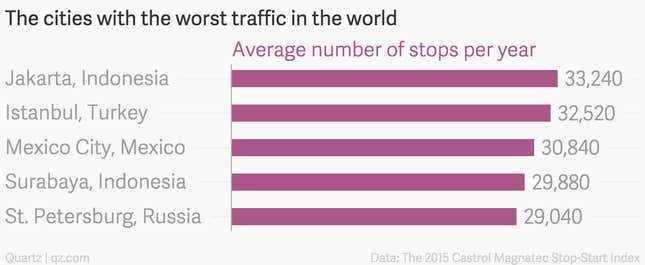 Sofyan also recently ordered delivery of a dress from a tailoring shop across town. While the driver battled the traffic, she stayed home watching a DVD. And once, when her uncle accidentally wore sandals instead of shoes to his office, she used the service to pick up work shoes for him from his house.
Go-Jek's introduction of its smartphone app has led to significantly more business, according to general manager Sam Diah. The company had around 400 orders per day before the app's introduction, and now receives around 5,000. Competitors have emerged following Go-Jek's success, including Wheel Line and HandyMantis.
According to Diah, Go-Jek customers often ask drivers to stand in line for concert tickets, buy the tickets, and then deliver them to their home or office.
Customers have hired Go-Jek to deliver live animals, a practice the company has prohibited. "But our customers sometimes are a bit tricky," Diah said. After a lid slipped off one package, a driver discovered he was transporting a snake.
Indonesia has long struggled because of inadequate infrastructure, including roads, power, and ports—a problem it's trying to address. In March, the governor of Jakarta met with leaders of Go-Jek and the bus authority to discuss possible cooperation.
The result may have a wider public benefit than Go-Jek's service itself: The company will help create an app so that bus passengers can more easily predict exactly when a public bus will arrive.