Could Mali become one of the leaders in renewable energy in Africa?
Like a lot of countries on the continent, Mali has seen considerable economic growth over the last few years. Despite a political crisis in 2012 and the threat of violent extremism, the country has seen 5% annual GDP growth in 2014, with World Bank projecting that growth to continue over the coming years.
This economic development, coupled with a 15.3 million population that is growing at an annual rate of 3.4%, is increasing demand for power in the country.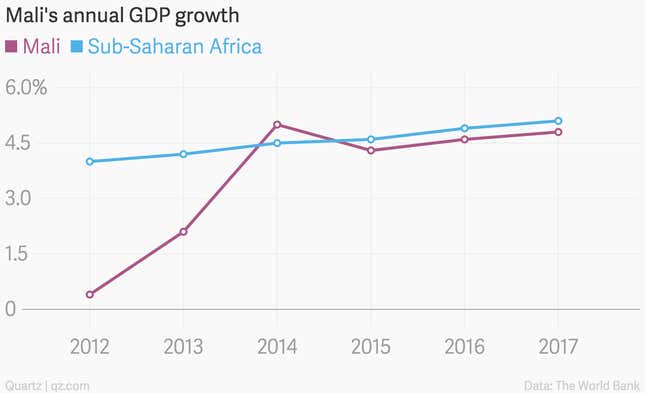 According to a recent African Development Bank report (pdf), in 2010 only 55% of urban areas in Mali had access to electricity compared to 15% of rural areas. The figure for urban areas improved to 62% in 2012. Overall, in 2010, only 27% of Malians had access to power.
Currently, the West African nation is highly dependent on thermal and hydropower, which can be unreliable and expensive. The dependence on oil, which is imported, to fuel some of the country's power plants exposes the country to global fluctuations of fuel prices, thereby creating uncertainty in the sector. Additionally, changing weather patterns makes relying on hydropower highly problematic. So, the government of Mali has started to diversify its power sources, with growing investment in renewables.  The effort to look at renewables has been focused mainly on solar, hydro, wind and biofuels.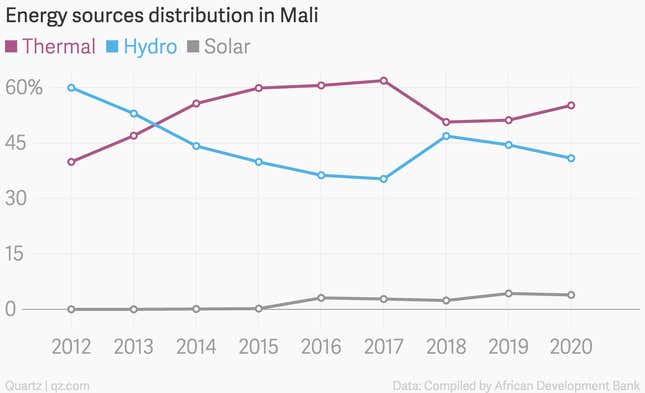 Demand for electricity is growing at 6.6% a year, with Mali's most important sector, mining (the country is the third biggest gold producer in Africa), a big consumer of energy. Yet, supply is struggling to meet demand. But the government is working hard to plug the gap. According to the report, "in 2013, the capacity gap to meet demand was estimated at 111 megawatts, which represents 45% of needs." By 2014, this fell to 32 megawatts, 13.2% of needs.
This is the biggest challenge facing African businesses: consistent and reliable power. The World Bank points out that African manufacturing companies endure power outages 56 days on average per year. This is equivalent to loses of  6% of sales revenues in the informal sector, the data says. And in situations where back-up generated power is limited, the losses can be as high as 20%. This, obviously, severely limits the continent's economies from growing at an even faster clip than they are now.
In Mali, the country is ripe for investment in renewables. It has 7-10 hours of daily sunlight giving the country high solar potential. Furthermore, with a strong agricultural base, it has a high capacity for biomass and biofuel development. Meanwhile, the AFDB report points out, while relatively speaking there is low wind energy potential, in the Sahelian and Saharan zones, wind speed is fast enough to produce power.
Between 2008-2010, investment dedicated to renewables in Mali has gone from $3.3 million to $6.7 million, an average annual 41.7% rise. However, overall it constituted a mere 0.30% of the country's 2011 energy budget. This is not quite good enough. A re-orienting of priorities could turn Mali into one of the leaders in renewable energy. They just have to want it bad enough.