Apple and Google are expected to unveil significant updates to their mobile operating systems, iOS and Android, within the next few weeks.
Google's annual I/O conference will take place May 28-29, and Apple's annual Worldwide Developers Conference is set for June 8-12. Both companies typically use these events—attended by thousands of software developers—to show off new versions of their major platforms.
So where does the smartphone market stand now?
Android is five times larger than iOS by global sales volume
Google entered this year with a huge advantage in global market share. Last year, more than 80% of smartphones sold globally—more than 1 billion devices—ran Android, according to Gartner. Apple took second place with almost 200 million iPhone sales, about 15% of the global market.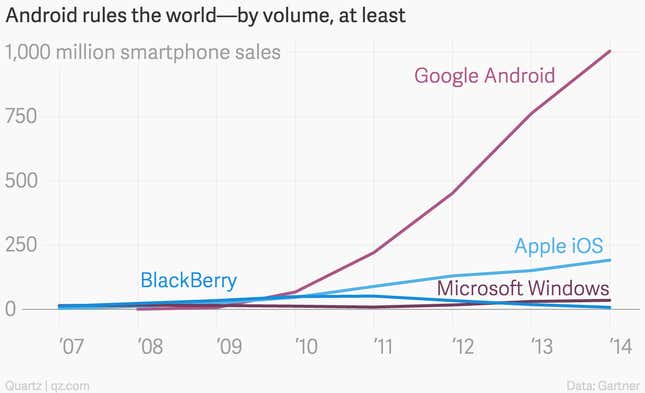 What's also clear is that this has become a two-horse race. Microsoft's Windows mobile software and BlackBerry are effectively irrelevant on a global basis. Google's biggest vulnerabilities are Apple and the potential splintering of Android—if other companies can gain traction with versions of Android outside of Google's control.
It's much closer in some key markets, such as the US
Apple's iOS represents almost 43% of the US smartphone subscriber market, as measured by comScore, versus 52% for Android. Over the past year, Apple has gained some ground, but it's not dramatic.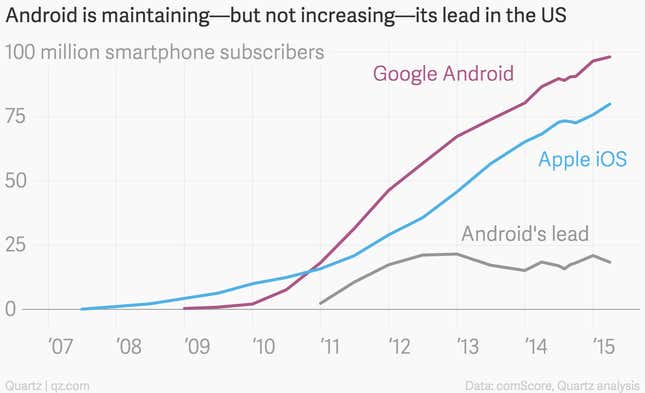 It seems unlikely that iOS will pass Android this year, despite Apple's recent success with the iPhone 6 and 6 Plus. Similarly, it seems Android will never convincingly conquer the US market, where many of the world's top software companies are based and created. The "smartphone wars" are effectively over, and two winners are left standing.
Apple still wins the update cycle
One area where Google still needs to improve is getting more of its users access to its latest version of Android. This has always been a struggle for Google, as the Android ecosystem is very complicated and Google has ceded significant control over software to its operator and handset partners.
Google's "Lollipop" version of Android, announced at last year's I/O conference, is on just about 10% of Android devices, according to Google. The previous version, KitKat, still dominates.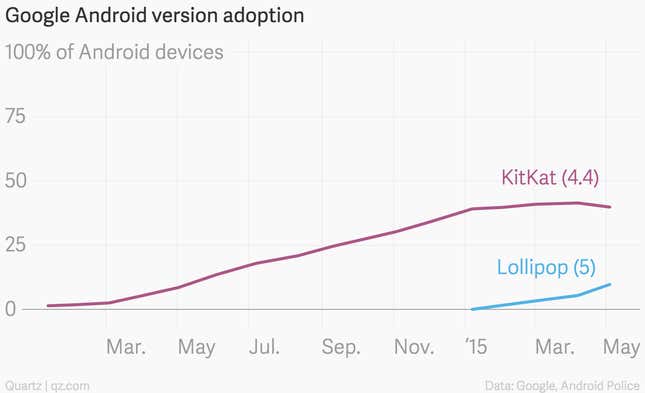 Meanwhile, Apple's iOS 8—announced at last year's WWDC—is running on about 80% of iOS devices. (Note how quickly many users were able to upgrade shortly after its September, 2014 release.)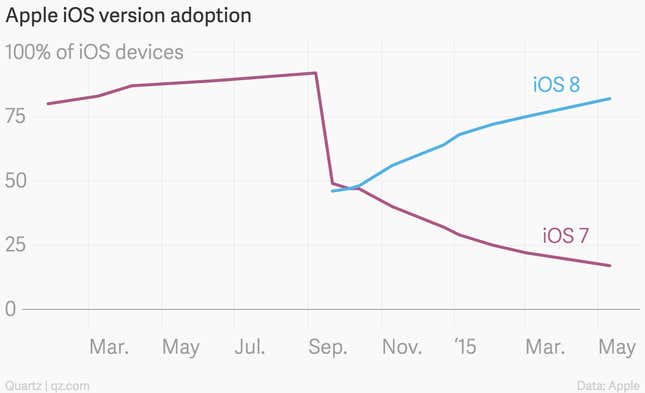 While there's room for improvement, Apple's tight control over iOS has paid off in this regard. Apple is in a much stronger position to release new features—even those that require a network of users, such as iMessage and FaceTime—and get instant adoption.
The next wave is moving further beyond phones
Apple's next iOS will be its first new version since the Apple Watch started shipping this past April. We expect to hear more about how Apple will make its increasing fleet of mobile devices—the Watch, iPhone, iPad, and MacBook—work better together. Apple will also reportedly announce a new tool for making apps for its Apple TV streaming media device at WWDC.
Google, too, has extended Android. Last year at I/O, it showed off a version of Android for smartwatches and one for TVs. Android Wear watches are already widely available. Android TVs are not. Perhaps we'll get an update on that.