Conventional wisdom holds that the biggest factor in America's swift and stunning shift toward supporting gay marriage is, simply, coming out. While many LGBT people can personally attest to this phenomenon, social science hadn't backed it up—until recently, that is. In December 2014, a groundbreaking study published in Science (paywall) confirmed it. When a gay canvasser spoke one-on-one with a voter about same-sex marriage, the conversation prompted favorable views of gays and lesbians that endured much longer than the same conversation between a voter and a straight canvasser.
It turns out, though, that that study was faked.
Yesterday, Donald Green, political science professor at Columbia University, retracted the study (search for "retracted"), as the website Retraction Watch noted. While Green helped write up the findings, the underlying research was led by his co-author, Michael LaCour, a graduate student at the University of California-Los Angeles. This came to light after three academics challenged (pdf) data irregularities in the study. LaCour has since failed to produce the raw data or contact information of survey respondents.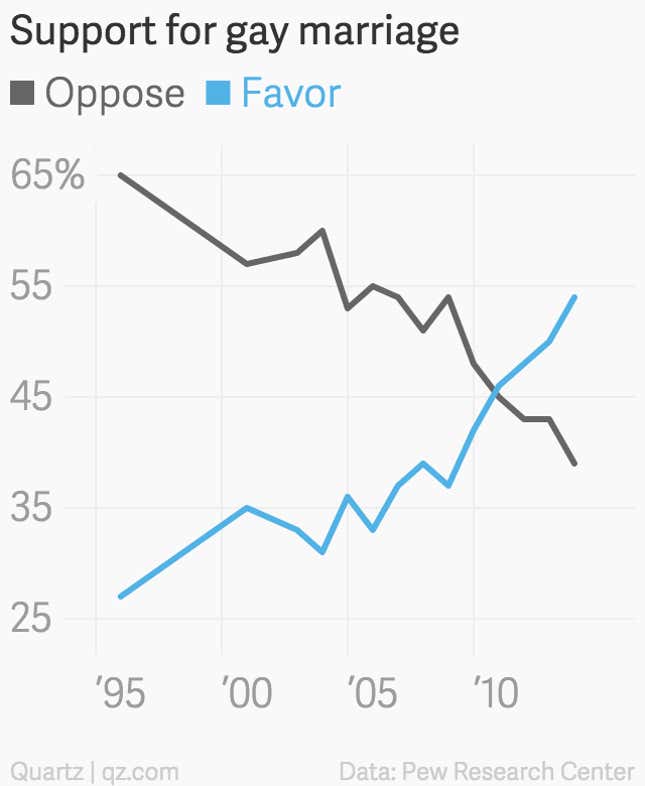 LaCour's data supposedly reflected the results of door-to-door canvassing of voters in areas of Los Angeles County that had supported Proposition 8, the 2008 ballot measures that banned gay marriage in California. In the experiments, voters were randomly assigned either an openly gay canvasser or a straight one. Some were engaged in a scripted conversation about gay marriage; others received a talk on recycling. The canvassers, who were organized by the Los Angeles LGBT Center, were coached to respectfully challenge but not judge voters, as Dave Fleischer, director of the LGBT Center's leadership lab, told the New York Times.
The supposed findings were remarkable. Voters who had talked to canvassers—straight or gay—about gay marriage immediately became more sympathetic. However, only those voters who spoke with gay canvassers were still favorable toward gay marriage nine months later. Those conversations with gay people turned voters with typically Nebraskan attitudes toward gay marriage into a group with Massachusetts-esque views, as LaCour described his findings to the Washington Post.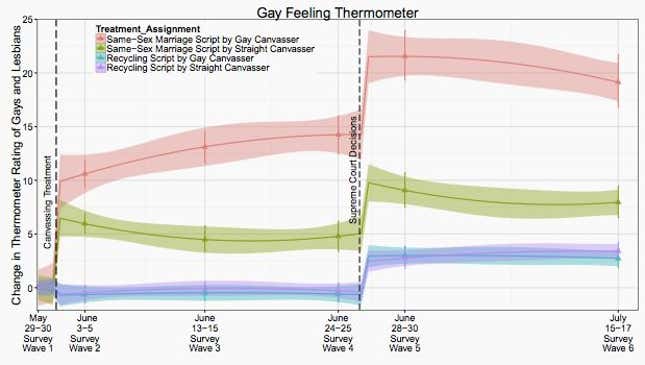 Though these conversations took place, the statistical data collected by LaCour and analyzed in the study weren't collected as described. This is potentially a big blow for those hopeful that human empathy can dissolve difference. The idea that being open and honest about one's gayness changed opponents' views was a founding strategy of the gay civil equality movement. More than just explaining the sea-change on support for gay marriage, the study suggested that face-to-face interactions could diffuse mutual hostility arising from cultural difference, like race and religion.
So, it turns out, it's probably a lot hard harder than LaCour and Green's study suggested to change people's minds. Still, popular support for gay marriage rose an average 2.6% a year (pdf) during the last decade, according to UCLA's Williams Institute. And it's accelerating—in the last two years, that pace has surged to 6.2%. Whatever the reason, minds are somehow still changing.