First came the new coffee shops—two of them—in 2009. Newcomers had been trickling in for a few years, but that's when the gentrification of New York's Crown Heights began to attract wider attention (paywall). Next up: The hipster bars, the fancy pizza, the new real estate brokers, all speaking to the neighborhood's transformation.  Twenty-four years ago, this Brooklyn neighborhood was the scene of ugly race riots, fueled by long-simmering tensions between black and Jewish residents. But by 2012, the area had become typical of the gentrification that's overtaking so many of the world's largest cities as they assume the mantle of economic growth drivers.
Often, at least in America, we think of regular people as the agents of change—the artist, the boutique coffee shop owner, the tech startup. But as much as gentrification is an organic process, fueled by opportunity seekers and bargain hunters, it's developers and financiers who have become the savvy midwives of change. Once they detect the early signs of gentrification, they bring on the serious money.
In the case of Crown Heights, the serious money came from BFC Partners and Goldman Sachs' Urban Investment Group, which teamed up with local blogger-cum-developer Jonathan Butler to transform a former Studebaker service station into 1000 Dean, a development project that is a wannabe entrepreneur's dream. The various parts of the building could almost serve as the essential gentrification checklist. Artisanal beer hall? Check. Hipster coffee house? Event space? Gourmet food options? Yes, check. Grouped together as Berg'n, all share the ground floor of 1000 Dean, with Butler's trendy Brooklyn Flea joining in the winter months.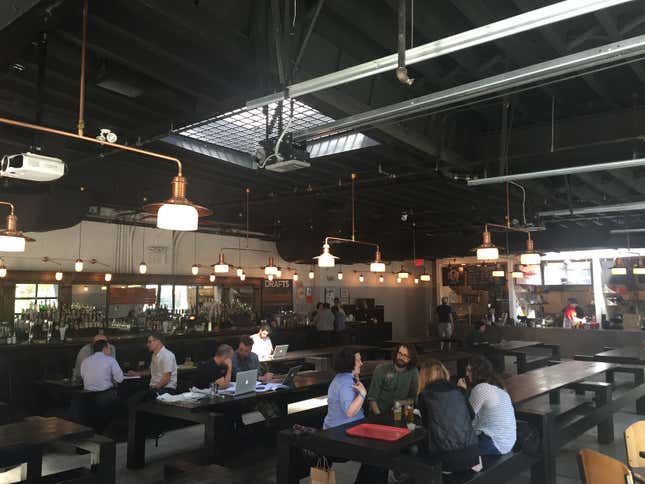 Butler ran the Brooklyn real estate blog Brownstoner for years before selling it recently, and has always obsessed over real estate. He noticed the old warehouse for sale in a commercial zone, surrounded by residences that were beginning to command higher prices, and saw its potential. Hipsters debating which ramen burger to buy may be surprised that a major Wall St. bank and big local developer are responsible for their brunch options. On the floors above Berg'n are small offices rented by local community groups, startups, non-profits. Butler says he isn't picky about the office tenants. But this kind of establishment does attract a certain kind of person, he admits. It also attracts federal tax credits for helping create jobs.
Goldman has said it's looking to make "catalytic" investments in up and coming neighborhoods. In a May 2015 document, it identified 1000 Dean as a project that can target small businesses and creative professionals, and "act as an anchor for future development and investment in Crown Heights." It invested more than $26 million in equity and debt in the project, according to figures Goldman provided to Quartz. And it has gone on to invest in other Crown Heights property: A building that houses a church community space and housing for formerly homeless veterans on Utica Avenue in Crown Heights.
The revitalization of Crown Heights is paying off. While it suffered worse than Brooklyn as a whole during the recession, it has staged a healthy recovery, overtaking the borough in median residential sales prices during the fourth quarter of last year.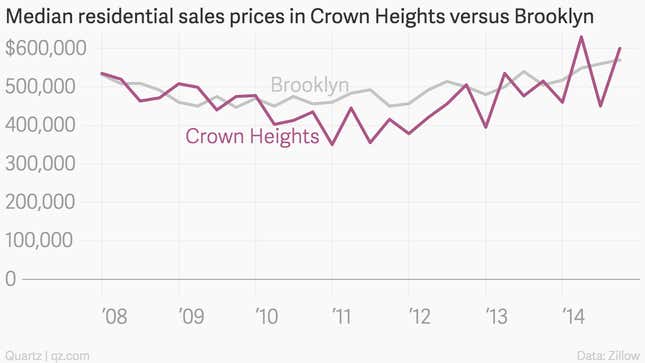 Last year Starbucks opened a store on Franklin Avenue, a sign of property value growth to come, according to a Zillow analysis that showed surrounding home values rise after a Starbucks enters a neighborhood.
"[Developers] are trying to find a coffeehouse, a sandwich shop, enough different variety of retail establishments that it creates a key center of gravity for that community," Zillow chief economist Stan Humphries tells Quartz. "The entry of a coffee shop into a location provides a signaling function to other types of investors…that this neighborhood has now arrived and is now open for business in a way that it was not before."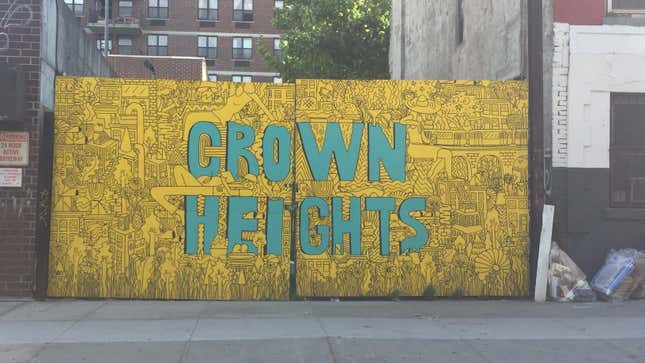 Ro Gupta was at Berg'n with his 18-month-old daughter on a recent Friday, to meet a friend. "I really like the idea of a multipurpose space like that," Gupta said as he waited for his ramen burger, and his daughter played with the buzzer. "It's kind of a default place that has whatever you're into, whatever part of the day." Instead of just a place to hang out, there's food for lunch, coffee for the afternoon, beer for after work.
The idea of driving development in an area by attracting trendsetters is not a new one; in fact urban planners took to calling it The Soho Effect in recognition of the revitalization of that New York City neighborhood after artists began moving into empty lofts in the 1970s. David Walentas bought up SoHo property just as property values began to show signs of life. He then spent decades carefully plotting the redevelopment and gentrification of Brooklyn neighborhood, Dumbo. It combines artist lofts, office space, artisan workshops, craft-based retail and residential properties to transform an old rundown former industrial warehouse district into one of the city's fastest-growing neighborhoods (with fast-growing prices to match). Walentas told Rochester Magazine his secrets in 2013:
"When you've got vacant (retail) space and you give it away, it's not costing you anything and it generates activity. We gave space to young kids, entrepreneurs who wanted to open shops (in DUMBO), and they built them out themselves." In addition, "People don't want to be in a neighborhood that doesn't have amenities or where they can't buy things. So whatever you can do to make the ground floor attractive benefits all the floors above it."
That lesson has clearly been taken to heart by Crown Heights' developers, though Butler tells Quartz that he doesn't think there's a recipe (and his tenants pay for space).
Now, even real estate brokers are getting in on the act.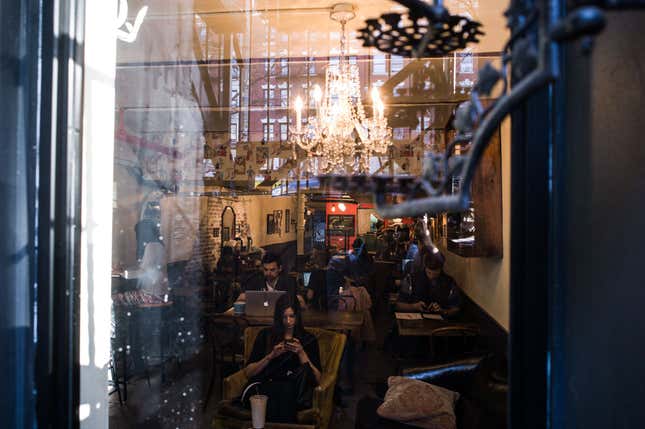 Recently, in Harlem, brokers banded together to open coffee shops in areas where they're trying to sell or lease apartments, in the knowledge that a bottom-floor coffee shop is a draw.