If it seems like there's a new IPA every time you go to the supermarket, you're not imagining things: Sales of India pale ales are out of control, even by craft beer's already astounding growth standards.
Brewers—including major labels such as the MillerCoors-owned Blue Moon—seem to be adding new IPAs to their lines at every opportunity. In the first quarter of 2014, there were more than 1,524 IPAs on sale across the country—37% more than the first quarter of 2013, the Federal Reserve Bank of Richmond reported.
Many of these are from the craft breweries sector, which despite galloping growth still makes up less than a fifth of the total US beer market: $19.6 billion out of $101.5 billion in 2014, according to the Brewers Association.
But within that category, retail sales of craft IPAs are climbing fast: In 2014, when craft beer sales were up 17.6% by volume—compared to the overall beer market's 0.5% growth—craft IPA sales exploded at 45-50% growth, says Bart Watson, chief economist at the Brewers Association. And, he added, "That sales growth doesn't appear to be slowing down." (His estimates are based on retail growth tracked by the market research from the firm IRI and on-premise growth tracked by the market research firm GuestMetrics. Sales in places like microbreweries would fall outside both firms' purview.)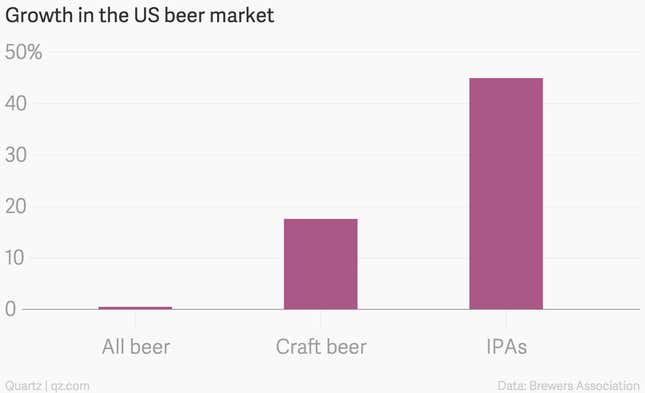 IPAs were first developed in late-18th-century Britain to quench the thirst of colonists in India, who found themselves in a country too hot for brewing. Back in the motherland, hops not only added flavor, but because they also act as a preservative, they made the beer safe to survive the long boat journey to India. Throwing a little extra booze in didn't hurt the beer's chance of surviving the voyage either, as The Economist explains in its history of IPAs.
As the craft brewing industry took off in the 1980s, small beer makers started experimenting, and they rediscovered IPAs as a way to show off their skills in flavor-making.
Watson attributes the IPA boom to the variety within the category—American, English, session, imperial, black—and points out that even those subcategories can be further diversified based on the hop profile. While English IPAs tend to have earthy flavors, in the US, IPAs are usually more strongly flavored with a citrusy bitterness. "IPAs deliver on both flavor and variety," says Watson, "two things that craft lovers really care about."
For a longer explanation of why people love IPAs so much, check out expositions on CraftBeer.com and Community Beer Works. Bottom line: They taste good.
The photograph above was taken by TheDigitel Beaufort and shared under a Creative Commons license on Flickr. It has been cropped.