Amazon has its black cylinder for you to talk to, and then there's Jibo, billed as "The World's First Social Robot for the Home." Soon Google may have its own voice-assisted robot: a teddy bear.
In a patent application published May 21, Google outlined a plan to develop "an anthropomorphic device, perhaps in the form factor of a doll or toy."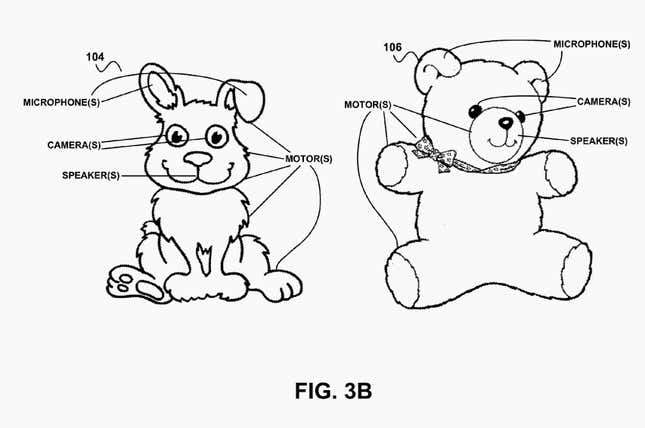 Google's application—replete with fittingly bizarre artwork—suggests it wants to build a device with cameras and audio sensors that could determine when someone is looking at it and follow voice commands to control other internet-connected devices. The device could change songs on a media player, or even play music itself.
This sounds like a pretty useful gadget, like a standalone extension of some of the functions in Google's "OK Google" voice search on Android, but the patent application makes no mention of why exactly this device is embedded in a stuffed animal. Perhaps the patent drafters were big fans of the Furby toy.
There are companies out there already working on similar robots which are actually marketed to children. Milo from RoboKind, which can interact with children with autism, is meant to teach them how to express themselves using common facial expressions. Even Barbie is trying to talk to children. And of course there are also "toys" that double as high-definition surveillance cameras for families who are overly concerned with their au pair's actions while they're out of the house.
But those concerned about privacy may have qualms about Google's idea: a toy that monitors your every move, created by the company that already knows pretty much everything about us adults. The patent application suggests its toy robots would be able to "profile" users to interpret visual cues differently in multiple users. Presumably this would require cameras constantly capturing and processing images while the device is on, and the patent suggests that data would be stored on a Google server.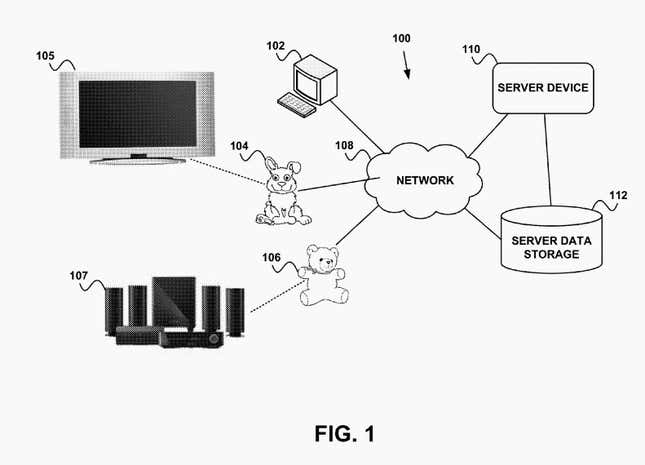 While there's no guarantee that Google will be granted this patent—and even if it is, a Google spokesperson told Quartz that future products shouldn't be inferred from the company's filings—a teddy robot would be a pretty interesting addition to the Google Play Store.
Google killed its Nexus Q media streaming device in 2012 after it proved to be a flop, but perhaps a Google Nexus bunny rabbit can succeed where it failed. Here's hopping!