If you live outside of China, you may never had heard of Snow, a pale ale made by SABMiller and China Resources Enterprise. But it has been the top selling beer brand in the world in terms of volume since 2008, when it overtook Bud Light. SABMiller likes to brag that in 2012 it sold enough Snow beer to fill 12 Olympic-sized swimming pools every day for a year.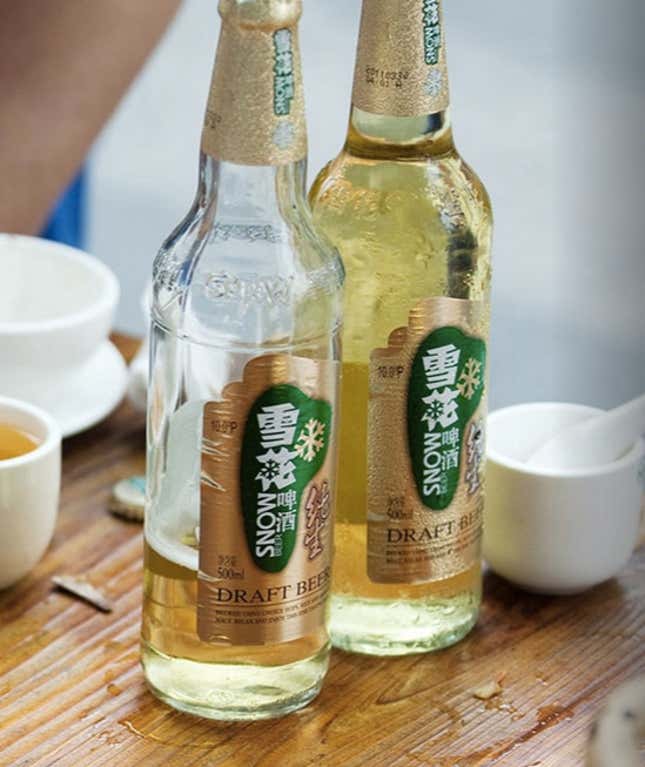 Snow's primary advantage is that it is sold in the world's largest beer market. As Quartz has pointed out, China is the biggest beer market in the world by volume, and overtook the US in 2002. (It is now twice as large, but the US still leads in terms of sales value.) Moreover, it's cheap, as little as 3 renminbi ($0.49) for a 330 ml can, widely distributed, and according to SABMiller, works well with spicy Chinese meals.
There are some beers you buy because they taste great and others you buy because they are cheap. Snow fills the latter category quite nicely in China. For 3.80 RMB, or roughly 50 cents, you can have a regular old Euro pale. It is what it is, and really for what it is, not terrible. Like the bottle says: "Relax, it's fine."
Of the top ten beer brands around the world, four of them are Chinese (Snow, Tsingtao, Yanjing, and Harbin.)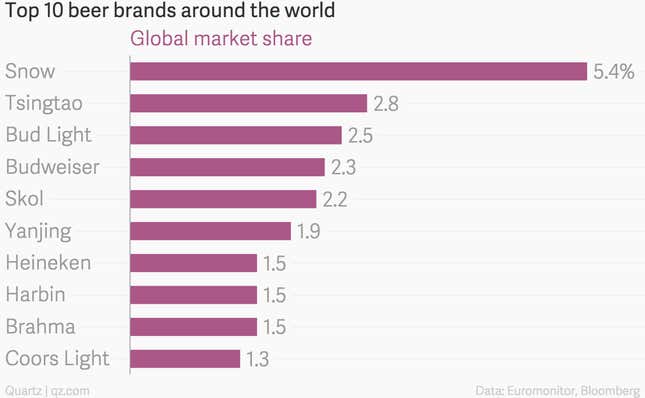 But watery, low alcohol-content beer may be losing favor with Chinese consumers. Last year, domestic beer production output fell by 1%, the first drop in ten consecutive years of growth.
Meanwhile, beer imports from Germany, Belgium, the Netherlands, France, and other markets are growing, according to the US Department of Agriculture's Foreign Agricultural Service. Craft beer stores and bars have also been popping up around cities like Beijing and Shanghai, giving US industry observers hope that a window of opportunity, similar to one that opened for imported wine a decade ago, has opened for beer as well.