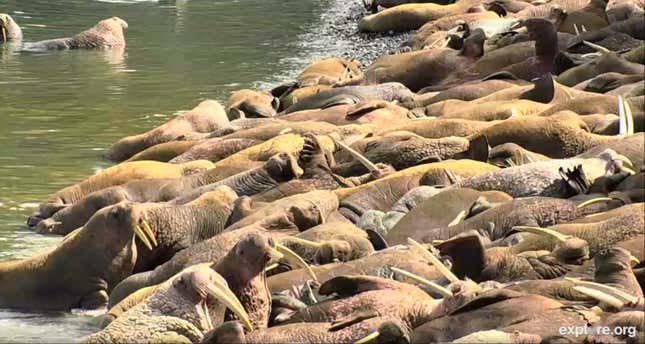 The Alaska Department of Fish and Game and Explore, a group that describes itself as a "philanthropic media organization" have just unveiled a 24-hour-live cam from Round Island in Alaska's Bristol Bay.
The tiny island, just 160 meters (525 feet) wide, is currently home to thousands of male pacific walruses, who spend their summers sunning, sleeping and eating, while female walruses and their pups migrate north with the Arctic sea ice.
Round Island is part of the Walrus Islands State Game Sanctuary, which was established in 1960 to protect "one of the largest terrestrial haulout sites in North America for Pacific walrus."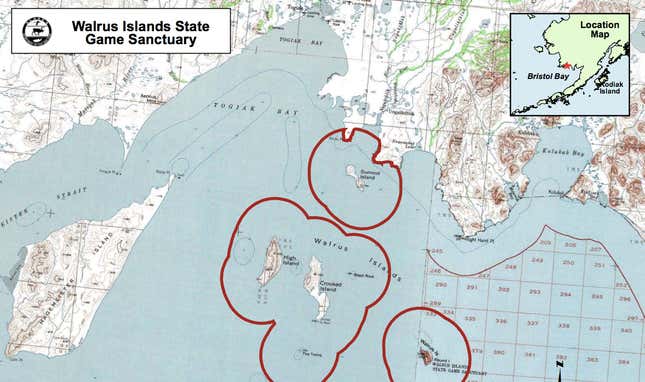 The island was slated to be shut to visitors this year because of budget constraints, explore.org explains, but the media group's founder donated resources to keep it open. Don't expect many humans on the live cam though. "Round Island is so remote and difficult to access that our live cams offer otherwise unseen warts-and-all walrus action," Explore says on its website.
Explore has placed dozens of live cams at places where wild animals gather around the globe, often funding extra staff to maintain them from the local parks department.
Within just a few hours of Walrus Cam going live, there have already been over 1,000 comments from viewers sharing snapshots of their favorite walrus and comparing notes on their tusks and blubber.
Alaska is four hours behind EDT, but the days are longer up north, so plan your viewing accordingly.