In March, Skytrax declared Singapore Changi Airport the world's best overall (for the third straight year), and the best for leisure amenities. One reason global travelers consistently cite Changi as their favorite: its gardens. 
Changi introduced its first garden in the early 1980s, and over the years it's become rather good at planning and maintaining them. Today it has more than 500,000 plants, and some 250 plant species. It also produces about 3,000 plants a month in its own nursery.
The airport features a butterfly garden, an orchid garden with a koi pond, and an "enchanted garden" that combines flowers and soft ferns with sculptures and sparkling lights. It also has outdoor gardens—one for cacti, another for sunflowers—and impeccably manicured landscaping on the airport grounds, plus along two kilometers of roads leading to it.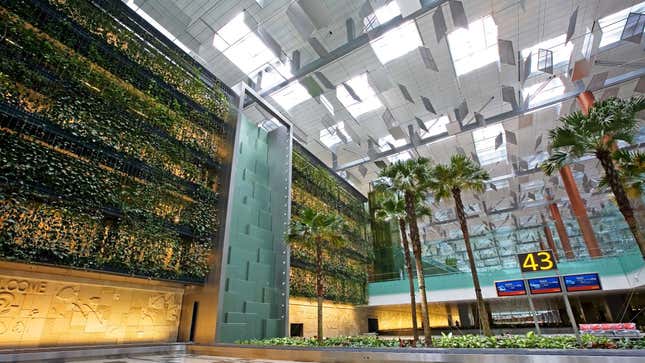 To tend to all these plants, Changi employs a team of 11 horticulturalists. It outsources the landscaping work to external contractors and vendors, who employ about 120 for the task.
Leading the horticulture team is Khaja Nazimuddeen Abdul Hameed. The 48-year-old has worked at Changi for about nine years, having studied environmental science and received a diploma in landscape and horticulture management from the UK's Royal Horticulture Society.
Hameed told Quartz the gardens and landscaping give Changi an edge over the competition, and that he's "very, very conscious" of the airport rankings. "Every day we remind ourselves it is much more difficult to be No. 1 than anything else. We watch our competitors very closely."
One of them is Seoul's Incheon, which placed No. 2 in this year's Skytrax rankings and boasts year-round cultural performances, a 24-hour driving range, and many gardens of its own, including an outdoor one with wildflowers.
To stay ahead, Changi needs a strong showing with its Terminal 4, set to open in 2017. Airport officials won't disclose full details at this point, but a sneak-peek video highlights "relaxing green sanctuaries," a "boulevard of trees," and rock gardens. "We are working to come up with a very interesting theme," said Hameed.
Hameed divides his group of horticulturalists into indoor, outdoor, and nursery teams. The hardest part is maintaining the indoor gardens, where lighting, drainage, and irrigation issues present unique challenges. "In the outdoors you have all the natural elements available to you: water, sunlight, and everything. But in an indoor setting it is an artificial environment," he noted.
Hameed's favorite project so far was the butterfly garden, which opened in 2008 and involved about seven months of conceptualization and a half year of production. His team had to determine not just the right plants, but also the best species of butterflies to survive in an airport environment.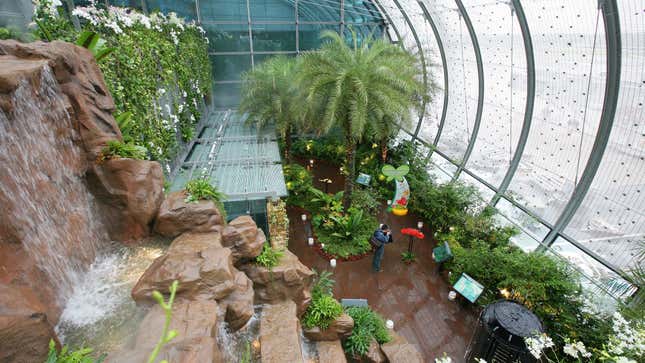 The challenge now, he said, is that the butterfly garden "raised the bar. How do we move on to even more interesting gardens than that?"
Meanwhile, last year the airport crossed the 54-million passenger mark and raked in more than S$2 billion (US$1.5 billion) in retail sales.
US airports are getting better but not a single one made the Skytrax top 25, not surprising since they suffer from a relative lack of federal funding. In contrast, many top airports in Asia receive substantial government support. Changi Airport Group falls under Singapore's ministry of finance.