In 1998, when Max Levchin was building what would become PayPal, he did it specifically for one device: the Palm Pilot. So it's safe to say that the digital payments platform has envisioned itself as a mobile company from the very beginning.
But it took 17 years to actually become one.
Payments on the Palm Pilot were simply too far ahead of their time. PayPal took off, but it was on desktop computers. In 2010, mobile payments comprised less than 1% of the company's transaction volume. By the first quarter of 2015, however, the figure had soared to 30%.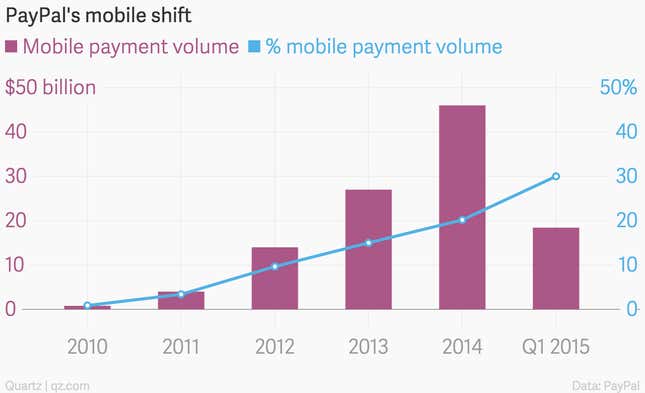 That's the result of PayPal adapting to a rapid shift to mobile internet use. According to eMarketer, the volume of payments made using mobile phones in the US was $3.5 billion in 2010; for this year, the firm projects a total of $76.41 billion (see slide no. 4).
Realizing the threat it faced from Square's small credit-card reader that plugs into smartphones, PayPal released its own dongle and app for merchants, PayPal Here, in 2012. It also bought some companies: Zong, a mobile payments platform for games and social networks, in 2012 (which had been founded by David Marcus, former PayPal president and current head of Facebook's messaging products); Braintree, a payments processing startup, in 2013 (and along with that Venmo, which Braintree had acquired in 2012); and, earlier this year, Paydiant, an in-store contactless payment and rewards app that merchants can customize.
As PayPal prepares to split from its parent company, eBay, later this year, it'll continue talking up its strengths in mobile to investors. As more and more people get online using just their phones, Dan Schulman, PayPal's current president and future CEO, declared last week at a media event that PayPal isn't far from a future "where we have more mobile transactions than we do on desktop."