Google last month quietly stopped notifying Google searchers in mainland China when their searches for specific keywords were likely to temporarily break their connections to its search engine. Google always studiously avoided mentioning censorship when discussing this feature, released in May. But the notifications implicitly indicated which keywords were blocked by the Chinese government, which authorities deem a state secret. The Chinese government attempted to break the tool, though Google programmers found ways around that, according to Greatfire.org.
Now Google has discontinued the notification for mainland China users because "it was not improving search experience," a person familiar with the matter told Quartz. "The goal was to improve the search experience, to make sure people were able to use the search," the person said. "Basically what ended up happening was that search[es] ended up being blocked more frequently, [which] actually made it harder to use."
Since the feature's roll-out, mainland China users have faced frequent disruptions in their ability to access Google. During the 18th Party Conference in November, various Google services, including search and Gmail, were blocked altogether.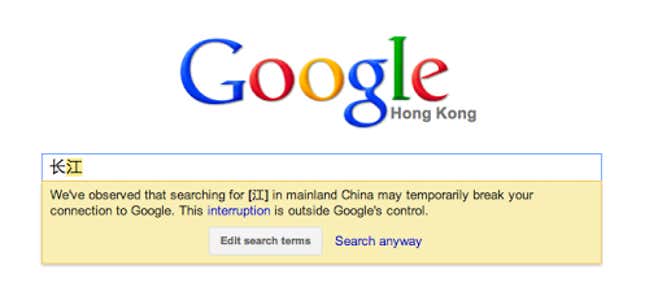 Google's abandoning of the notifications for searchers marks the latest chapter in a long-standing cyber-scuffle between the US search company and Chinese authorities. Having struggled with censorship and privacy issues, Google in spring 2010 shut down its search-related commercial operations in China, redirecting Google.cn searches to its uncensored Hong Kong-based site, Google.co.hk.
The latest move is a reminder of the frustrations that could well continue to plague Google's efforts to make money from the world's largest online population. That's especially relevant for its Android mobile operating system software, which has a commanding presence in China. There are estimated to be between 120 million and 130 million phones in China running Android, out of 180 million smartphones in total. The Chinese mobile market is growing around 300% each year, making it a tremendously attractive one for Internet companies.
But Android's dominance in China hasn't translated into booming business for Google. The Android operating system is open source so Google doesn't collect licensing fees, and phone makers can strip out the accompanying Google apps such as search, maps, and the media player that generate Google advertising and ecommerce revenue. That's what's happening in China, notes MIT Technology Review's Jessica Leber:
Most Android devices sold in China have been stripped of Google's advertising-supported apps and services, as well as its Google Play store for third-party apps and music, books, and video. That means the devices are missing the two main ways by which the US web giant brings in revenue from the free Android operating system. The CEO of Baidu, the desktop Web search leader in China, said this year that 80% of Android-branded phones come with Baidu's search service, rather than Google's, loaded on the device.
Leber says that Google has recently been trying to "assert more control over how Android is used." She cited Google's recent pressuring of Acer to postpone the launch of a handset using an Android-based operating system designed by Chinese e-commerce company Alibaba, which Google complained lacked compatibility with Android apps.
Given the government's control over Chinese media and business, better relations with it could strengthen Google's ability to make money by having its revenue-generating apps distributed with more Android phones. Pulling the censorship notifications last month could well eliminate one irritant in relations between Google and the authorities who could help it. But, given the US search giant's troubled history in China and the many trip wires for foreign tech and media firms there, it's hard to be too optimistic about Google's chances of making money from its impressive mobile foothold in the country.