Today is Memorial Day in the US, and at 3pm in each time zone, many Americans will observe a minute of silence to remember men and women killed in war, most recently in the conflicts in Iraq and Afghanistan.
Three military campaigns have since 2001 taken the lives of 6,828 American personnel, according to the Defense Casualty Analysis System (DCAS).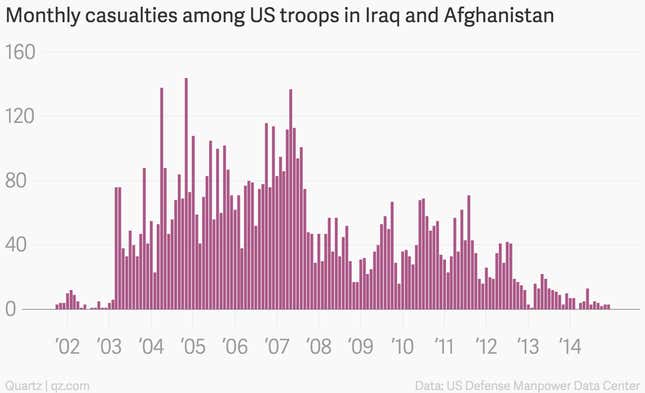 A physical memorial that honors the dead by listing all of their names, like the Vietnam War memorial in Washington DC, is not yet planned, partly because a memorial may not be built in the capital until a conflict has been over for 10 years—a rule from the era of an older, more conventional kind of warfare. But DCAS provides lists of the dead, organized by the name of the campaign in which they were killed.
In Operation Enduring Freedom, the name for the war in Afghanistan, which began in October 2001 and officially ended last December, 2,351 Americans were killed. You can read their names here. Operation Iraqi Freedom, the initial name for the war in Iraq, lasted from 2003 to 2010, during which 4,412 were killed. Their names are here. Operation New Dawn, as the campaign was renamed after the US reduced its troop presence, has claimed 66 deaths on the American side. Those names are here.
Also worth remembering is that in the period from October 2001 and April 2014 (pdf), between 174,000 and 220,000 civilians were killed in Afghanistan, Pakistan and Iraq, as well as between 78,000 and 88,000 fighters. The names of those dead are not collected in any official database, and many are probably not known by anybody still living.