The resignation of an Israeli government official appears to clear the way for the development of a stalled giant offshore natural gas field—gas with the potential, even if remote, of triggering geopolitical reverberations in and outside the region.
The lifted hurdle is the exit of Antitrust Authority commissioner David Gilo, whose scrutiny of a deal for Israel's Leviathan field had halted its development. Gilo, a law professor at Haifa University, had asserted that Houston's Noble Energy and Israel's Delek had too much control over the country's potential gas exports, and that they should sell off some of their holdings.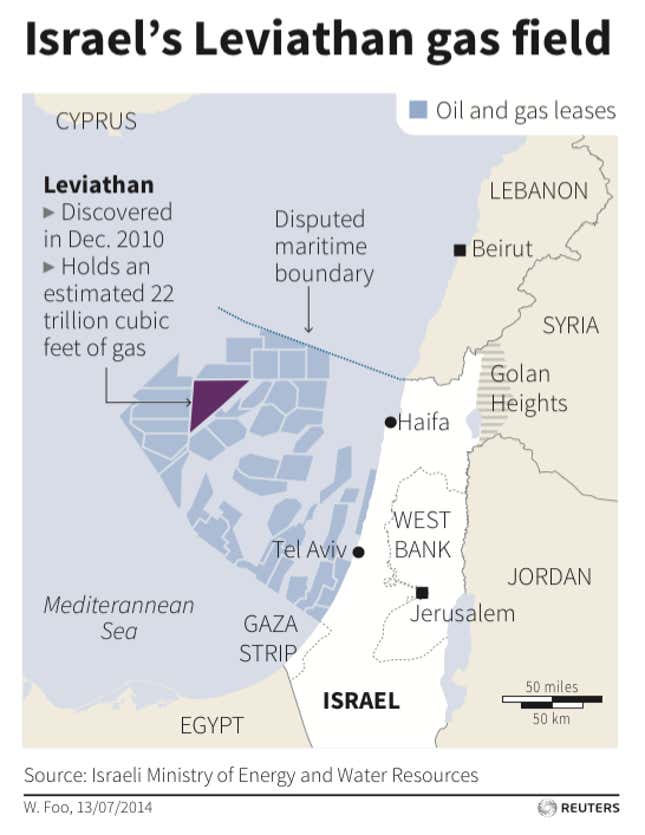 But the companies' defenders had argued that the development is crucial for the economy, and point out that Noble had discovered Leviathan in 2010 only after other major oil companies had steered clear of Israel lest they antagonize its Arab neighbors.
In a statement yesterday, Gilo said that prime minister Binyamin Netanyahu plans to proceed with Leviathan's development despite his objections.
The shattering of Gilo's centerpiece policy comes just two months after Netanyahu's re-election and appears to demonstrate a government fear that no other large company might be prepared to take on the project, at least reasonably soon.
The decision opens the way for potential gas exports from Israel in three years. Noble has signed gas purchase agreements with Egypt, Jordan and the Palestinian Authority, thus shifting Israel's relationship with the region. Until now, Israel had been in the position of importing virtually all its energy.
Some analysts have suggested that Israel's gas be piped or sent by ship to Europe, which is looking for new supplies to diversify dependence on Russia. Those proposals remain technically alive, although economists have said that, while Leviathan is large, it is not big enough to justify the construction of a pipeline or a liquefied natural gas facility.
But a political thaw between the rival two leaders of Cyprus (Turkish Cypriot leader Mustafa Akinci and Greek Cypriot president Nicos Anastasiades met in May for coffee) has reopened the long-shot potential for a grand deal in which gas discovered by Noble in Greek Cypriot waters could be shipped through Turkey, along with Israeli gas.