Japan's economy is recovering, but its problems are far from over. Among the likely tests to its future growth prospects: The poor basic computing skills of its under-30 generation.
According to the OECD's skills outlook report for 2015, the information and communication technology (ICT) skills of Japan's youth are among the worst of developed nations—all the more surprising when you consider that Japan has been at the forefront of many technological innovations.
The country has a relatively small percentage of youth between 16 and 29 lacking any computer experience at all. But nearly 10% young Japanese failed the OECD's test assessing the presence of basic skills, and almost 15% refused to take the test.  (The OECD found that those who refused to take the test are generally more similar to those who failed it or lack experience than to those who passed.)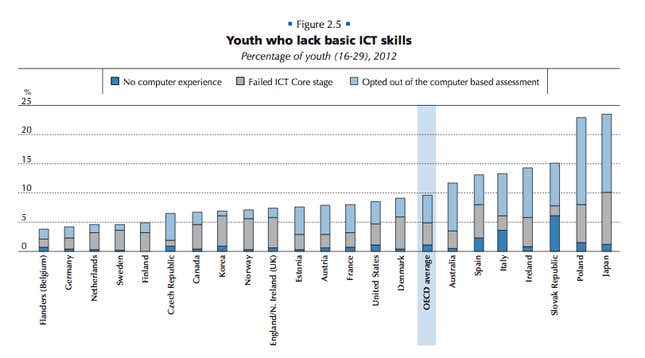 Overall, the percentage of Japanese youth lacking what the OECD regards as basic computer skills is nearly 25%—far greater than the study's average of 10%. Only Poland comes close. Countries like the Slovak Republic, Italy and Spain have more youth lacking any computer skills whatsoever, but the overall result in those countries is far better.
Japan's youth can't even blame limited access to computers. According to the OECD, Japan ranks 6th in the world at 87.2% for households with computer access. Other research blames Japan's poor ICT skills on its education system. Computers are available in schools and connected to the internet, but they are often old models that don't help students acquire up-to-date technical skills