A Chinese entrepreneur and avid Star Trek fan has built his company headquarters to look like the USS Enterprise of the classic American science fiction franchise. Liu Dejun, founder of the Hong Kong-listed online gaming company NetDragon Websoft, invested a total of 600 million yuan ($97 million) to build the replica of the spacecraft, after getting permission from CBS.
Here's what the building in Changle, a coastal city in the southeast Fujian province, looks like:
News of the building, completed last year but only now circulating in the Chinese media, has caught the imagination of a new generation of trekkies in China. Bloggers have been posting on Netdragon's Weibo page asking for a job, even if it's "just sweeping the floor."
Lately the franchise has made inroads in China. When the movie Star Trek Into Darkness opened in China in 2013, it grossed $25.8 million in the first six days. And when the Spock actor Leonard Nimoy died in February, mournful posts with his catchphrase, "Live long and prosper" circulated on Chinese social media.
NetDragon's USS Enterprise is another example of Chinese executives commissioning buildings based on what seem to be fantastical whims. Last year, Chinese president Xi Jinping called for an end to "weird architecture," from the phallus-shaped headquarters of the People's Daily newspaper to a giant steel ring covered in LED lights in the northeastern city of Fushun. Here are some others:
"Big pants" in Beijing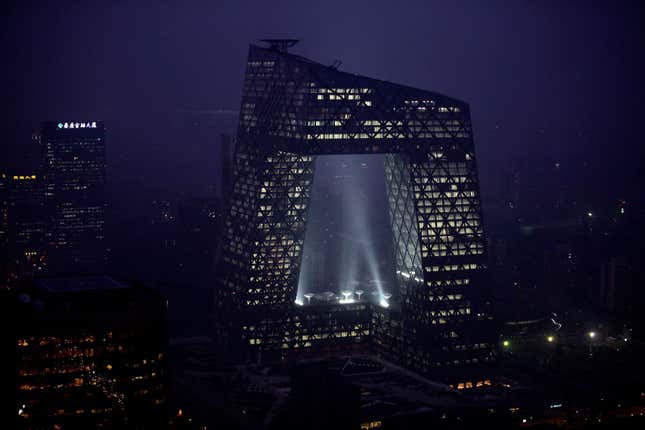 Xi specifically named the headquarters of China Central Television, the state-run national broadcaster, as an example of the kind of strange architecture that he'd like to see end. Still, the boxer-shaped building, nicknamed "big pants," has continued to inspire. A skyscraper in Suzhou resembles a pair of long underpants, critics say, as does a similar-shaped office building in Zhengzhou in Henan province: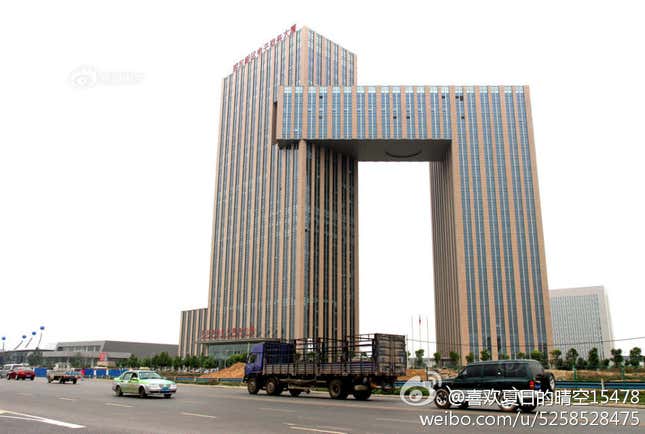 A giant liquor bottle in Yibin, Sichuan province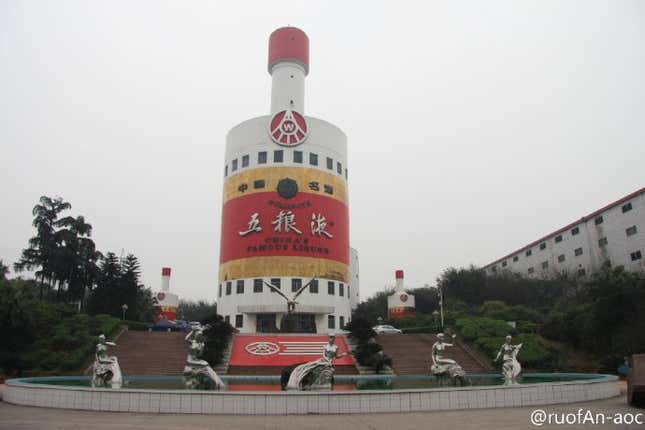 Wuliangye is China's largest liquor producer and its factory and visitors center in Yibin, in southwestern Sichuan province, is shaped like a gigantic liquor bottle, similar to the brand's main product.
An outdated cell phone in Kunming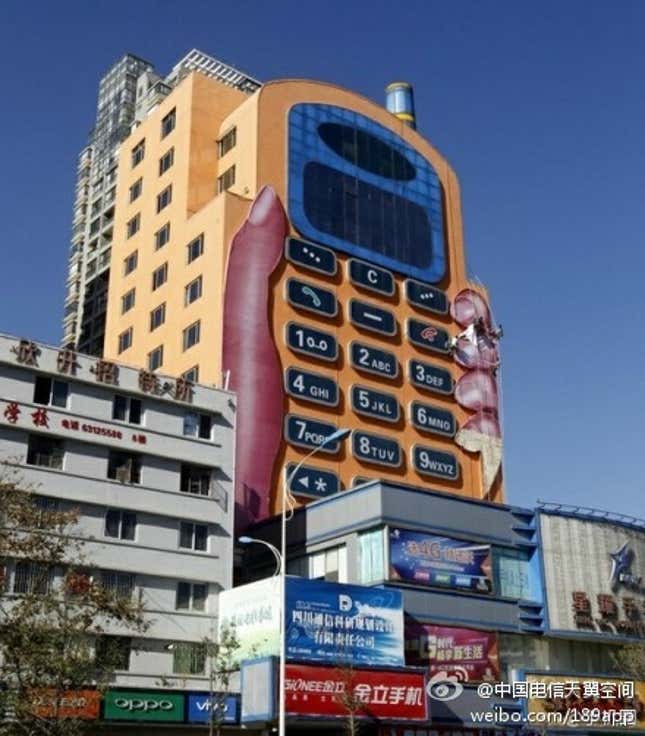 Xingyao Mobile Phone Town in Yunnan province is owned by a local entrepreneur who rents it to stores selling mobile phones and accessories, according to local media (link in Chinese).
The 11-story building, completed in the late 1990s, has windows that look like the phone's buttons and a top floor that looks out through the phone's screen. Bloggers have joked that the phone should be updated to be a touch screen smartphone (link in Chinese).
A giant coin in Shenyang, Liaoning province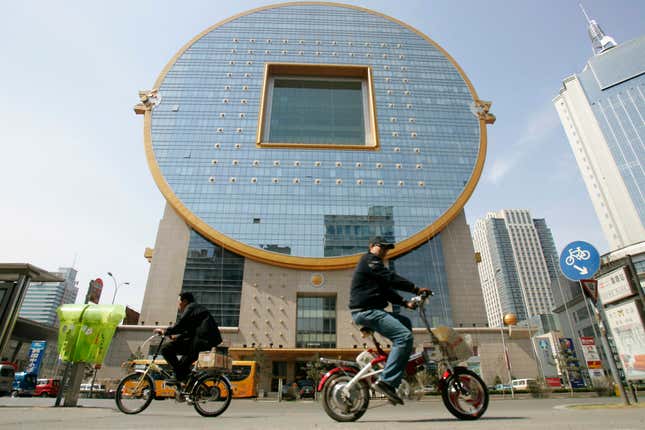 An office building in Shenyang, the capital of northeastern Liaoning Province, resembles an ancient Chinese coin. Fang Yuan building, whose name means literally "square and round" is meant to convey wishes for good luck and fortune.