Marcus Engman has been the chief designer at Ikea since 2012. But although he runs design at the Swedish furniture giant—which opens stores with as much floorspace as the Louvre, and is so widespread that it is said that one in 10 Europeans is conceived on a Ikea bed—Engman has no formal design education.
The man whose design sensibility rivals Apple design honcho Jonathan Ive for ubiquity in our lives is a product of Ikea itself. His father was also a designer for Ikea. "This is my speciality, I've learnt on the job," the 47-year-old says in a profile by Le Monde's magazine (link in French).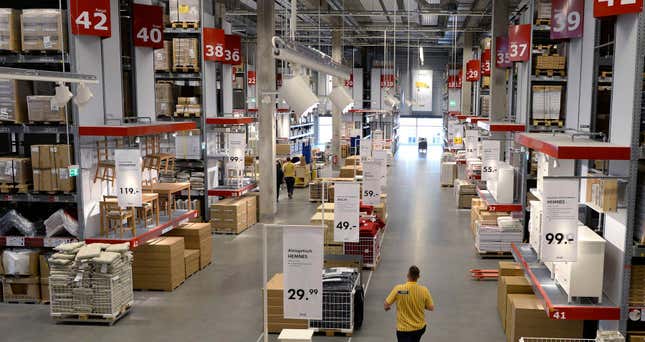 Engman moved to Ikea's hometown of Älmhult (pop: 5,000) after his father was hired by the company. "I started a job during the weekends" at 16 years old, he said. "I pushed carts all day."
At 18, he became the personal assistant to two of Ikea's senior designers, and eventually became head of supply. He left at age 30 to set up his own  consultancy, until Ikea called him back to the firm in 2013.
The profile reveals that his own home isn't all simple minimalism as in an Ikea catalogue. "You know what they say: cobblers are the worst shod!" he said. "At home, it's been a construction site for years. I live in a brown wooden 1960s-style home built by one of my architect friends and furnished with two or three classics of Italian and Scandinavian design. But it was never really completed."
And Engman takes a lot of inspiration from people at the cutting edge of fashion, saying he was "amazed by what was done by the founders of Opening Ceremony at Kenzo, where they are now the artistic directors." But whereas smaller brands can cater to a small audience, Engman's designs have to cater to millions for a company that is based in 41 countries and sells $27 billion worth of stuff every year. Thinking about it all makes him "a little dizzy," he said.
"It's a big responsibility to make people's lives more enjoyable," he said.