It's become a tradition for tourists to Paris to add "love locks" to the Pont des Arts, a bridge near the Tuileries garden, in a show of eternal affection of dubious merit and legality.
In Le Monde (link in French), a writer talks of watching a Singaporean couple buy a lock for €3 from an Indian seller, who earns €600 a month if he can avoid the police, and attach it to the bridge. "Our daughter, who has already come to Paris, told us about the padlocks," the man said. "So we thought we couldn't miss out and had to respect the tradition, thanks to her."
Not anymore. From Monday, Paris will begin removing the "cadenas d'amour." Almost a million padlocks, weighing up to a staggering 45 tons, will be taken away.
The bridge will then close this summer and in October, glass panels will be permanently installed and also on the smaller Pont de l'Archeveché, near the Notre Dame cathedral, which is also groaning under the weight of a thousand clichés.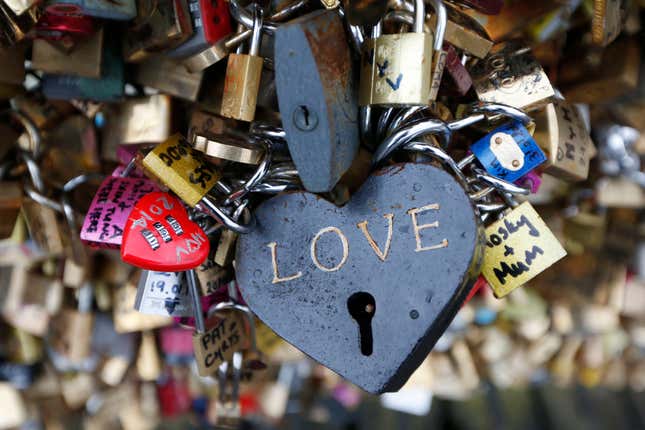 The reason primarily cited by the mayor of Paris, Anne Hidalgo, is safety—last year, a part of the railing at the Pont des Arts collapsed under the weight of the locks. The damage done to this bridge—which has been around since Napoleon and rebuilt in the early 1980s—and others in Paris had prompted locals to set up campaigns like No Love Locks. Hidalgo has compared the locks to a "plague."
Parisians may be happy to reclaim their bridges, but how are tourists reacting to the taking down of the locks? "It's a bit silly and unfortunate," Jean, 57, who came from Marseille with his "illegitimate" 42-year-old partner, told one newspaper (link in French). "It's symbolic to add a padlock to seal your love on this bridge here in Paris, the city of love."