(Updated June 2, 2:30pm Hong Kong time)
A search is underway for more than 400 people who were on board a cruise ship that sank on China's Yangtze River Monday evening after getting caught in a cyclone. According to Chinese state news, 13 people have been rescued, including the ship's captain and chief engineer, and five have been confirmed dead. The ship was carrying 458 passengers and staff.
The ship, bound for the western city of Chongqing from Nanjing, sank after being hit by a cyclone in Hubei province, the captain told Xinhua News Agency. Local news reports said that strong winds were still hampering rescue efforts. President Xi Jinping has ordered a team to help guide rescue efforts and premier Li Keqiang has been on the ground.
According to the Changjiang Maritime Safety Administration, when rescuers reached the sunken ship this morning and knocked on the body of the boat they heard a calls for help (link in Chinese), an indication people may still be alive within the vessel.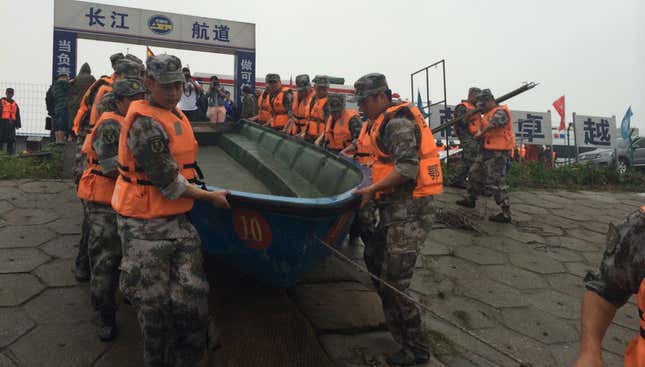 According to a released passenger list, the youngest was three years old. Over half of the passengers were above the age of 60. According to state media, the boat sank within 10 minutes, completely overturning. When the accident happened, seven people swam to shore and called police with the help of local fisherman, CCTV reported.
The travel agency that operated the tour, Xiehe Travel in Shanghai, closed its doors on Tuesday with a note that said those responsible for the tour were at the scene. Angry relatives of the missing passengers have started to collect outside the company's office. The husband of one told local Shanghai media that the travel agency had not even notified him of the accident.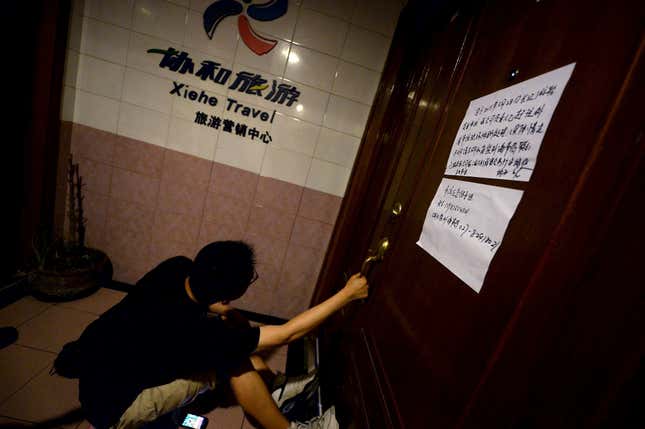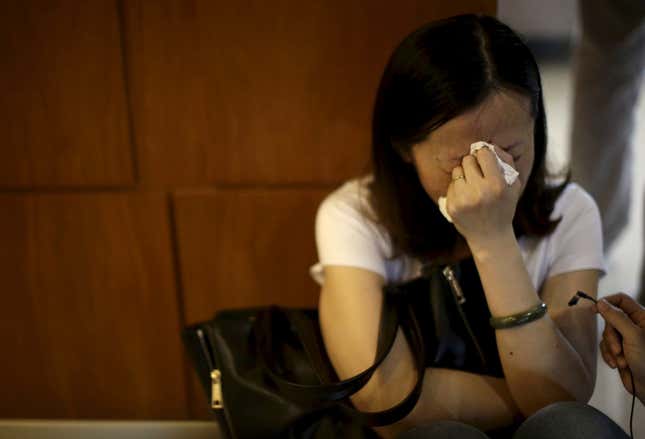 The ship, the Eastern Star yacht, was made by Chongqing Eastern Shipping Corp, which was established in the late 1960s. Boat tours and cruises along the Yangtze, the longest river in Asia which runs through 11 Chinese provinces, are common in China and accidents have happened before. In January, 22 people died when a tug boat in Jiangsu province suddenly overturned.
Zheping Huang and Josh Horwitz contributed reporting.