Portland's Voodoo Doughnut got famous for being weird. Tourists from all over the US line up to taste pastries like the Bacon Maple Bar and the Old Dirty Bastard, and to witness its weird punk rock shows and weddings, and even take Swahili lessons.
So it's not surprising that the company has chosen a weird location for its first overseas store – Taipei, a city better known for its noodles than its sugary pastries.
Last December, the company told Portland media it aimed to open between 12 and 20 stores in Taiwan and Japan over the next three years. "We get calls all the time from all over the world and Asia was calling a lot," Voodoo co-founder Kenneth "Cat Daddy" Pogson told Oregon Live.
The company has delivered. A storefront is currently under construction in Taipei's Songshan Cultural Creative Park, a quaint "design park" that houses small galleries and craft shops. The branch is opening with assistance from Meriwether Group, a Portland-based firm that invests in consumer brands and aids with their expansion. In the past, it has worked with Pacific Northwest food companies like Tazo and Dave's Killer Bread.
So proud to be a part of this East meets West journey! Congrats @VoodooDoughnut for crossing the Pacific to Taipei! pic.twitter.com/QzIfIsJhrz
— Meriwether Group (@MeriwetherGroup) May 15, 2015
While Voodoo has become a national curiosity in the US, Taiwan might be a tougher market if it shoots for the long haul. Other companies have made high-profile donut plays in the island, and have met mixed results.
Dunkin Donuts has exited Taiwan twice. It opened its first shop in Taiwan in 1983 as part of a co-branded venture with Baskin Robbins, but both brands left the island after only a few years in business (link in Chinese). It re-entered Taiwan in 2007 with the help of local conglomerate Mercury and Associates. The chain grew to 30 locations, but the company ultimately shuttered operations in 2012 citing flagging sales (link in Chinese).
Mister Donut, the Canada-born, Japan-raised donut retailer, entered Taiwan in 2006 as part of a joint venture with President Chain Store Corporation, the same company that runs domestic operations for 7-11 and Starbucks. While its entry in Taiwan created an initial frenzy, its total revenues have remained flat. After opening more than 50 locations, the company is has begun selling noodle soups (link in Chinese) in a bid to reinvent itself.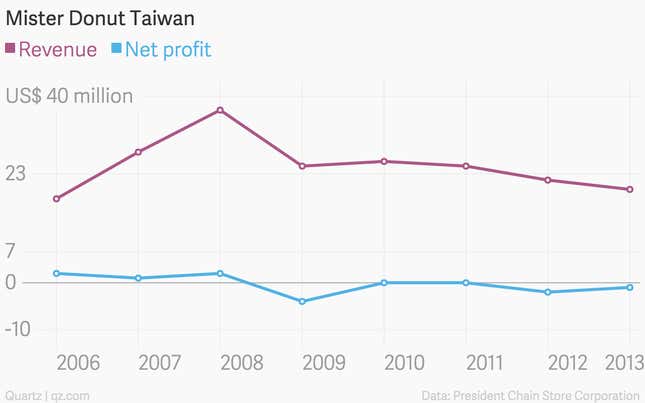 Krispy Kreme entered Taiwan via a franchise agreement with a local entrepreneur. While crowds once lined up outside the company's flagship location near Taipei 101, the city's landmark skyscraper, two years later the novelty has worn off among consumers. A brand representative tells Quartz that it's now trying to educate the market by encouraging businesses to buy by the dozens. Whereas offices in the United States will often order boxes of donuts for "donut Fridays" and such, these habits haven't caught on in Taiwan yet.
It's possible that donuts are a long-term losing bet in any market – whether in Asia or in North America. Dunkin Donuts now describes itself as a "beverage company," with 58 percent of its sales coming from coffees, juices, and other drinks. "Fred the Baker is not coming back," said CFO Paul Carbone in a 2013 earnings call.
Tim Haney of Meriwether says he believes Voodoo Doughnut is about more than donuts. "We make money from a number of different products, like ales, t-shirts, and blankets," he tells Quartz. "Our revenue per square meter far exceeds that of the average donut shop."