This time each year, more than 9 million Chinese teenagers are packed into examination halls to take the "gaokao," a grueling, memorization-heavy, two-day exam that determines which universities they go to. At least two million of them won't get in at all—and the gaokao can determine a student's entire career path, since a given university often feeds into a specific industry.
With so much hanging in the balance, cheating is common. Authorities and cheaters are locked in a constant cat and mouse battle, and the officials in the city of Luoyang might take the cake for the fanciest innovation: an anti-cheating drone (link in Chinese).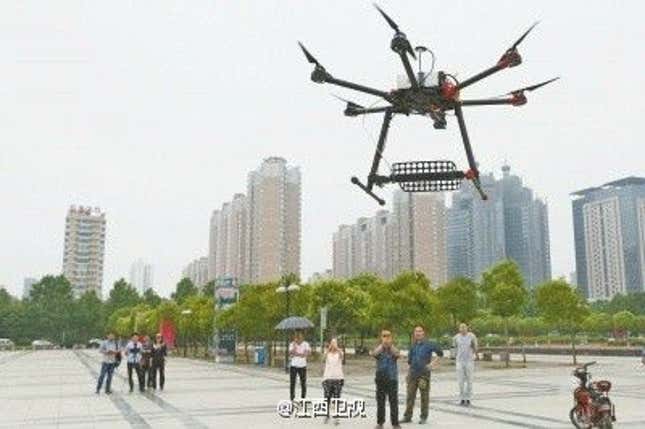 The idea is to foil a classic cheating method: receiving a radio feed of test answers via a hidden earphone, sometimes so tiny they have to be removed with a magnet or, when things go really awry, a doctor. "At big exams like these, there are always 'mystery men' figures in the background," said Zeng Yingyong, the secretary of Luoyang's radio management bureau, in an interview with the Chinese news site dahe.cn.
The department's new six-propeller drone, which was made by a Chengdu-based tech firm, will supposedly help find the mystery cheating broadcasters. Able to monitor the examination area for radio signals from about 500 meters above the test site, the drone pinpoints on a tablet the source location of any suspicious transmissions it picks up. Zeng urged any would-be illegal radio cheats to realize that they can't escape the department's radio-wave "dragnet."
The drone might beat the cheaters of Luoyang this year. But elsewhere in China, the authorities are often a few steps behind. To foil the long-standing practice of hiring smart college students as test-taking surrogates, officials recently began using fingerprint-scanners at exam halls to verify students' identities. The gaokao cheating industry hit back with fingerprint film used to impersonate the test-taking student. Via Kotaku, here are some more examples of what the authorities are up against. Here's a signal-receiving tank top…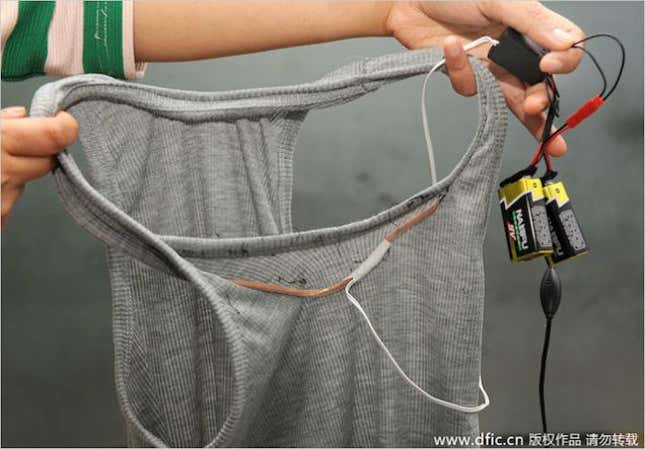 … a pair of glasses that scans and transmits an image when this one-jiao coin is pressed…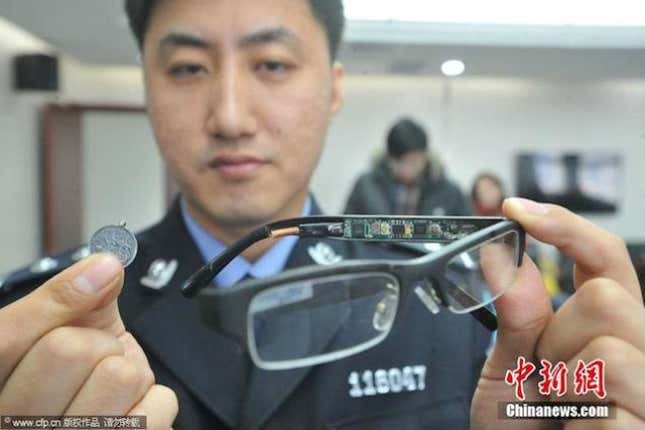 … this button-hole camera hidden in a pen…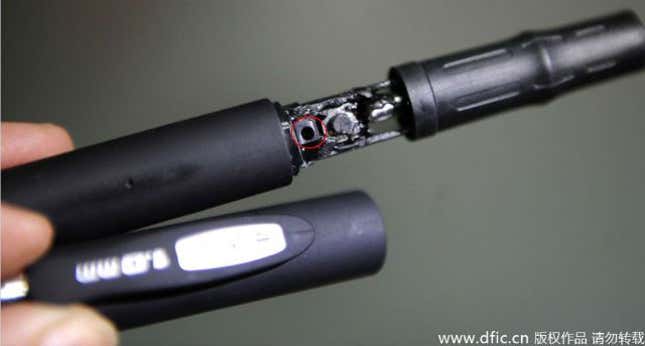 … and the following two images, which bear some explaining. The wallet apparently works in tandem with a camera embedded in the opening of a plastic beverage bottle. A receiver was tied to the wearer's armpit (though it's still not clear how the whole operation fits together).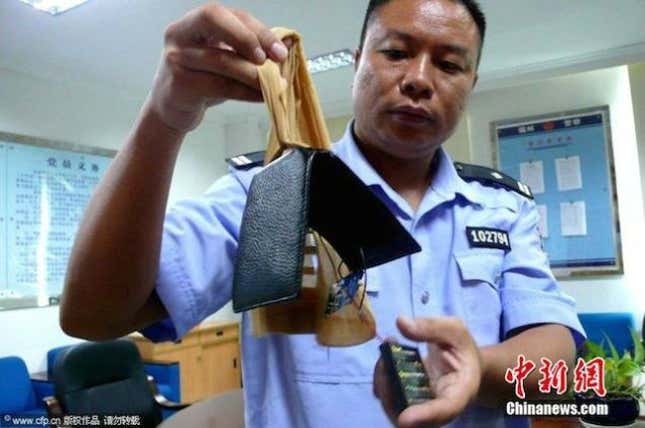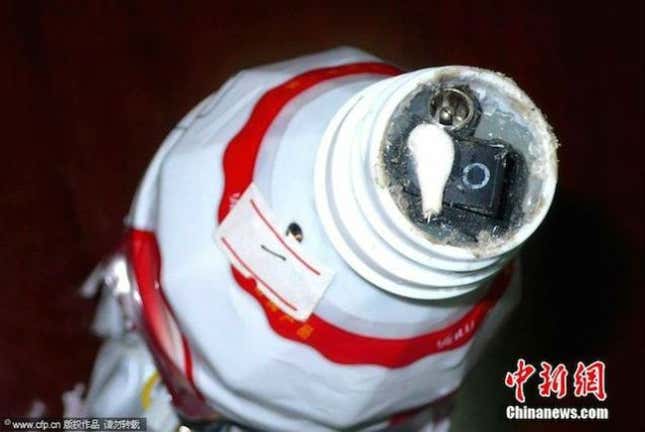 Students caught cheating are usually barred from taking the exam again for three years. Parents, teachers, cheating rings and anyone else facilitating the process can face criminal charges. Gaokao fraudsters range from across the wealth spectrum. Poorer families sometimes see cheating as a way of compensating for their socioeconomic disadvantages; in 2013, a mob in relatively poor Hubei province protested that a cheating crackdown was unfair. And since the gaokao is supposed to be meritocratic, public outrage about cheating really gets heated when wealthy, well-connected cheaters are busted.