Nestlé Purina Petcare Co. last year sued pet food upstart Blue Buffalo for what it called a "pattern of false and deceptive advertising" by targeting "ingredient-conscious pet owners" with claims that its food had "NO Chicken/Poultry By-Product Meals." The food, according to Purina, actually contained "significant amounts" of those very ingredients.
After several rounds of legal back-and-forth, Blue Buffalo confirmed last month that "a substantial proportion" of its food did contain chicken by-product meal. The company blamed an ingredient supplier, Wilbur-Ellis, saying it intended to "take prompt action" against it. In the meantime, it filed counterclaims against Purina with allegations similar to those launched against it. "Having failed to keep pace with Blue Buffalo in the marketplace," its complaint reads, "Nestlé Purina has now launched an extensive false and disparaging advertising campaign designed to discredit the claims that stand at the core of the Blue Buffalo brand and its relationship of trust with consumers."
(Wilbur-Ellis told Quartz that a May 2014 review found that its Rosser, Texas facility used "poor record-keeping and operational processes" and resulted in the mislabeling of pet food ingredients, though all ingredients were "perfectly safe for pets to consume." It says it has taken corrective measures to remedy the problem.)
The lawsuit is emblematic of a changing tide in pet food that mirrors what is happening in human food. Consumers are moving away from processed foods and connecting the word "natural"—sometimes mistakenly—with healthful. They're also willing to pay more for it: "natural" pet food costs, on average, 50% more than typical pet food, according to market research firm GfK. But just as with human food, "natural" has no real meaning in pet food. "When it comes to using a natural label claim on a pet food, just about anything goes," Debbie Phillips-Donaldson, editor in chief of the trade publication Petfood Industry, wrote last month.
The same zeitgeist has vilified meals, by-products and by-product meals, all of which are defined and common ingredients. (A "by-product" refers to edible parts of the listed animal that American consumers don't want to eat, like organs and feet."Meal" refers to parts that have been rendered. A "by-product meal" refers to by-products that have been rendered. Rendering involves heating animal parts, straining out the liquid, and grinding up the remaining fat, bone, and protein.)
"There's really nothing wrong with feeding those kinds of products to animals," says Dr. Cailin Heinze, a board-certified veterinary nutritionist at Tufts University. "Organ meats actually have much more nutrients in them than muscle meats."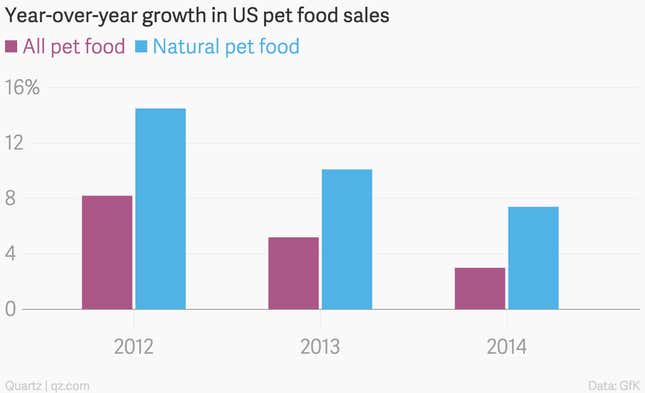 While Blue Buffalo has a relatively small share of the market—1.2% compared to Nestlé's 24.5% in 2013, according to Euromonitor—its growth, at 11.7% in 2013, outpaces Nestlé's 4.1%. And "natural" pet foods actually now make up the bulk of sales in the pet food sector, pulling in more than $5 billion annually, more than two-thirds of all pet food retail sales, according to GfK. That growth has slowed from 14.5% in 2012 to 7.4% in 2014, but it's still beating the rest of the pet food market, which grew only 3% in 2014.
Nestlé has gotten in on this action, too: Purina's "Beyond" brand, launched in July 2014, makes many of the same claims Blue Buffalo does, billing itself as a "natural pet food option" and specifically disavowing use of poultry by-product meal.
"Marketing often trumps science," says Heinze, who says that all "natural" really means for pet food is that it doesn't contain synthetic additives, like artificial colors. Ultimately, she says, what matters is the quality, and that information isn't on the label—it requires asking the manufacturer more specific questions, like whether companies make food in their own plants and audit their supply chains, as well as how much they spend on research versus marketing.
For its part, Nestlé says 99% of its pet food is manufactured in its own facilities in the US, and in 2014, the company audited 8,700 of its 10,000 top suppliers and found 73% were compliant. It also spent $19.651 billion on marketing and administration, compared to $1.628 billion on research.
Blue Buffalo did not respond to multiple requests for comment.